'In the merry-go-round of Indian cricket, amid abhorrent match-fixing scandals and incessant politicking, Ravi Shastri is a multifaceted personality who, when called upon, can don any hat with ease,' report Dhruv Munjal and Ranjita Ganesan.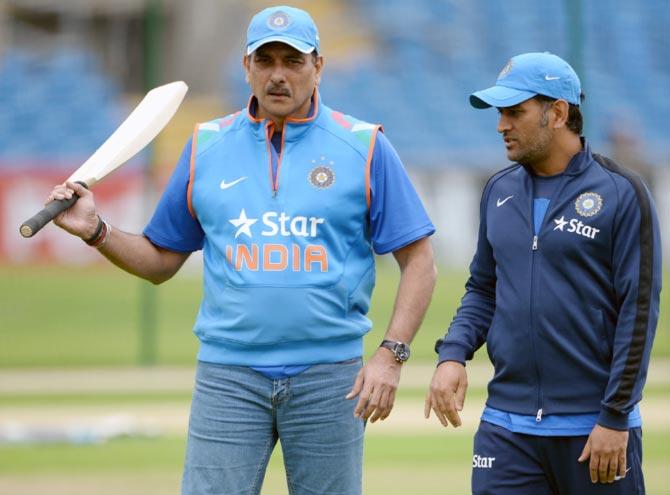 IMAGE: Ravi Shastri with India Captain Mahendra Singh Dhoni. Gareth Copley/Getty Images
In Adelaide last summer, just before the World Cup, India wretchedly surrendered against Australia in a Test match that they were so handsomely poised to win. Chasing 364 for victory on day five, Virat Kohli, for major periods, batted like the modern-day colossus we've become so accustomed to seeing. The searing square cut, the flick through mid-wicket, the caress through cover -- shots of a man who could make even the mighty look painfully prosaic.
And then, Kohli fell and took the team with him. An alarming collapse saw the visitors fold up in the next hour. India lost a match they could well have saved.
Post-match, Ravi Shastri, the Indian team's director, was strafed with a spate of uncomfortable questions. Shastri, chest out and eyes twinkling, defended his side's 'daring' approach. 'The scoreline doesn't matter. We play to win. Drawing is not an option.'
This was Shastri in his elements: Indefatigable, candid, even defiant -- qualities that have in the last two decades won him admirers and detractors alike. In defeat, he radiated positivity, the hallmark of a survivor.
In the merry-go-round of Indian cricket, amid abhorrent match-fixing scandals and incessant politicking, Shastri is a multifaceted personality who, when called upon, can don any hat with phlegmatic ease. He has been a towering constant -- as commentator, administrator and coach.
Coaches may have come and gone like migratory birds, often tripped by scheming players, but Shastri is always there in the picture. Thus, when John Wright's tenure as coach was nearing its end in 2005, Shastri was a part of the panel that appointed Greg Chappell.
When Chappell's reign was cut short after India's cataclysmic exit from the 2007 World Cup, Shastri was temporarily made coach of the side that was to tour Bangladesh a few months later.
Later that year, the Board of Control for Cricket in India appointed him head of the National Cricket Academy in Bengaluru. It was a job that required too much of Shastri's time and he barely got along with his colleagues at the academy. "It was a disaster. He had no time to attend meetings because he was too busy with his other commitments," says a former NCA official. Anil Kumble replaced him in 2010.
That didn't dim his prospects. Shastri was appointed team director in August 2014, after India had yet again abysmally capitulated on a tour overseas -- this time against England. This is a position Shastri, 53, continues to hold.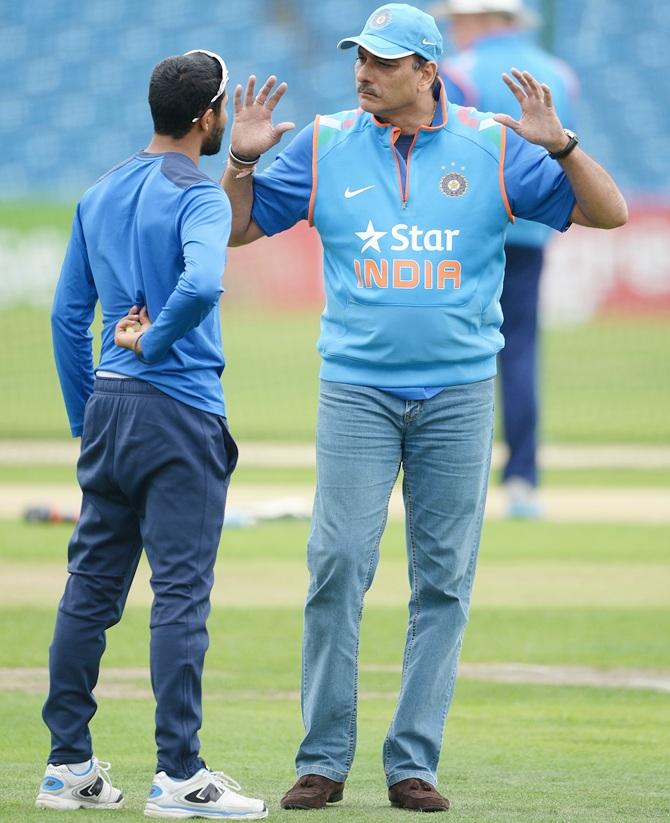 IMAGE: Ravi Shastri with Ravindra Jadeja during a nets session. Photograph: Gareth Copley/Getty Images
What is it that makes Shastri so indispensable?
Former Mumbai captain Milind Rege vividly recalls the day he set his eyes on a 14-year-old lanky, frizzy-haired Shastri all those years ago. "The first thing that struck me about him was his leadership qualities. He was always oozing confidence," reminisces the 66 year old. "And he had a phenomenal cricketing brain."
With that came the ability to stay in the good books of the people who mattered. At the Podar College in Mumbai, teachers remember him as a kid with an unassuming demeanour. "I never heard any complaint about him, no affairs, no showing off," says Kumud Mishra, former vice-principal of the college.
This was somewhat in contrast to Dilip Vengsarkar, who, fresh from an international tour, walked into the college gymkhana wearing a T-shirt with pictures of bikini-clad women.
Even at a young age, Shastri could be found wherever the action was. Shishir Hattangadi, who played opposite Shastri during school and college, and later went on to captain Mumbai, remembers that he always wanted to be in the game, be it batting, bowling or field placing. "He was an intuitive thinker, quick to understand what would work for him at the next level."
Rege adds that it is the same thinking that Shastri applies to all things that he does. "He is supremely intelligent, always a step ahead of the others."
Shastri's cricketing career, though, remained a largely unfulfilled one. He was more than a capable all-rounder, representing India in 80 Tests and 150 ODIs. Shastri, every once in a while, introduced the world to his mercurial cricketing ability, high points of which were his man-of-the-series showing at the 1985 World Championship of Cricket in Australia, which fetched him an Audi, and a dogged double century against Australia in Sydney in 1992.
But a debilitating knee injury prematurely ended his international career in 1992. He was just 31 at the time.
"He wasn't the most talented cricketer. But he was never intimidated and was always willing to fight till the last ball," says Syed Kirmani, his 1983 World Cup winning teammate. Shastri captained India in just one Test match. Many felt that he was the best captain the country never had.
According to others who played with him, Shastri was a cerebral player who made up for moderate skills with strategy. He had an omnipotent presence both on and off the field.
Soon after his retirement from first-class cricket, Shastri gave up his job at Tata Steel, in spite of the company's best efforts to keep him back. Then his next innings started: During the Singer Cup in Sri Lanka in 1994, Shastri was offered the role of a commentator by the late Mark Mascrenehas.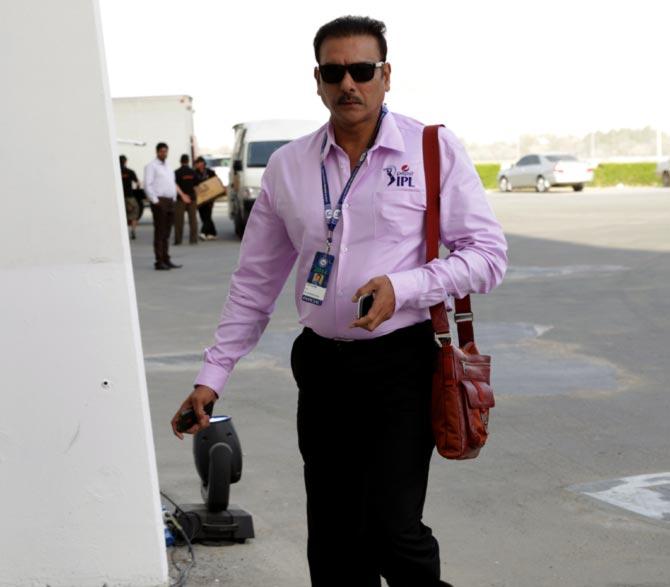 IMAGE: Ravi Shastri in his IPL avatar. Photograph: BCCI
How did Shastri go on from being a decent commentator to the unofficial mouthpiece for BCCI?
How did he become Indian cricket's crisis man?
Why have the ingenious men of Indian cricket who so often indiscriminately wield power and plot downfalls placed such unwavering, impeccable faith in Shastri time and again?
Shastri, away in Australia ('I think it's a huge learning curve. Absolutely no shame in the way they played,' Shastri was quoted in the media after the surprise loss in Canberra), could not be contacted for this report.
Those who know him well insist it's his persona that makes him indispensable. "Exceptionally smart," is how his former national teammate Maninder Singh describes him. "He knows how to be at the right place at the right time. It's that simple."
The BCCI has had six bosses in the last eight years and Shastri seems to have struck a rapport with all of them. A former BCCI insider says, on the condition of anonymity: "Shastri is shrewder than you think. On the face of it, he comes across as someone who is apolitical. But inside, he knows when to play what card."
"How can you praise Sharad Pawar and then talk glowingly about N Srinivasan as well?" asks another former BCCI man. "You must be really good to enjoy the confidence that he still does, in spite of switching so many camps."
Pawar and Srinivasan continue to be the bitterest of political rivals. If the BCCI were to play Don Corleone, then Shastri would easily fit into the role of Tom Hagen, the consigliere, the insider adds.
Soon after the inception of the Indian Premier League -- of which he was a part of its governing council -- in 2008, Shastri forged a strong partnership with Lalit Modi, the brains behind the league.
Even as Modi was exiled by the BCCI a few years later, Shastri continued to be in the good books of Modi's fiercest detractors. Shastri, at times, fell back on Jagmohan Dalmiya, his close friend of over 20 years.
But then there are reasons why the BCCI trusts Shastri so much. His incisive, pro-India remarks during his commentary stints have made him the unofficial voice of Indian cricket.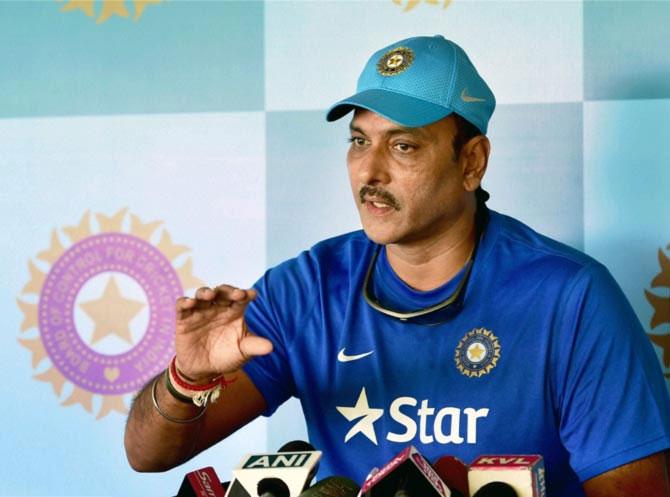 IMAGE: Ravi Shastri lashed out at critics who panned India's spin-friendly pitches for the South African series, which India won 3-0. Photograph: PTI
In 2001, after a slew of Indian players -- including Sachin Tendulkar and Sourav Ganguly -- were either suspended or fined on grounds of ball tampering during a Test match in South Africa, it was Shastri who blatantly questioned match referee Mike Denness's silence at the press conference that followed.
The BCCI had found itself an uncompromising spokesperson -- someone who seldom minced words when it came to defending the national team.
During a Test match between England and India at Trent Bridge in 2011, Shastri got into an on-air spat with Nasser Hussain. Even as the former England skipper twitched and stuttered, Shastri accused the English of being jealous of the fact that India were world champions and vehemently defended the BCCI's decision to oppose the Decision Review System.
This was another example of Shastri's reputation as a staunch establishment man. That the 'world champions' got walloped 4-0 in the series is another matter.
Columnist Ayaz Memon feels that Shastri enjoys such a position because he "has always been in the thick of things." He agrees that Shastri has defended the BCCI in the past, but adds that he, more importantly, "understands the game so well."
Another former player, who does not wish to be named, says that Shastri's clout will only expand from here. "Shashank Manohar, the current BCCI boss, likes him. The players like him. Shastri as a brand will only grow," he says.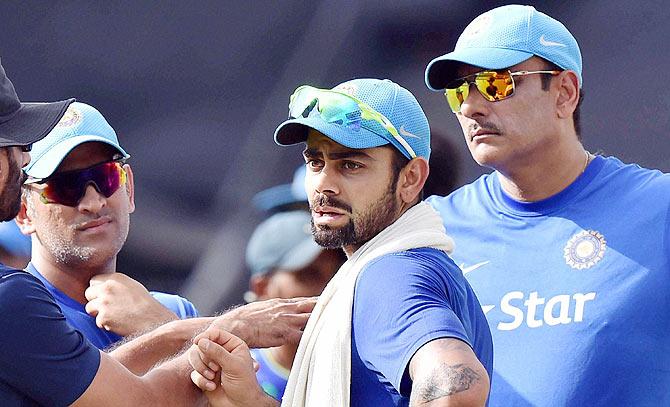 IMAGE: Mahendra Singh Dhoni, Virat Kohli and Team Director Ravi Shastri during a training session at the Eden Garden in Kolkata ahead of the 3rd T20 game against South Africa, October 8, 2015. Photograph: Ashok Bhaumik/PTI
Indeed. In Kohli, Shastri has found a partner who swears by his 'all or nothing' philosophy; the two seem to have struck an endearing bromance that is forever blossoming irrespective of the results.
"During his playing days, he was a great motivator. He never got bogged down by anything," explains Singh. "But now we get to hear a lot of excuses from him. He ends up blaming pitches and curators, which isn't very nice."
Shastri, last year, was involved in an ugly public spat with Wankhede Stadium curator Sudhir Naik after the Indian bowling was obliterated by South Africa's A B de Villiers and Francois du Plessis. Naik accused Shastri of abusing him for preparing a pitch that was woefully in favour of the batsmen. Rather expectedly, the BCCI took no action against Shastri.
For the T20 World Cup, which begins in March, the Indian team would be hoping that Shastri proves to be the same catalyst that lifted Mumbai cricket out of the doldrums in the early 1990s. In 1993-1994, Shastri led a youthful Mumbai team, which comprised future stars Paras Mhambrey, Amol Mazumdar and Sairaj Bahutule, to its first Ranji Trophy title in nine years.
Mhambrey recalls how Shastri worked his magic as captain that season. "There were four or five debutants that year. We were a timid side and there always used to be a lot of banter. But Shastri always gave it back to the opposition," says Mhambrey.
In the semi-final against Karnataka, with Mumbai staring at a catastrophic exit, Shastri and Bahutule stitched together an arduous 259-run partnership that helped the team stumble over the finish line. "I had trouble facing Venkatesh Prasad in that innings. But he helped me immensely get through that spell. He was always a players' player," remembers Bahutule.
Shastri's contract as team director is up for review at the end of the T20 World Cup. The BCCI officials have indicated that a full-time coach may be appointed after the tournament. There would be little surprise if Shastri is elevated to that role.
He, after all, has firmly established himself as Mr Teflon of Indian cricket.
Aabhas Sharma contributed to this report.