India's first innings lead of 292 is the highest they have ever achieved in a Test in Australia, points out Rajneesh Gupta.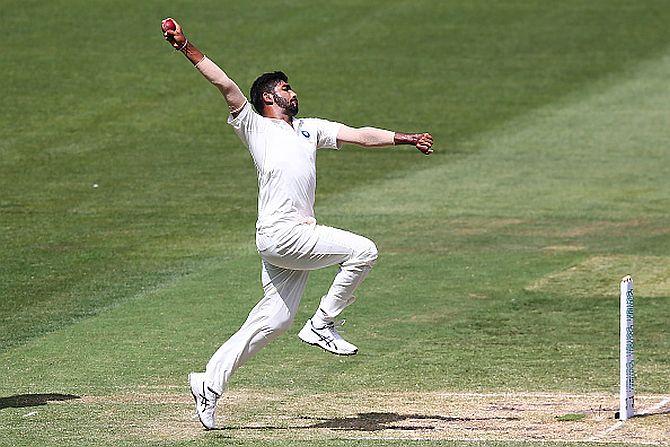 6/33 Jasprit Bumrah's figures -- the third best by an Indian bowler in Australia after Kapil Dev's 8/106 at Adelaide in 1985-1986 and Anil Kumble's 8/141 at Sydney in 2003-2004.
292 The first innings lead taken by India -- the highest they have ever achieved in a Test in Australia.
The previous biggest was 265 at Sydney in 1977-1978.
This is also the second highest first innings lead taken by a visiting side in Australia without enforcing the follow-on after England's 399 at Brisbane in 1928-1929 (in a timeless Test)
6 Number of times Virat Kohli has not enforced the follow-on in Tests (despite being entitled to do so).
No other Indian has done so more than once!
Incidentally of the five previous instances when Virat did not enforce the follow-on, India went on to win the Test on every single occasion!
45 Number of wickets taken by Jasprit Bumrah in 2018 -- the most for any Indian bowler in his debut year.
In fact, in all Test cricket only three bowlers have taken more wickets in their debut year -- Terry Alderman (54 in 1981), Curtly Ambrose (49 in 1988) and Steven Finn (46 in 2010).
0 Number of visiting bowlers to take a 5 wicket haul in South Africa, England and Australia in the same year before Jasprit Bumrah.
18 Number of catches taken by Rishabh Pant in the series -- the most by an Indian wicket-keeper in any series, beating the 17 by Syed Kirmani versus Pakistan in 1979-1980 and M S Dhoni vs England in 2014.
255 Number of wickets taken by India in 2018 (including the run-outs) -- the most they have ever taken in a single calendar year.
6 Number of runs scored by Indian middle-order (no 3 to no6) in the second innings -- the joint-lowest in an innings where all four batted.
In the first innings of the Manchester Test in 1946, the Indian middle order also aggregated just 6 runs.