Purnendu Maji and Srinivas Bhogle list IPL 2020's 50 Most Valuable Players before the IPL 2020 Final.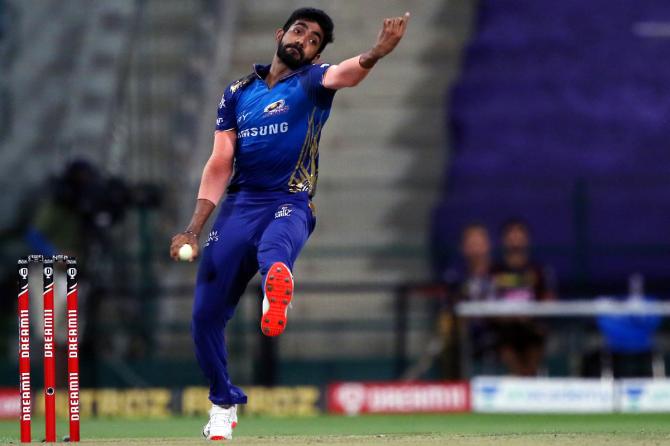 There's only one match to go in IPL 2020: The Final between the Mumbai Indians and the Delhi Capitals.
While most of the interest will be on who lifts this year's IPL trophy, there are two mini races of interest: Kagiso Rabada (29 wickets so far) is in competition with Jasprit Bumrah (27 wickets so far) to see who leaves wearing the Purple Cap.
And if Shikhar Dhawan (603 runs so far) scores 68 more runs, he'll walk away with the Orange Cap.
Currently the two most valuable players are Jofra Archer (MVPI: 666) and Rashid Khan (652).
But either or both could be eclipsed by either Rabada (641) or Bumrah (638).
Indeed, there's also a reasonable chance that Shikhar Dhawan (605) might end up becoming this year's MVPI.
Recall that the Most Valuable Player Index (MVPI) -- which collapses a player's batting, bowling and fielding performance into a 'run equivalent' -- rewards wicket-taking bowlers, with good economy rates, and high-scoring batsmen with the best strike rates, obtain the best MVPI values.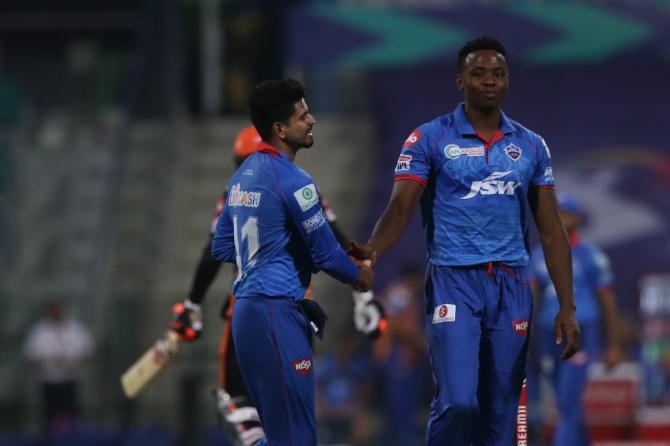 The table also lists the Paisa Vasool Index (PVI), which measures a player's value by the amount of US$ they pay the player for every MVPI point 'gained ('run equivalent' contributed), of the 50 best performing players.
The lower the PVI, the greater bang the player offers for the buck; so check out the PVI values, especially of players with PVI($) less than 1000.
This means that for every 'run equivalent' contributed by the player the franchise has to pay less than $1000.
Some of the best international buys have been: Kagiso Rabada (PVI: 936 and price of Rs 4.2 crore); Quinton de Kock (746: Rs 2.8 crore), Faf du Plessis (488; Rs 1.6 crore), Trent Boult (985; Rs 3.2 crore), Anrich Nortje (682; Rs 2 crore), Jonny Bairstow (898; Rs 2.2 crore) and Jason Holder (882; Rs 2 crore).
These players could have elevated prices when the next IPL auction takes place.
In our final round-up we will provide a list of Indian and international players who provided a mere whimper for the biggest bucks. We must stress that PVI is naive and doesn't account for injury, loss of playing time etc.
Best Performing Players so far at IPL 2020 before the IPL 2020 final on November 10, 2020
| Rank | Player | Team | From | MVPI | PVI(US$) | Runs | Top Score | 4s | 6s | Strike Rate | Wickets | Economy Rate | Match |
| --- | --- | --- | --- | --- | --- | --- | --- | --- | --- | --- | --- | --- | --- |
| 1 | Jofra Archer | RR | ENG | 666 | 1544 | 113 | 27 | 5 | 10 | 179.4 | 20 | 6.6 | 14 |
| 2 | Rashid Khan | SRH | AFG | 652 | 1972 | 35 | 14 | 3 | 2 | 116.7 | 20 | 5.4 | 16 |
| 3 | Kagiso Rabada | DC | SA | 641 | 936 | 56 | 15 | 4 | 2 | 114.3 | 29 | 8.2 | 16 |
| 4 | Jasprit Bumrah | MI | IND | 638 | 1567 | 5 | 5 | 0 | 0 | 166.7 | 27 | 6.7 | 14 |
| 5 | KL Rahul | KXI | IND | 621 | 2530 | 670 | 132 | 58 | 23 | 129.3 | 0 | - | 14 |
| 6 | Shikhar Dhawan | DC | IND | 605 | 1228 | 603 | 106 | 64 | 12 | 145.7 | 0 | - | 16 |
| 7 | Marcus Stoinis | DC | AUS | 567 | 1209 | 352 | 65 | 31 | 16 | 149.2 | 12 | 9.4 | 16 |
| 8 | Rahul Tewatia | RR | IND | 549 | 781 | 255 | 53 | 13 | 17 | 139.3 | 10 | 7.1 | 14 |
| 9 | David Warner | SRH | AUS | 542 | 3295 | 548 | 85 | 52 | 14 | 134.6 | 0 | 12 | 16 |
| 10 | AB de Villiers | RCB | IND | 541 | 2905 | 454 | 73 | 33 | 23 | 158.7 | 0 | - | 15 |
| 11 | Quinton de Kock | MI | SA | 536 | 746 | 483 | 78 | 43 | 21 | 139.6 | 0 | - | 15 |
| 12 | Suryakumar Yadav | MI | IND | 497 | 920 | 461 | 79 | 60 | 10 | 148.2 | 0 | - | 15 |
| 13 | Yuzvendra Chahal | RCB | IND | 489 | 1753 | 1 | 1 | 0 | 0 | 33.3 | 21 | 7.1 | 15 |
| 14 | Ishan Kishan | MI | IND | 468 | 1893 | 483 | 99 | 33 | 29 | 144.2 | 0 | - | 13 |
| 15 | Faf du Plessis | CSK | SA | 468 | 488 | 449 | 87 | 42 | 14 | 140.8 | 0 | - | 13 |
| 16 | Mayank Agarwal | KXI | IND | 466 | 307 | 424 | 106 | 44 | 15 | 156.5 | 0 | - | 11 |
| 17 | Trent Boult | MI | NZ | 464 | 985 | 0 | 0 | 0 | 0 | 0 | 22 | 8 | 14 |
| 18 | Nicholas Pooran | KXI | WI | 458 | 1310 | 353 | 77 | 23 | 25 | 169.7 | 0 | - | 14 |
| 19 | Sam Curran | CSK | ENG | 457 | 1719 | 186 | 52 | 12 | 12 | 131.9 | 13 | 8.2 | 14 |
| 20 | Sanju Samson | RR | IND | 449 | 2545 | 375 | 85 | 21 | 26 | 158.9 | 0 | - | 14 |
| 21 | Pat Cummins | KKR | AUS | 435 | 5090 | 146 | 53 | 9 | 8 | 128.1 | 12 | 7.9 | 14 |
| 22 | Axar Patel | DC | IND | 431 | 1657 | 108 | 42 | 5 | 8 | 142.1 | 9 | 6.6 | 14 |
| 23 | Kieron Pollard | MI | WI | 430 | 1794 | 259 | 60 | 13 | 22 | 190.4 | 4 | 8.9 | 15 |
| 24 | Varun Chakravarthy | KKR | IND | 428 | 1335 | 10 | 7 | 0 | 0 | 66.7 | 17 | 6.8 | 13 |
| 25 | Devdutt Padikkal | RCB | IND | 419 | 68 | 473 | 74 | 51 | 8 | 124.8 | 0 | - | 15 |
| 26 | Anrich Nortje | DC | SA | 419 | 682 | 7 | 3 | 0 | 0 | 116.7 | 20 | 8.3 | 15 |
| 27 | Mohammed Shami | KXI | IND | 409 | 1677 | 2 | 2 | 0 | 0 | 66.7 | 20 | 8.6 | 14 |
| 28 | Eoin Morgan | KKR | ENG | 404 | 1856 | 418 | 68 | 32 | 24 | 138.4 | 0 | - | 14 |
| 29 | Ravindra Jadeja | CSK | AUS | 404 | 2475 | 232 | 50 | 22 | 11 | 171.9 | 6 | 8.8 | 14 |
| 30 | Manish Pandey | SRH | IND | 383 | 4103 | 425 | 83 | 35 | 18 | 127.6 | 0 | - | 16 |
| 31 | Washington Sundar | RCB | IND | 376 | 1216 | 111 | 30 | 10 | 2 | 116.8 | 8 | 6 | 15 |
| 32 | Shreyas Iyer | DC | IND | 376 | 2660 | 454 | 88 | 34 | 14 | 122.4 | 0 | - | 16 |
| 33 | T Natarajan | SRH | IND | 369 | 155 | 3 | 3 | 0 | 0 | 60 | 16 | 8 | 16 |
| 34 | Virat Kohli | RCB | IND | 368 | 6599 | 466 | 90 | 23 | 11 | 121.4 | 0 | - | 15 |
| 35 | Chris Morris | RCB | SA | 365 | 3914 | 34 | 25 | 2 | 3 | 161.9 | 11 | 6.6 | 9 |
| 36 | Jonny Bairstow | SRH | ENG | 350 | 898 | 345 | 97 | 31 | 13 | 126.8 | 0 | - | 11 |
| 37 | Jos Buttler | RR | ENG | 349 | 1801 | 328 | 70 | 27 | 16 | 144.5 | 0 | - | 13 |
| 38 | Shubman Gill | KKR | IND | 349 | 737 | 440 | 70 | 44 | 9 | 118 | 0 | - | 14 |
| 39 | Sandeep Sharma | SRH | IND | 348 | 1232 | 12 | 9 | 1 | 0 | 80 | 14 | 7.2 | 13 |
| 40 | Hardik Pandya | MI | IND | 348 | 4516 | 278 | 60 | 14 | 25 | 182.9 | 0 | - | 13 |
| 41 | Rahul Chahar | MI | IND | 337 | 805 | 2 | 2 | 0 | 0 | 50 | 15 | 8.2 | 15 |
| 42 | R Ashwin | DC | IND | 334 | 3251 | 37 | 14 | 3 | 1 | 108.8 | 13 | 7.7 | 14 |
| 43 | Nitish Rana | KKR | IND | 326 | 1490 | 352 | 87 | 43 | 12 | 138.6 | 0 | 11.5 | 14 |
| 44 | Jason Holder | SRH | WI | 324 | 882 | 66 | 26 | 5 | 3 | 124.5 | 14 | 8.3 | 7 |
| 45 | Ravi Bishnoi | KXI | IND | 321 | 890 | 7 | 6 | 1 | 0 | 58.3 | 12 | 7.4 | 14 |
| 46 | Ambati Rayudu | CSK | IND | 316 | 995 | 359 | 71 | 30 | 12 | 127.3 | 0 | - | 12 |
| 47 | Ben Stokes | RR | ENG | 311 | 5742 | 285 | 107 | 36 | 7 | 142.5 | 2 | 10.3 | 8 |
| 48 | Kane Williamson | SRH | NZ | 297 | 1443 | 317 | 67 | 26 | 10 | 133.8 | 0 | 12 | 12 |
| 49 | Deepak Chahar | CSK | IND | 296 | 386 | 7 | 5 | 0 | 0 | 58.3 | 12 | 7.6 | 14 |
| 50 | Krunal Pandya | MI | IND | 278 | 4522 | 108 | 34 | 9 | 5 | 118.7 | 6 | 7.4 | 15 |
Feature Presentation: Aslam Hunani/Rediff.com