'It was a good performance,' M S Dhoni said after the match. It was a little bit more than that, in that it came just when the team needed to reverse trends, to find self-belief, to be able to look ahead rather than behind.'
Prem Panicker's match report card, for Rediff.com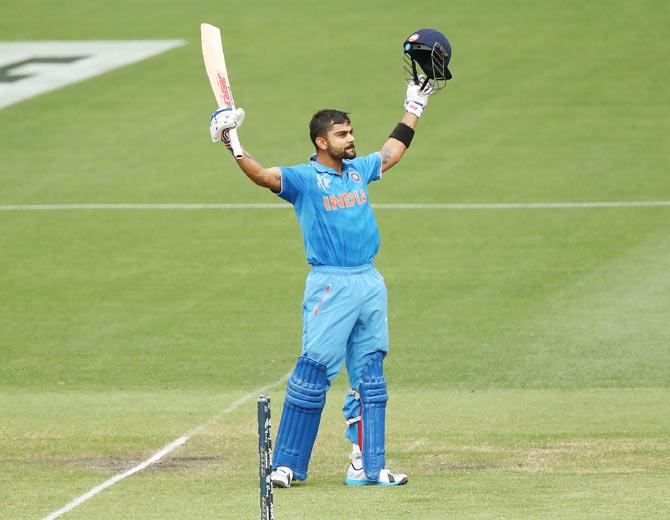 Virat Kohli averages 50-plus in one-day internationals over the past 12 months with three centuries and three other scores of over 50 (plus a 48 and a 49).
Yet, the talk leading into India's opening match of World Cup 2015 has been around his 'loss of form' -- a debate that is a little less about performance and a little more about the stature he has attained in a universe shorn of Tendulkar, Dravid and Sehwag.
Kohli's fan base expects him to perform prodigies each time he walks out, and his demeanour suggest that he shares that expectation. His run of 9, 4, 2 not out and 8 in the recent triangular series is thus a personal let-down.
Today, when he walked in at number three after the early loss of Rohit Sharma, he resembled nothing as much as Hamlet in a helmet.
For the major part of his innings he prowled the battlements around his wicket, face taut with tension, eyes narrowed in absolute concentration, occasionally indulging in soliloquies that may have had Oedipal subtexts.
When he is in rude batting health, he signals it early with his signature cover drives and pulls. Today saw a different Kohli -- one prepared to concede the need to grind his way back to his peak. He ostensibly avoided the cover drive for much of his innings; he shocked himself by mishitting a pull off Afridi that almost got to a running, diving Yasir Shah at wide midwicket.
He settled down to work. He hit into the ground almost as often as along it; he found fielders as many times as he found gaps. He absorbed the pressure of 53 runless balls out of 126 faced; shrugged off two chances (the other a simple one to stand-in wicket-keeper Umar Akmal); he ran brilliantly to accumulate through 56 singles and eight twos; he ran as selflessly for his partners Shikhar Dhawan and Suresh Raina, and he proved -- to his own evident satisfaction as manifest by his sober celebration of a 22nd ODI century (107 off 126) -- that when he could not walk with the gods, he was humble enough to be mortal.
Confronting his own inadequacies was equally the subtext of Shikhar Dhawan's innings. Having come to grief too often square of the wicket and behind, he curbed his propensity to slash hard; he took fresh mental guard when, in the 3rd over of the innings, a lifter from Irfan had him fending a thick edge just wide of second slip; he played with an almost pedantic focus on meeting the ball under his eye with the middle of his bat; he ran hard in Kohli's slipstream and he only flexed his heavily tattooed muscles only when the delivery merited it.
Given recent form, it was a surprise that he was still there after the first sharp opening spell from Mohammed Irfan and Sohail Khan; given the way he batted on the day, it was a bigger surprise when he got out for 73 (76 balls), just when a century seemed his for the scoring.
Even here, the fault was not his so much as that of Kohli, who called him for one and sold him a dummy for Shehzad, a noticeable stand-out in an ordinary Pakistan fielding side, to hit the stumps with the nerveless precision of a sniper.
Suresh Raina (74 off 56) was a beneficiary of early largesse from Pakistan skipper Misbah ul-Haq, who allowed the left-hander just enough breathing space to settle in against spin before testing his nerve against pace and bounce.
Promoted to number four to replace the left-handed Dhawan, Raina quickly settled in against spin and by the time the quicks came back on, had found the range and timing of his muscular hitting, particular to leg -- an area he pounded with four of his five fours and all three of his sixes).
At the top end of the innings, Rohit Sharma was the antithesis to Dhawan and Kohli -- a player so sold on his own 'talent' that he seemed unwilling to accept that scoring sometimes entails a grind.
Tied down by sharp pace and good lines and lengths from Irfan and Sohail Khan, he launched into a predetermined pull at a Sohail delivery not short enough for the shot; the ball got big on him off length and the top edge lobbed for a simple catch to mid-off.
India's strategy of batting within themselves in the mid overs and keeping wickets for the final dash almost paid off, when they batted themselves to a comfortable 165/2 at the end of 30 and a threatening 217/2 after 40 overs. 56 runs in the overs 41-45 set up the climactic assault, but Misbah got his two best bowlers Sohail Khan and Wahab Riaz together for the last five.
Both were, if anything, quicker than at the start of the innings; their lines and lengths were tight and India, looking to hit out, lost 5 for 27 to a combination of skilled death bowling and the batsmen's own imperative to pummel or perish.
Misbah continues to grow as a captain; barring his choice of bowlers against Raina initially, he hardly put a foot wrong -- if anything, he has reason to feel aggrieved that the two bowlers he would have looked to as his spearheads -- Mohammed Irfan and Yasir Shah -- proved to be the weakest links.
The three hundred India finished up with in its first innings would have been the end of the argument even in the previous edition of the tournament.
In 2011, there were 17 scores of over 300 in 49 games -- of which 11 were against the lowly ranked teams. This time around, the first four games of the Cup have produced four 300-or-over first innings scores -- three against the more than decent bowling attacks of England, Sri Lanka, and Pakistan.
It is indicative of the changing ODI mindset that 300 no longer seems a winning total. It is, after all, a six runs per over ask; the restriction that you can have only four fielders outside the circle (only three during the 15 power play overs) added to the use of a different ball at either end mean that batsmen are not confronted with an old, soft ball at the business end of the chase.
The question therefore always was whether India's bowlers could come to the party as a unit, contrary to their recent practice of bowling dross at one end to let off any pressure built at the other. They did.
Equally, the question was whether Pakistan's batsmen had the nous to resist the pressure of history -- five defeats in five World Cup meetings is a weight on the collective soul, no matter how much a team talks of putting the past behind them and concentrating on the present. As it turned out, they didn't.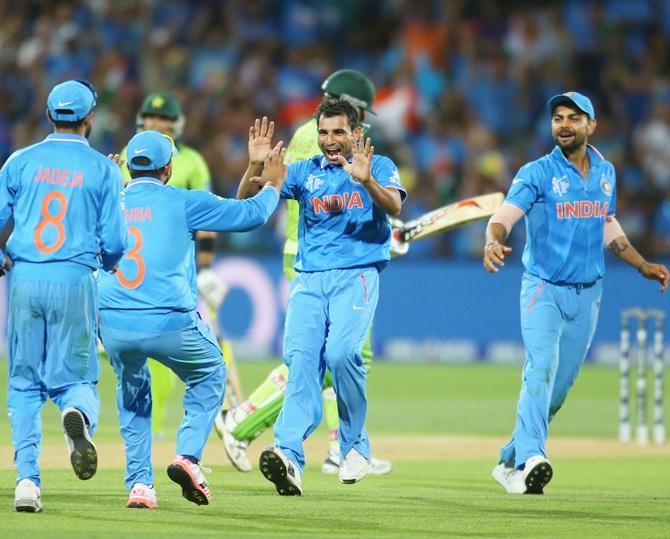 To Mohammed Shami goes the credit for setting India up for the win. With the second ball of his second over, he produced a razor-sharp bouncer that steepled off length at sharp pace, catching the experienced Younis Khan by surprise.
The batsman aimed to duck, but the ball followed him, tried to pull but was cramped, and ended up gloving to M S Dhoni behind the wicket.
It was a crucial early wicket, because the Pakistan batting is set up for its young stars to revolve around the experience of Younis and Misbah.
The Indian opening bowlers were sharp and, most of the time, on target -- but their effort received real teeth thanks to the fielding. Haris Sohail, promoted to number three, played with great skill. His driving was fluid, the ball resounded off the middle of the bat, his feet moved with precision.
Shot after shot looked set to end up at the fence; time after time Sohail got nothing for his effort thanks to bowlers who adhered to the prescribed off and outside line, and a four-man off-side inner cordon in which Ravindra Jadeja, Suresh Raina, Shikhar Dhawan, Rohit Sharma and Virat Kohli variously combined to superb effect. Sohail managed a mere 36 off 48 -- if each shot had earned what it merited, he would have doubled that.
Though Pakistan was ahead of India at the end of the first ten over tranche, the seeming impossibility of finding gaps on the off began to tell; Ravichandran Ashwin then added to the pressure with an opening spell where he finally looked the off spinner he is.
He slowed down his deliveries; he used his height to loop the ball over the batsman's eyeline and his long fingers to impregnate the ball with real spin, and suddenly looked a far different, more dangerous bowler.
Two of his first three overs were maidens; the fielders were buzzing around the batsmen -- even filtered through a TV screen, you could feel the pressure ratchet up. And it told -- the left handed Sohail fell as you expect left handers to fall to off spinners: Ball on length just outside off drawing the batsman forward, turning on hitting the deck and getting sufficient bounce to hit the edge high. Rohit Sharma completed the dismissal with a sharp catch to his right at slip, and from that point on, it never looked like Pakistan was in the game.
The fielding only got better and India's bowlers for once never slackened or lost focus. The most expensive was Raina, who bowled just one over for six runs; the second most expensive was the all-rounder Jadeja, whose ten went for 56, against which he found the outside edge of Umar Akmal before that accomplished batsman had scored.
Umesh Yadav had a 5.0 economy rate for his two wickets; Shami bought his four wickets for 35 at 3.8; Mohit Sharma went at 3.9 and got two wickets; and Ashwin had an outstanding day, his spell of 8-3-41-1 and relatively expensive 5.12 economy rate belying the pressure he exerted in each of his spells.
India went in with two spinners and three pace bowlers -- all five got wickets, and that perhaps is the most noticeable fact behind its first win in the three months it has spent in Australia.
Misbah alone played as you expect a batsman to play at cricket's marquee tournament, easy and in control against pace and spin alike in an innings of 76 off 84 -- but no one batsman can do much against a target of 300 backed by committed bowling and razor-sharp fielding.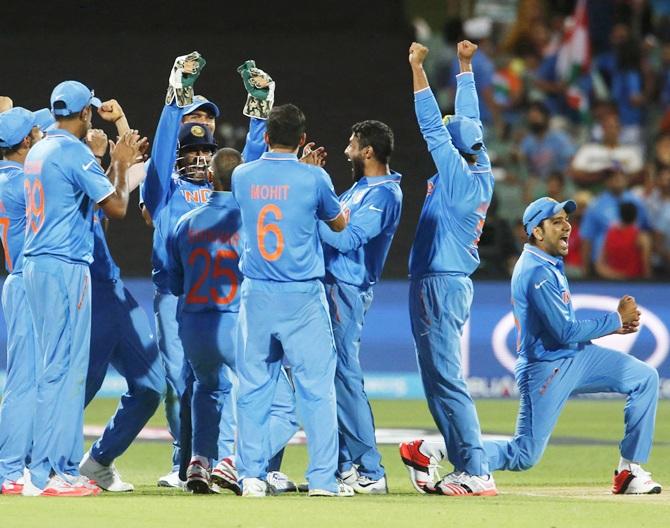 The 76 run margin of victory reflected the all-round difference between the two sides; that Pakistan for the sixth time in as many World Cup outings finds itself on the losing side against India owes to their inability to absorb the palpable pressures attendant on such contests.
You hear the word 'momentum' used more often in the commentary box than in a convention of physicists, these days. And that word is due for some over-use in the interregnum between this win, and India's next outing, February 22 against South Africa.
For me, it is about opportunity for planning, working towards an ideal. Having field-tested a combination against decent opposition today, India have the time to work its perceived weaknesses and subject itself to an intense examination against the pre-tournament favorites next weekend.
'It was a good performance,' M S Dhoni said after the match. It was a little bit more than that, in that it came just when the team needed to reverse trends, to find self-belief, to be able to look ahead rather than behind.