'Suddenly there was Brett Lee in the house. He had dropped by to say hello to his mates who were sitting right next to us.'
'Even as everyone clamoured to take pictures with him and he was about to make a polite exit, the third Australian wicket fell. And then the fourth.'
'We wanted Mr Lee to hang around a bit longer because he had brought us luck, but, of course, he didn't...'
Swapna Mitter, who travelled from Singapore to watch the semi-final, says many hearts were still bleeding blue in Sydney after India's loss.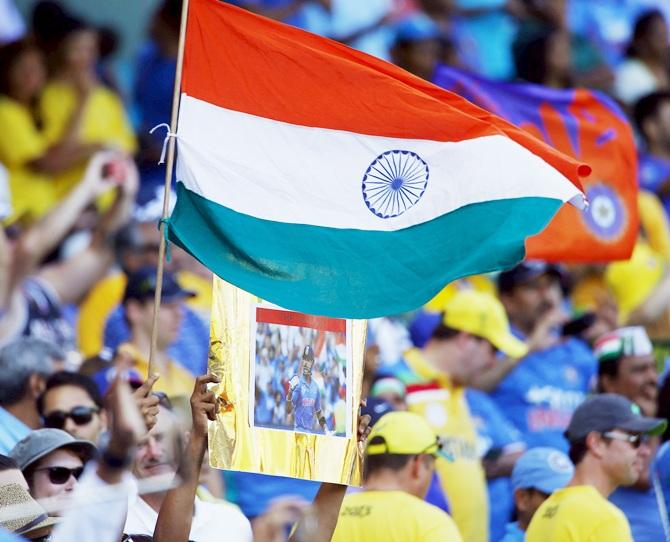 Image: Indian fans at the SCG hold aloft the tricolour and a picture of Virat Kohli. Photograph: David Gray/Reuters.
A walk along Sydney's picturesque Darling Harbour on Thursday morning seemed no different from any other day. Tourists gathering by, moms pushing babies in strollers, office-goers picking up their lattes at Starbucks. It didn't seem to have changed much from the last time I visited Sydney four years ago.
A couple of hours later, a mere 4 km away at the Sydney Cricket Ground, I did a double-take. Where did this blue sea come from?
Sure, I had read reports about how Indians from all over the world are descending on Sydney to watch the game and how they are expected to outnumber the Australians.
I myself came here from Singapore as part of a 20-plus contingent. We saw a few men and women donning India colours and got chatting with some who had come from as far as England.
The Bangladeshi cab driver who took me to the venue said he had picked up a number of Indians from the airport in the last two days. He also said he would not be supporting India today because Australia is his second home and because Bangladesh lost to India due to poor umpiring.
When I spoke to him in his language and told him my ancestors came from Bangladesh, he seemed to soften towards India and declared he would support 'the team that plays better!'
Small victory, I thought, and it turned out to be the only one for the day.
Nothing had prepared me though for the cacophony, the frenzy, the passion that unfolded at the SCG before the start of the India-Australia semi-final. The tri-colour was everywhere -- on faces, shirts, caps. 'Jeetega jeetega India Jeetega' and 'Bharat mata ki jai' were the chants, impromptu bhangra dances the rhythm.
Indian and local television channels jostled with the crowds to capture these moments and get the best sound bytes.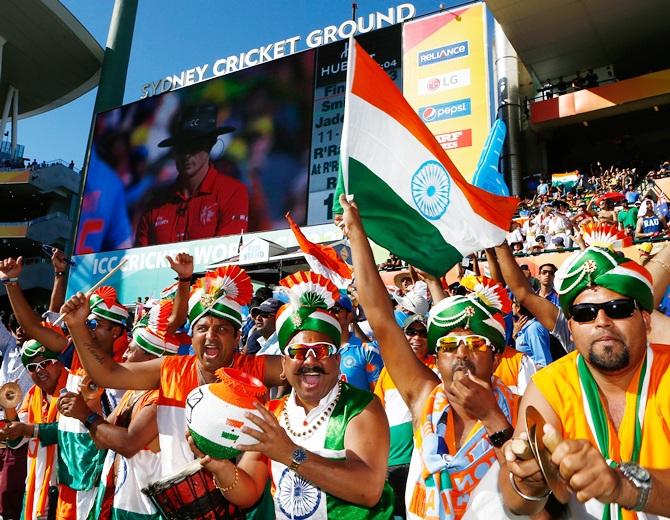 Image: Indian spectators don the national colours as they cheer for Team India at the SCG. Photograph: Daniel Munoz/Getty Images
The last time I watched a cricket match in India was more than a decade ago and I can imagine this kind of fervour is not unusual, especially if it's a big match. But I'm pretty sure the Australians had not seen anything like this, not in a cricket game at least.
Their team was playing on home soil, and they were not just outnumbered, but also out-shouted and relegated to the background. A few of them decided to join in the fun with their opponents and started singing and dancing.
Inside, it was more of the same. Flags, banners, bugles, drums, singing, dancing, along with celeb-spotting. That's Khan Chacha, there goes Sudhir, Tendulkar's No 1 fan (aside to Sachin: You were sorely missed today). Mr and Mrs Ambani were in attendance and, of course, a certain Bollywood actress who -- poor thing -- probably doesn't need another mention here.
Suddenly there was Brett Lee in the house. He had dropped by to say hello to his mates who were sitting right next to us. Even as everyone clamoured to take pictures with him and he was about to make a polite exit, the third Australian wicket fell. And then the fourth.
We wanted Mr Lee to hang around a bit longer because he had brought us luck, but, of course, he didn't.
The noise, the passion, the hope continued till almost the very end. Even when the going was tough. The specks of yellow were more visible, the Aussie voices more audible towards the end when disappointed Indian fans started leaving the stadium.
Well done Australia, you certainly deserved this win. There were a few jibes directed at the 'previously vocal now quiet' Indian supporters -- that's ok though because I know our jibes would have been much louder, had we won. And also because we are now planning to support New Zealand!
As I walked out of the stadium, I thought of the self-proclaimed 'brat from Delhi' who had flown in the day before, paying three times the price for his ticket, just to watch this game. And I thought of 'Billal' the cabbie, for who the choice, in the end, must have been easy.
Elsewhere, there were many hearts still bleeding blue. Or perhaps just bleeding.
Swapna Mitter, a former features editor at Rediff.com, now lives in Singapore.