'This little incident might seem trivial to most people. But when such things happen in the BCCI's own backyard...'
Dhruv Munjal reports.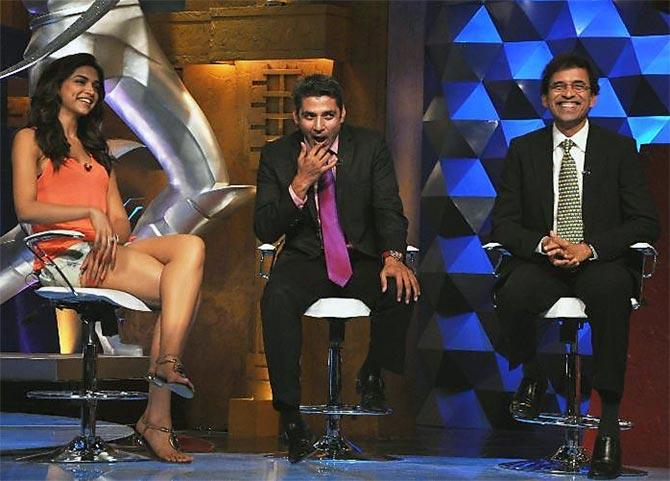 IMAGE: Harsha Bhogle with Ajay Jadeja and Deepika Padukone on Sony's Extra Innings show.
On a blustery June afternoon at Edgbaston in 2013, India narrowly beat England in the final of the ICC Champions Trophy. Virat Kohli scored a gritty 43; Ravichandran Ashwin produced a scintillating off-spin masterclass. The English were harassed, strangled and then skillfully executed.
But more than the image of James Tredwell hopelessly trying to slog Ashwin into the Tame River off the last ball of the England chase, for most ardent listeners, this match will forever be remembered for a hilarious exchange of words in the commentary box.
With Ashwin and Ravindra Jadeja artfully putting the revs on the white Kookaburra ball, Nasser Hussain launched a vitriolic jibe at Harsha Bhogle. 'It is England but India has more support in the stadium, and the pitch is completely assisting your spinners. Says a lot about our hospitality, right?'
The mild-mannered, ever-beaming Bhogle, almost impetuously, decided to return fire with fire. Hussain's spitefulness met with this from Bhogle: 'We let you rule our country for so many years. This is the least you can do for us.'
Raucous ripples of laughter filled the commentary box. The former England captain managed an askew smile; Bhogle himself laughed out loud.
Last week, when Bhogle was bafflingly left out of the Indian Premier League commentary roster, amid the deluge of support that came his way, this one piece of Bhogle witticism was unremittingly played out on social media. 'Everything was in place. My tickets were booked and I was all set to leave. I don't know what happened,' says Bhogle.
The backing Bhogle received on Twitter was almost abnormal; atypical for a commentator who never played any form of professional cricket in his life. But then the wit-laden Bhogle is an aberration. His simple, unpretentious, style of commentary makes him an alluring proposition for most cricket watchers.
Bhogle says he is overwhelmed by the kind of support he has received, but refuses to be drawn further into the controversy. "I really don't have anything to say. Maybe, this has been played up too much," says the 54 year old.
The theories surrounding Bhogle's ouster from the tournament he has been at the forefront of since its inception are myriad, ranging from an innocuous Amitabh Bachchan tweet to a barrage of scathing criticism from senior members of the Indian team. None, according to several cricket writers and people in the know, seem believable.
The most credible one, though, is the one where Bhogle got into a spat with a Vidarbha Cricket Association official over the opening of a door inside the media box at Nagpur during the ICC World T20 last month.
A Board of Control for Cricket in India insider, on the condition of anonymity, explains: "This little incident might seem trivial to most people. But when such things happen in the BCCI's own backyard (BCCI President Shashank Manohar is based in Nagpur), the board feels it is necessary to give a befitting reply."
In the photograph: Harsha, right, with Sachin, Anjali and Ajit Tendulkar and Rediff's Saisuresh Sivaswamy at the keyboard when Sachin appeared on the Rediff Chat.
Cricket writer Ayaz Memon, who immediately exchanged text messages with Bhogle after the story broke out, says that like so many others, he too can't put his finger on any one thing. "He has a very balanced personality; not the mercurial kind that would get you into trouble. He should be the last person to be getting involved in an ugly controversy such as this," feels Memon. "Cricket commentary as it is has become so sanitised. I don't know what could have gone wrong."
Bhogle, however, still continues to be an omnipresent figure. On Thursday, he penned a light-hearted piece in The Indian Express on how it felt to watch the IPL from the comfort of his home rather than the studio for the first time.
His sagacious cricket brain, meanwhile, has been in overdrive on Twitter. During the game between Gujarat Lions and Rising Pune Supergiants on Thursday night, Bhogle expressed concern over Mahendra Singh Dhoni's wicket-keeping. On Wednesday, he fondly talked about Rohit Sharma's love affair with the Eden Gardens. He even helped Sachin Tendulkar promote his new biopic -- hardly someone you can keep out of the action for long.
Over the last two decades, Bhogle has become as synonymous with Indian cricket as some of the country's most distinguished players -- no mean feat for a commentator. While studying chemical engineering at Hyderabad's Osmania University, Bhogle started commentating on cricket matches for All India Radio.
In 1991, for India's tour to Australia, he was offered a radio role by the Australian Broadcasting Corporation. He was later a part of the BBC commentary team for the 1996 and 1999 World Cups. But it was the turn of the millennium that saw the Bhogle phenomenon truly take off.
Soon, he was everywhere: On TV shows, in the commentary box, hosting quiz competitions, on book covers, at universities delivering motivational lectures.
"He was like a breath of fresh air. He made perfect sense when he spoke. You just wanted to listen to him. For the Indian audience, he was something they had never seen before," says a former colleague who worked with him at ESPN-Star Sports during the early 2000s.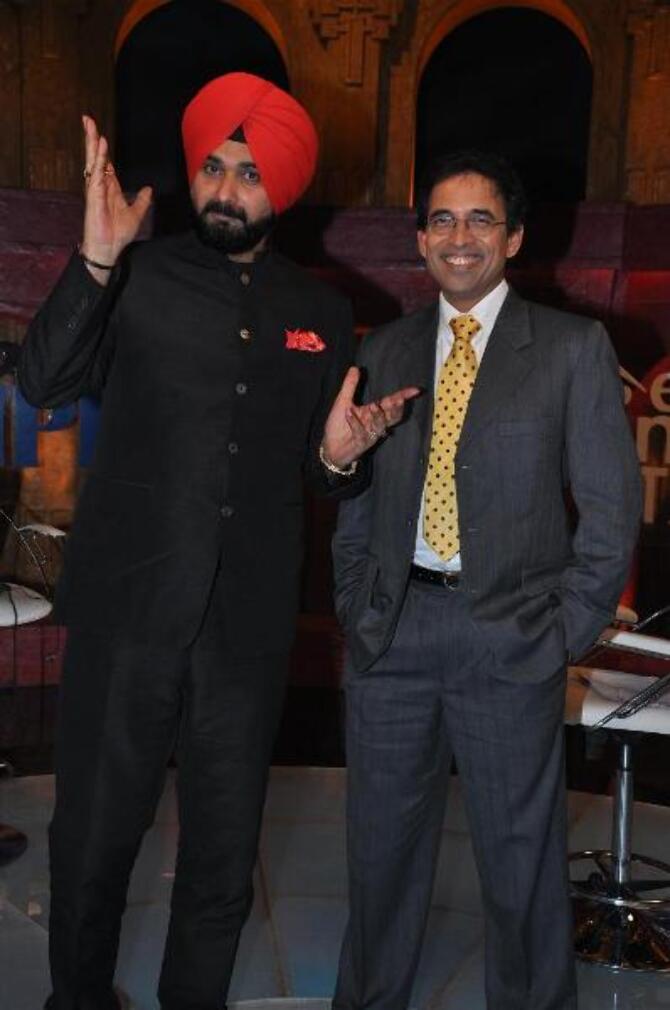 Bhogle -- a commentator with little cricketing background -- was the last of a dying breed. Those who preceded him included Narottam Puri, Kishore Bhimani and Anupam Gulati. Now, it is almost unthinkable for any non-cricketer to enter the hallowed turf of commentary.
This, in some ways, is the story of the outsider; one who stormed past the unbreakable barricades of Indian cricket to cull out for himself an extraordinary legacy. "Here was a man who came from nowhere to become the focal point of Indian cricket broadcasting. Others could only watch. All of a sudden, there were a lot of people who wanted to become just like Harsha Bhogle," says another former broadcaster, on the condition of anonymity.
For once, some believe that the 'outsider' tag has come back to haunt him. "I wonder if the BCCI would have removed a former cricketer if he had done the same thing," says cricket historian Boria Majumdar. "Shane Warne had an awful confrontation with Marlon Samuels, but nobody dared to remove him."
In the photograph: Harsha with fellow commentator and former Indian cricketer Navjot Singh Sidhu before Sony's Extra Innings show.
Bhogle's banishment is made even more puzzling by the fact that he hosted the auction for the ninth edition of IPL earlier this year.
"More than anything, he's always been an establishment man. He's objective, but knows where to draw the line. I'm sure this is just temporary," says a fellow commentator. Bhogle, in the past, has been critical of India's team selection -- very mildly though.
But if the BCCI wasn't perturbed by this act of non-conformity for so long, it is difficult to fathom why the axe has been wielded at this precise moment. In fact, on most other issues, including the controversial Decision Review System, he has seldom gone against the BCCI line.
Bhogle's acceptance and popularity have transcended cricket. In 2011, he co-authored The Winning Way, a management book, with his wife, Anita. Eight years earlier, in 2003, Bhogle had written a biography of former India captain Mohammad Azharuddin, although carrying scant details of the 2000 match-fixing saga that caused irreversible damage to the reputation of Indian cricket.
During Google CEO Sundar Pichai's visit to the national capital last year, Bhogle was the one who mediated a Q&A session at a reputed Delhi college. His reputation of being an 'everywhere' man has burgeoned drastically in the last few years.
For most cricket fans, Bhogle is one of the few genuinely lovable figures in Indian cricket. In the age of annoying hyperbole and tedious cricket broadcasting, Bhogle dazzles with microphone in hand.
After Bhogle was given the sack, a disconsolate fan had tweeted: 'Harsha Bhogle not in the commentary box is like Sachin not opening the batting.' Several others share the same sentiment. For now, those terribly missing him should immediately get on Twitter.