'People can relate to him much the way they did with a young Sachin Tendulkar 30 years ago.'
Viveat Susan Pinto reports.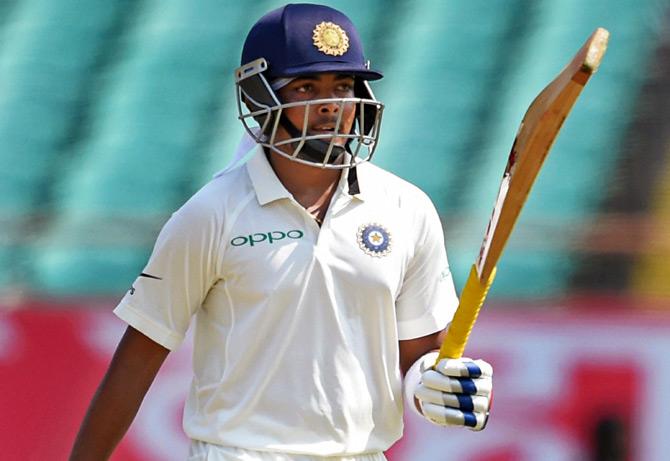 The 18-year-old talent with the bat has swiftly turned into the new god on the brand altar.
Prithvi Shaw already has four brands in the bag and is believed to have upped his asking fee almost six times to around Rs 10 million to Rs 15 million for a brand in the aftermath of his success.
But the question is: Can he follow in the footsteps of Virat Kohli, M S Dhoni and even Sachin Tendulkar, to whom he is constantly compared?
Since scoring 100 runs on his Test debut on October 4, Prithvi has become a darling of the masses.
Advertisers and cricket experts are watching him closely too though there has not been a flurry of new endorsement deals falling into this kitty yet although the teenager has a talent managemetn team looking into his contracts and deals.
Brands are being cautious say experts.
Talent needs to be tempered with consistent performances and a temperament that endears him to fans even outside the field for brands to get truly serious.
Prithvi seems to be off to a good start. After his debut ton that had fans giddy with excitement and commentators gushing about his promise, the Mumbai cricketer showed he was more than just a one-match wonder when he put 70 runs on the scoreboard quickly in the second Test against the West Indies in Hyderabad.
Experts say Shaw will need to be consistent during his next tournaments to woo companies in the long run.
The cricketer, who took India to victory in the Under-19 World Cup earlier this year, has four endorsements currently including MRF, Nike, Protinex, and Indian Oil.

"There is an interesting story behind the rise of Prithvi," says Indranil Das Blah, co-chief executive, KWAN Entertainment. "People can relate to him much the way they did with a young Sachin Tendulkar 30 years ago. So, brands seeking a wider appeal across masses would be interested in him," he says.
Tendulkar, who debuted in 1989, had set brands aflutter too.
Within a year of his debut, he was picked by Johnson & Johnson for an advertisement campaign for Band Aid and by health drink brand, Boost for a joint campaign with legend Kapil Dev.
The difference, however, is that while big consumer goods and cola brands took some time to warm up to Tendulkar (the first Pepsi campaign came in 2003), the time taken for them to crowd around Prithvi may be significantly shorter.
His management agency Baseline Ventures is acutely aware of the talent in their fold. They are also being watchful of the attention being showered upon him.
In fact many were surprised when they ticked off potential marketers by slapping cease-and-desist notices on three companies including Freecharge, Swiggy and Yashodhara Hospitals for congratulating the cricketer for his Test century, a sign that he is being groomed for the big stage.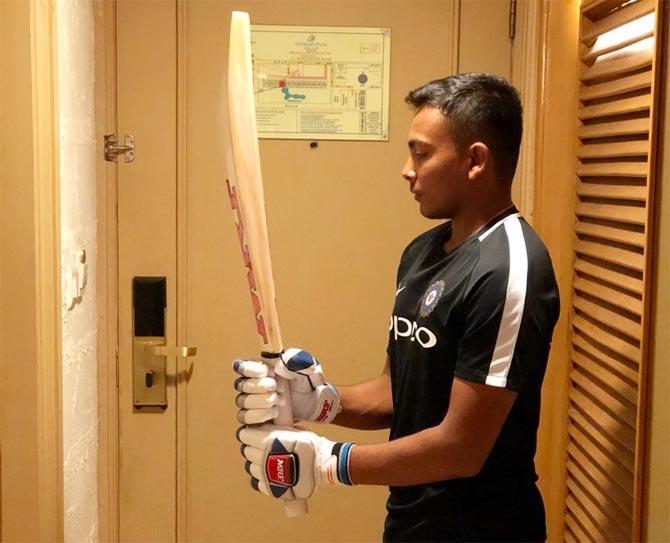 "Prithvi was among the big earners during the IPL auction this year, going for Rs 12 million to the Delhi Daredevils. This was six times his base price of Rs 2 million. Baseline has taken all these factors into account when hiking his price for brand endorsements," an executive from a rival celebrity management firm said.
What could tip the scales in Prithvi's favour, said experts, is his on-field behaviour and personality.
"It is what you exude (on the field) in addition to performance that could also get brands interested in you," said N Chandramouli, chief executive officer, TRA, which brings out the annual Brand Trust Report.
"Prithvi comes across as a down-to-earth individual. He is willing to take risks. At the same time, he is not over-confident, winning people over with his performance including his captain. Virat had good things to say about him besides other young players in the national squad after India won the second Test against the West Indies," Chandramouli said.
"When the captain reposes his faith in a young player, I don't think brands would be far away in doing the same," he added.
Harish Bijoor, chief executive officer, Bijoor Consults, said Prithvi always held promise owing to his early exploits as a child cricketer.
"I was reading how this boy would journey from the suburb of Virar in Mumbai to Bandra for his training during his school days. The journey would sap him, but he never gave up," Bijoor says. It is this quality of his that brands will look for in his future performances.
If he clicks in the forthcoming India-Australia series to be played away from home, Prithvi could get endorsements quickly, emerging as an alternative to expensive players such as Kohli, say brand experts.
Kohli is the highest paid celebrity endorser in the country today, ranked 83rd among the world's highest earning athletes in the Forbes 2018 list.
Kohli charges around Rs 25 million to Rs 30 million per brand per day, according to experts.
And in dollar terms, Forbes said Kohli's annual earnings were $24 million this year.
Prithvi Shaw has a big set of shoes to fill, both on and off the field.