The India-Afghanistan tie was the 36th tie in ODI history and the 8th involving India.
Rajneesh Gupta take a look at India's tied games.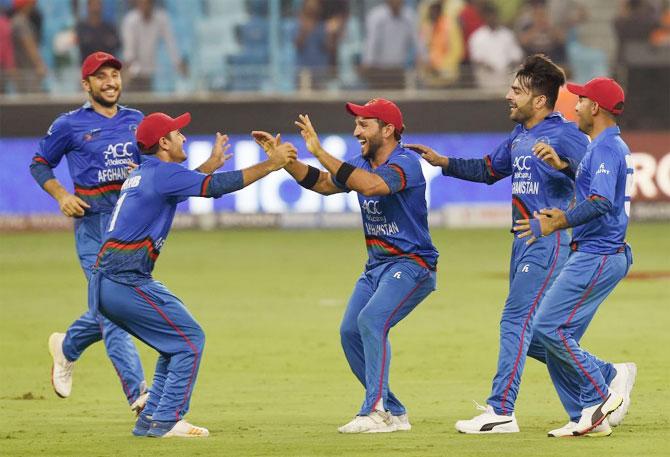 India's last league match against Afghanistan in the Asia Cup ended in a thrilling tie.
India rested Captain Rohit Sharma and some other key players in an inconsequential match as they had already secured a place in the final.
M S Dhoni led India for the 200th time in an ODI.
Mohammad Shahzad's blistering 116 and Mohammad Nabi's 46-ball 64 took Afghanistan to a par total of 252/8.
K L Rahul's 60 and Ambati Rayudu's 57 set the tone for India's reply, but once Dhoni and Dinesh Karthik were given out lbw to questionable umpiring decisions the batting started to crumble against the Afghan spinners.
India needed 46 runs in the last 10 overs, with Ravindra Jadeja shepherding the chase with the lower-order.
The equation was brought down to 13 in the last 2 overs with 3 wickets remaining.
Two wickets fell in the penultimate over leaving India's last pair to score 7 runs off the last over.
Six runs came off the first 4 balls, but with just 1 run needed off two balls Jadeja hit Rashid to mid-wicket amid celebrations from Afghan players.
This was the 36th tie in one-day international history and the 8th involving India.
We take a look at India's past tied matches in this format:
vs the West Indies, Perth, December 1991
A spirited rearguard action by the West Indian tail created an exciting finish to a match made tedious by the bowlers' easy dominance.
The ball deviated copiously, in the air and off the seam, giving the bowlers a simple task against batsmen on both sides lacking form and confidence.
Although India survived all but 14 balls of their allotted 50 overs, their meagre 126 included only two fours, both from Ravi Shastri.
The West Indies lost Desmond Haynes to the first ball of the innings, and their innings followed the same dreary pattern.
They were on the run until their 8th wicket fell, with 51 still needed. But Curtly Ambrose and Anderson Cummins showed more will than the recognised batsmen.
The Windies were 14 runs from victory when Ambrose was run out.
A superb slip catch by Mohammad Azharuddin, off Sachin Tendulkar's part-time medium pace, claimed the last wicket with the scores level.
vs Zimbabwe, Indore, November 1993
Zimbabwe's best effort of the Hero Cup tournament found them 10 short of victory with one wicket standing when Manoj Prabhakar began the final over.
Heath Streak and John Rennie took 8 off the first 5 balls.
Two needed off the last ball, which yielded a leg-bye and Streak was run out attempting a second.
Under the competition rules, the points were shared, although India had lost only 5 wickets.
Earlier, Prabhakar fell just short of his century after putting on 122 with Vinod Kambli.
Azharuddin scored a rapid 54, and the other captain, Andy Flower, also scored 50 before the middle order's momentum almost won the match for Zimbabwe.
vs Zimbabwe, Paarl, January 1997
India ran into a spirited Zimbabwe once again!
Dave Houghton and Craig Evans boosted Zimbabwe's total to 236 in the slog overs, and India were in trouble at 110/5.
But Robin Singh, scoring 48 off 32 balls, helped India catch up with an asking rate which had risen to 11 an over and the Indians came within a whisker of victory.
India needed 2 to win off the last ball. Eddo Brandes, who had strangled their chase with 5 wickets, bowled it wide of leg stump.
The non-striker Venkatesh Prasad pushed Robin Singh for a bye. The 'keeper aimed the ball at the near wicket and missed.
Brandes pounced on it and threw down the wicket at the other end to run out Robin Singh.
Umpire Rudi Koertzen gave him out, but also signalled wide. The Zimbabweans did not realise at first that they had only tied the game.
vs England, Bengaluru, February 2011
A humdinger of a contest in the World Cup that neither side deserved to lose.
India posted a mammoth 338 thanks to a superb century from Tendulkar and some good contributions from the middle order.
However, as soon as the England innings started, it dawned upon India that they were not going to get a victory on a platter as the opening pair of Andrew Strauss and Kevin Pietersen went after the Indian bowling in a calculated manner.
Strauss was in tremendous form, placing the ball between the fielders with ridiculous ease.
In Ian Bell, he found an able partner and together they put England on course to a massive win.
After 42 overs England's score read 280/2 and Strauss was still there!
The match seemed all but over for India.
A brilliant spell of bowling from Zaheer Khan brought India back into the game.
Zak got rid of Bell in the 43rd over, then trapped Strauss plumb in front off the next.
A flurry of wickets followed; after the 48th over England needed another 29 runs with 3 wickets in hand.
Piyush Chawla bowled the penultimate over and was hit for 2 sixes. The bowler made amends by picking a wicket off the last ball.
With England needing 14 runs, Munaf Patel came on to bowl the last over. The first two balls produced only three runs, but Ahmed Shahzad hit a straight six off the third ball.
Now only 5 runs were needed off three balls. The next two balls produced a bye and a two.
With 2 needed off the last ball, all Graeme Swann managed to do was to hit the ball straight to the mid-off fielder and get a single.
The match thus ended in a thrilling tie.
Munaf had done a commendable job in the end, but he was left to rue for his lazy running that culminated in one short run off the last ball of the Indian innings.
vs England, Lord's, September 2011
Thousands of spectators left the ground unsure of the result after rain played havoc with the finale.
When Ravi Bopara swung what proved to be the last ball to Ravindra Jadeja at deep midwicket with England on 270, the Duckworth/Lewis par figure on the scoreboard immediately switched to 271 in anticipation of the next delivery.
But a heavy shower put paid to that, and the game was declared a tie, the second between these teams in 2011, following their World Cup encounter in February.
Bopara was distraught despite an one-day international best.
Had he survived that last delivery, England would have been one ahead on D/L calculations (the hosts had also lost Swann, run out by Munaf Patel, to the previous ball).
In the end, with 11 required from seven balls and only James Anderson, Steve Finn and Stuart Broad, who had picked up a shoulder injury, to come, it was India who felt hard done by.
The preceding hour had been no less frantic.
India were ahead on D/L when play halted after 44 overs, but England turned that round with 9 runs from the single over possible before another stoppage.
Batsmen who almost had to be dragged from the middle the first time now sprinted off, and --- on resumption -- England stayed in front until Swann and Bopara got out.
Earlier, India rebuilt from a poor position as Suresh Raina joined Dhoni in a stand of 169, India's best for any wicket at Lord's.
vs Sri Lanka, Adelaide, February 2012
For the second time in three days Dhoni was saddled with the task of rescuing India at the death.
The required boundary off the last ball proved a task too great when Lasith Malinga speared it in wide on a full length.
Dhoni flayed it over extra cover's head, and scampered three with Umesh Yadav to produce the first tie in 131 one-day internationals between the teams.
Sri Lanka had looked poised for more than 250 until three wickets fell in the batting powerplay, and only 64 were scored in the last 14 overs.
Gautam Gambhir's second successive score in the nineties ensured he left India well placed. He was one of the four Indians to be run out though.
Mahela Jayawardene's strangling fields meant India needed 24 from 2 overs, but Angelo Mathews's uncharacteristic lack of composure with the ball reduced that to 9 from the last when the scene was set once more for Dhoni.
The result heaped scrutiny on Umpire Nigel Llong who had inadvertently ended the 30th over of India's innings after five deliveries.
vs New Zealand, Auckland, January 2014
Martin Guptill's fifth one-day international century and a stand of 153 with Kane Williamson helped New Zealand to 314, but there was no room for complacency. They had chased down Australia's 336/4 at the same ground in February 2007.
New Zealand might have scored more, only for wild hitting, questionable running, and exemplary fielding from India to keep them within bounds.
Chasing 315, India had looked out of the game when Dhoni's departure in the 36th over left them 184/6.
But a stand of 85 in 9 overs resuscitated India's chances in front of a cacophonous crowd of over 28,000.
Ravichandran Ashwin fell for 65 off 46 deliveries when Guptill pulled off a brilliant catch on the midwicket boundary, popping the ball up as his momentum carried him over the ropes, then stepping back into the field of play to complete the dismissal.
At 286/9 with 13 balls to go, India seemed dead and buried once more.
But Jadeja shielded last man Varun Aaron, and India needed 18 off the final over, bowled by Corey Anderson, who already had 5 wickets.
That became 12 off 3 balls -- after Jadeja hit a 4 and a 6 -- and 2 to win off the last.
A squirted off-side single meant a dramatic tie, with Jadeja finishing on 66 from 45 balls.
PS: India's match against Pakistan at Hyderabad in March 1987 also ended with the teams levelled on scores.
However India were declared winners on account of losing fewer wickets (as per the playing conditions prevailing at that time).