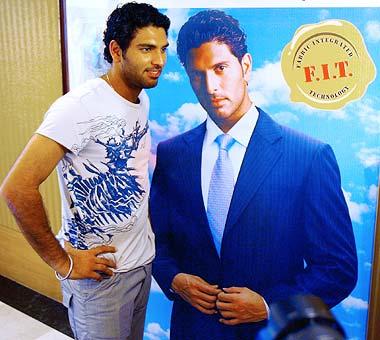 For Yuvraj Singh the Twenty20 World Cup turned out to be a perfect platform to show the world his superior batting prowess. He hit six sixes in a single over off England's Stuart Broad, in a tournament that saw the underdogs emerge winners of the inaugural Twenty20 World Cup in South Africa.
However, the Punjab left-hander believes that till he performs in Test cricket, he cannot be considered a top player.
"Obviously, hitting six sixes is a record that I am very proud of. But I will consider myself a good player only after I perform consistently in Test cricket. Till then if you guys [media] want to consider me a top player, its upto you, but I won't consider myself a good player till I achieved that," he told reporters in Mumbai on Tuesday during the launch of Donear's latest collection, "The Black and Blues collection."
Yuvraj further added that though Twenty20 has gained a lot of popularity, it is only for entertainment and cannot be taken seriously. He welcomed the International Cricket Council's decision to restrict each team to only seven Twenty20 internationals per year.
"Twenty20 is just entertainment for the batsmen and the crowd, it is nothing more than that," he said.
He also refuted claims that India were still in the Twenty20 mode in the recently-concluded one-day international series against Australia, which they lost 2-4.
"I don't think the Twenty20 fever will continue. If it is a 50-over match, then play it like a 50-over game and the same for Test cricket
"If you are chasing around 320 it is like a Twenty20 game because then you don't have to settle down at the wicket. It is not that I try to hit sixes every time I come to the wicket, but according to the situation of the match," he said.
The 25-year-old said the upcoming series against Pakistan will be a tough one and the crowds can expect a tough battle.
"The conditions here are favourable to both teams and it will be a good contest. They have good bowlers like Umar Gul, Mohammad Asif and Shoaib Akhtar if he comes back, and one can expect a keen tussle between the two teams."
Pakistan tour India for a series of five one-day international and three Test matches between November 6 to December 12.
Photograph: Sajjad Hussain/AFP/Getty Images