'I am not like this because I have learnt these traits from Dhoni but I am like this because I am Wriddhiman.'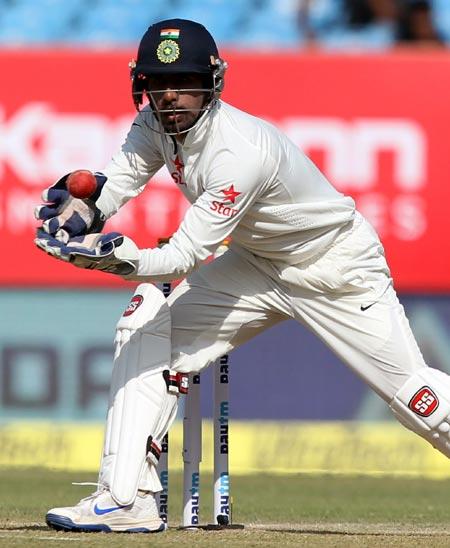 Wriddhiman Saha, who appeared to be doing well in Tests before his untimely injury during the England series, hopes to make a comeback on the strength of a good domestic performance, even if he is dropped for the time being.

Wriddhiman missed out on the last three Tests against England suffering from tendonitis (thigh strain) and his replacement Parthiv Patel made full use of opportunities, scoring two half-centuries.

"No one would like to miss out on a Test series. It's only natural that one would be disappointed if you would have to sit out due to an injury. Now Parthiv has come and done well but I see no reason to feel insecure. At worst, what will happen. I will not be selected for the next Test series. So what is my job? To make a good comeback in domestic cricket post injury and produce performances, which is in my control," Wriddhiman said, on Friday.

"I have never let either success go into my head nor has failures affect me. I believe I have been able to maintain that balance till now. And I have been like this since my childhood. I have never been overtly emotional about things. You need to keep life simple," says Wriddhiman.
When queried if it's something that he has learned from Mahendra Singh Dhoni, having shared the India and Chennai Super Kings dressing room with him for a number of years, Saha instantly replies: "I am not like this because I have learnt these traits from Dhoni but I am like this because I am Wriddhiman. Let me tell you one thing, your approach towards life is something that you devise on your own. Everyone is his own coach. These are things you don't learn from anybody," the Bengal wicketkeeper said.

Talk about his comeback to competition, Wriddhiman said that his rehabilitation is complete and he will be playing for his club side Mohun Bagan this weekend.

"I completed my rehab program at the NCA (National Cricket Academy) five days back. I can resume playing competitive cricket. At the NCA, they worked on a specific muscle tissue that had got weak due to the injury. The next big assignment will be Syed Mushtaq Ali Trophy (national T20) for Bengal," he said.

"Now I will be playing a few matches for my club side Mohun Bagan. I have started usual net sessions and it feels good. I am working with our club coach Palash Nandy."

While Wriddhiman's comeback at domestic cricket will happen with T20, the month of February would again kickstart the remainder of the home season with Bangladesh coming off for one-off Test match followed by the four-match Test series against Steve Smith's Australia.

When asked if it's difficult to switch gears directly from T20 to Test mode, he replied: "At this level, it's about muscle memory and body reacts to the format naturally. The moment I play T20, I know that I have to attack and similarly when I enter the Test zone, I know I need to be more judicious with the shot selection."
Image: Wriddhiman Saha
Photograph: BCCI