So India lost its first World Twenty20 game on Tuesday night.
Maybe, we fielded the wrong team :)
Haresh Pandya picks 11 India greats who never played the shortest format, but can take on any team in the World T20 championships.
IMAGE: Mahendra Singh Dhoni and his teammates celebrate beating Pakistan in the ICC World T20 final at the Wanderers in Johannesburg, September 24, 2007. Photograph: Duif du Toit/Gallo Images/Getty Images
Twenty20 cricket is a 21st century phenomenon. Like ODIs, it makes one wonder how certain cricketers, some of whom featured only in Tests and others both in Tests and ODIs, would have fared if they had played the game's shortest version.
As the World Twenty20 gets underway in India, an attempt to pick a dream Twenty20 XI of India greats who never played the shortest format, even in domestic cricket.
As one went about choosing the players, many stalwarts came to mind, making strong, tempting, claims for selection, but since this is only an XI, and not a squad of 15, they had to be regrettably left out.
The eleven is packed with all-rounders. They are all hard-hitting batsmen. Some of them fast bowlers, others spinners.
They lend depth and solidity to the batting line-up. Even if the team loses early wickets, there are other reliable batsmen down the order to score runs and give respectability to the total.
The strength of this eleven could be gauged from the fact that sterling all-rounders like Lala Amarnath, Salim Durrani and Amar Singh are placed at numbers 9, 10 and 11 in the batting order. This eleven is capable of taking on any present day Twenty20 team, including the suddenly much-fancied Mahendra Singh Dhoni's.
The career records of most players from older generations in this eleven hardly do any justice to their talent. They played in different eras and many factors must be considered, not just statistics, when judging them.
They are not picked on the basis of their records, but on the premise of what they could do on the strength of their skills. We must not forget that cricket is not, after all, just about records and statistics.
This is a subjective selection, of course, and open for a healthy debate and discussion.
Syed Mushtaq Ali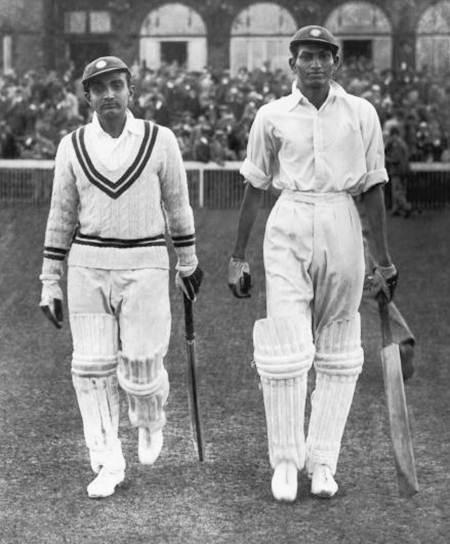 IMAGE: Syed Mushtaq Ali, right, and Vijay Merchant walk out to bat on Day 1 of the Test against England at Old Trafford, July 25, 1936. Photograph: Keystone/Hulton Archive/Getty Images
The adventurous opener was Indian cricket's early icon.
Mushtaq Ali was a crowd-puller and commanded a pop star-like popularity across the country in the pre-television era.
The ball is there to be hit was his simple enough philosophy as a batsman. Whatever the situation, whoever was bowling, he would belt the ball nine times out of ten. He was the Virender Sehwag of his era.
An out and out positive batsman, Mushtaq Ali scored India's first Test hundred abroad -- a sparkling 112 at Old Trafford, Manchester, in 1936. In 20 Test innings, he scored 612 runs at 32.21. These stats don't do any justice to his talent as a batsman, but, then, records were the last thing on Mushtaq Ali's his mind when he was out there in the middle.
Given his approach to cricket throughout his career, and his love for mighty hitting, he would not only have relished and excelled in ODIs, but also in Twenty20s.
There isn't a more equipped batsman to be the first choice opener in this eleven.
Vinoo Mankad
IMAGE: Vinoo Mankad batting against England in a Test at Old Trafford, Manchester in 1952. Photograph: Central Press/Getty Images
It was debatable, between 1945 and 1955, whether it was Vinoo Mankad or Keith Miller who was the best all-rounder in the world.
While the Australian was a fast bowler of the highest order and a hard-hitting batsman, the Indian was much more versatile.
Mankad was a shrewd medium pacer, a world-class left-arm spinner in the classical mould, a high quality right-hand attacking batsman capable of both opening the innings and batting in the middle-order, and a brilliant fielder, particularly off his own bowling.
On India's 1947-48 tour of Australia he scored two majestic centuries against Don Bradman's most lethal weapons: Ray Lindwall and Miller. At Lord's in 1952, opening with Pankaj Roy, he scored 72 and, going straight to the wicket after bowling 31 overs in the day (overall bowling figures: 73-24-196-5), made a heroic 184 in the second innings and, when England was chasing a target of only 77 runs, bowled another 24 overs, 12 maidens and gave away only 35 runs without taking a wicket.
Though England won by eight wickets, the memorable match has gone down in history as the Mankad Test. And to think it was his first first-class match in England. (He was playing in the English League and was released for the Tests only.)
Doubtless, Mankad was India's Garfield Sobers. In 72 Test innings, he scored 2,109 runs at 31.47, including four centuries and one double hundred (231). He bowled in 70 innings and took 162 wickets at 32.32, claimed five in an innings eight times (best being 8/52) and 10 in the match (best being 13/131) twice.
With such talents, he would have been in much demand in limited overs cricket. And he would have attracted a mind-boggling price in a players auction had there been Twenty20s and the IPL in his time.
Mushataq Ali and Mankad make a contrasting yet eminently ideal opening pair. If required, Mankad can bat in the middle order or down the order.
Polly Umrigar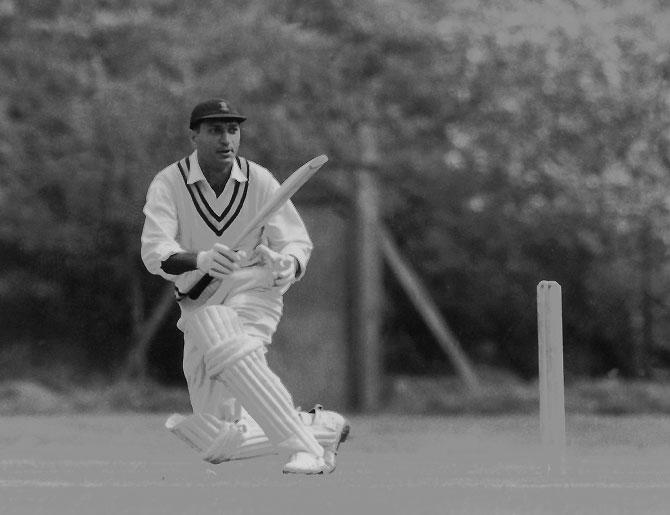 IMAGE: Polly Umrigar in the nets at Osterley, Middlesex, April 23, 1959. Photograph: William Vanderson/Fox Photos/Hulton Archive/Getty Images
Until Gundappa Viswanath and Sunil Gavaskar appeared on the scene and began to dominate with their contrasting characters and styles, Umrigar held most of India's records in world cricket -- most Tests, most runs and most hundreds.
A tall, well-built, right-hand batsman, he was called 'Palm Tree Hitter,' a sobriquet he earned on his maiden tour of the West Indies in 1952-1953 for his penchant for going for bigger hits, which is one reason why he is in this eleven.
He was a ferocious striker of the ball, especially when executing his full-blooded hooks and lusty pulls. He has to maintain the momentum set by openers Mushtaq Ali and Mankad in this eleven. He was the scourge of spinners and among fast bowlers only Fred Trueman troubled him.
Umrigar plays for this eleven as a batting all-rounder. As a more-than-useful gentle medium pacer, he could swing the ball away and cut back in; he could bowl off-breaks too. His 35 Test wickets, the best being 6/74, were testimony to his versatile skills.
In 94 Test innings, he scored 3,631 runs at 42.22, including 12 hundreds and 14 half-centuries. He was the first Indian to score a double century in Test cricket -- 223 against New Zealand at Hyderabad in 1955-1956.
Sandeep Patil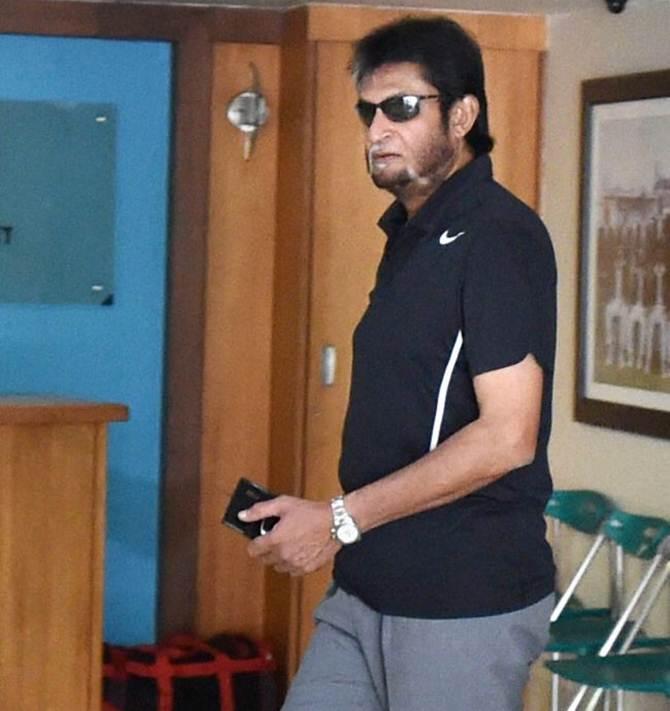 IMAGE: Sandeep Patil, currently the chairman of the Indian selectors. Photograph: PTI
As a magnificent striker of the ball who loved to dominate the bowling, Patil had few peers and, probably, no superiors in the early 1980s. He relished playing fast bowlers on the green-top.
At his best, when taking on the fast bowlers, he was a sight to behold.
How he took on Dennis Lillee at Adelaide in 1981 -- after having suffered a severe blow on the head from Len Pascoe in the previous Test in Sydney -- and scored a regal, blistering 174 that had the diehard Aussies gasping.
How he smashed Bob Willis for six consecutive fours in one over during his memorable 129 not out at Old Trafford in 1982. (He completed his century with the fifth four in that over.)
Patil, who played a spectacular innings of 51 not out in the nick of time -- taking on Willis, again -- in the semi-final, was one of the stars of the 1983 World Cup in England.
In 47 Test innings, he scored 1,588 runs at 36.93, including four centuries and seven fifties. In 42 ODI innings, he scored 1,005 runs at 24.51 with a strike rate of 82.17.
The stylish right-hander will bat at No 4. A useful medium pacer, Patil's bowling will come handy in Twenty20s.
Mohammad Azharuddin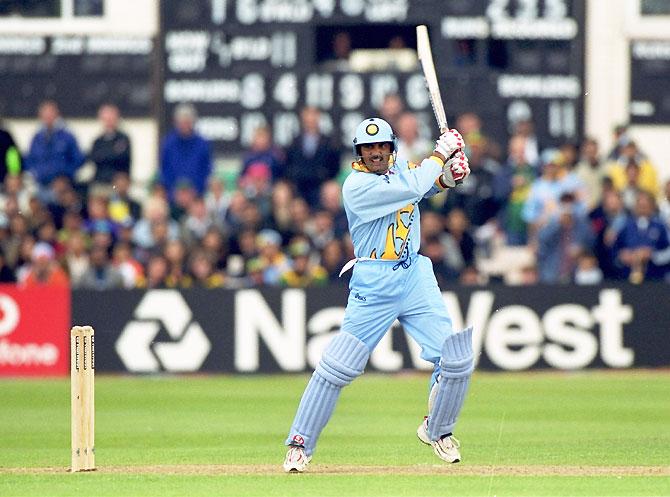 IMAGE: Mohammed Azharuddin during the game against South Africa in the 1999 World Cup, at Hove, England, May 15, 1999.
The Hyderabadi demonstrated his class and calibre by scoring three centuries in his first three Tests, against England in India in 1984-1985. Soon it was confirmed he was vulnerable against short, rising, deliveries, if not hostile pace. He found his own way to deal with short stuff.
This much glorified batting artist sometimes presented an awkward posture at the crease when bombarded with the short stuff. But he went on to play 99 Tests before he was banned for life for his alleged role in the match-fixing scandal.
Azharuddin is in this eleven because of his aggressive streak and supreme ability to find gaps and execute beautiful shots. He proved his worth in ODIs too. Like Mushtaq Ali, he is a specialist bat. Besides his batting, his superlative fielding helped him beat several candidates, including Mansur Ali Khan 'Tiger' Pataudi, who was also an electrifying fielder.
There was a virtual toss-up between Azharuddin and Pataudi for a place in this eleven. In the end, however, the former's more natural and attacking batting gave him the place.
In 147 Test innings, Azharuddin scored 6,215 runs at 45.03, with 22 centuries and 21 fifties. In 308 ODI innings, he made 9,378 runs at 36.92, including seven hundreds and 58 half-centuries. He held 105 catches in Tests and 156 in ODIs.
C K Nayudu (captain)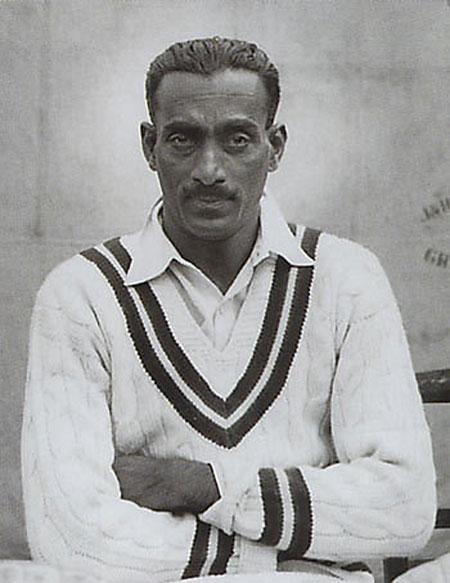 IMAGE: Colonel C K Nayudu, the first Indian cricket superstar.
India's first Test captain must be given the honour to lead this eleven too.
A towering personality, literally and figuratively, Nayudu was one of the most destructive batsmen imaginable. In those days, long before the advent of ODIs and Twenty20s, he used to hit sixes repeatedly and often on public demand.
In 1926-1927, he hit a hurricane 153, spiked with 13 fours and 11 sixes, for the Hindus against Arthur Gilligan's MCC side at Bombay. This score was out of 187 runs put on the board during his stay of a shade over a hundred minutes at the wicket.
Like Chris Gayle, the Colonel will be unstoppable once he is on song and fours and sixes start flowing from his blade. Nayudu will bat in the middle order though and may not get too many overs to score runs. But he is the most potent weapon in this eleven.
Along with Umrigar, he will also bowl his off-breaks, which fetched him nine Test and 411 first-class wickets, to compensate for the absence of a specialist off-spinner.
In 14 Test innings, Nayudu scored 350 runs (highest 81) at 25.00. In first-class cricket, he made 11,825 runs at 35.94, and hit 26 hundreds and 58 half-centuries.
Kapil Dev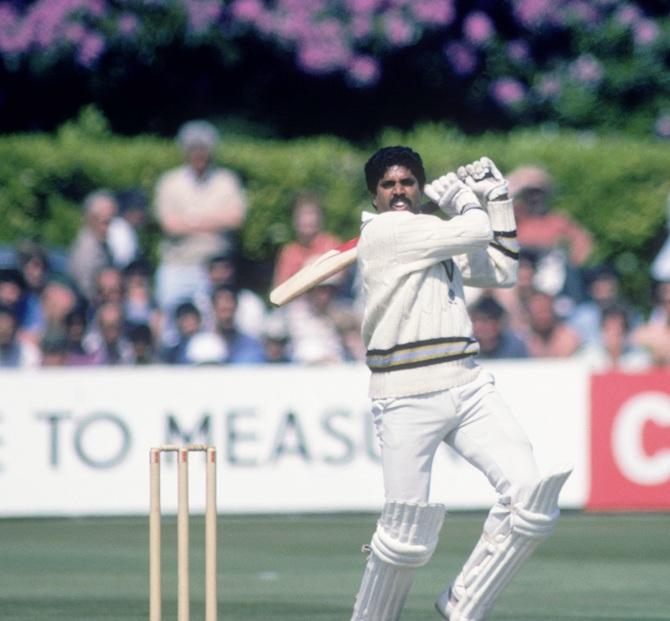 IMAGE: Kapil Dev during his record 175 not out off 138 balls against Zimbabwe in the 1983 World Cup. Photograph: Trevor Jones/Getty Images
Kapil Dev was an automatic, inevitable, choice.
As a World Cup-winning captain, he should lead this side. But Nayudu and Lala Amarnath were arguably better leaders of men and hence, they are made captain and vice-captain respectively, ahead of Kapil Dev, Azharuddin, Umrigar and Mankad, who all led India at different times.
Kapil Dev remains one of the greatest players in the history of ODIs. His incredible innings of 175 not out after India were tottering at 17/5 against Zimbabwe in the 1983 World Cup can never be forgotten.
He came up with many cameos in times of crisis, both in Tests and ODIs, in addition to his bowling spells, in his phenomenal career during which he never once got injured.
Like many of his contemporaries, including Ian Botham and Vivian Richards, the Indian would have relished and dominated Twenty20s. With his savage hitting, outstanding swing bowling and brilliant fielding anywhere on the field, he becomes the key to Nayudu's scheme of things in this eleven.
In 184 Test innings, he scored 5,248 runs at 31.05, hit eight hundreds and 27 fifties. In addition, he took 434 Test wickets at 29.64, took five wickets in an innings 23 times and 10 in a match twice.
In 198 ODI innings, he made 3,783 runs at 23.79, including one hundred and 14 half-centuries and took 253 wickets at 27.45.
Farokh Engineer (wicket-keeper)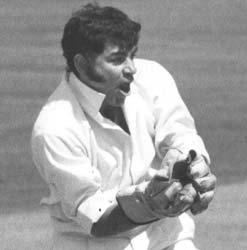 Engineer was a dashing, flamboyant, batsman, who could both open and bat in the middle order. He was a smart wicket-keeper who played a part in the success of India's famed spin quartet of Erapalli Prasanna, Bishan Singh Bedi, Bhagwat Chandrasekhar and Srinivas Venkataraghavan.
There was no competition, not even from the equally flamboyant Budhi Kunderan, for Engineer to make it to this eleven. His batting and wicket-keeping were superior from the rest.
Attack was always his watchword when batting, whatever the situation, whosoever the bowlers. He launched a brutal attack on Wes Hall, Charlie Griffith, Lance Gibbs and Gary Sobers at Chennai in 1966-1967 and scored a breezy 94 not out before lunch on the first day. (He duly completed the century soon after the break.)
A batsman of Engineer's ability and temperament would have made the most of Twenty20s if they were played during his career. Having him in this eleven is beneficial in more ways than just one. He can be sent in as opener, and in an emergency can finish off the match, a la Dhoni, if there is a chase on and a few balls are left.
In 87 Test innings, Engineer scored 2,611 runs at 31.08, two hundreds and 16 half-centuries. He figured in five ODIs in the 1970s and scored 114 runs (highest 54) at 38.00.
Lala Amarnath (vice-captain)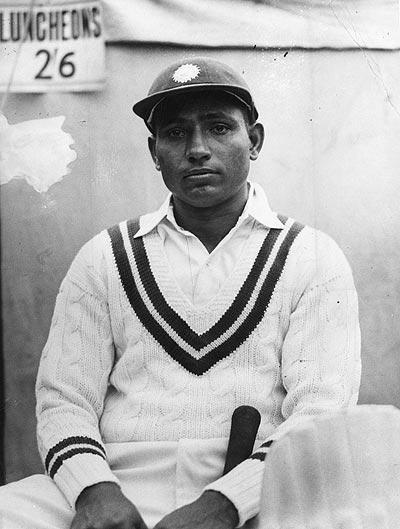 IMAGE: Lala Amarnath. Photograph: Getty Images
If there ever was a complete cricketer in India, it was Amarnath.
Besides being a world-class batsman, medium pacer, wicket-keeper and fielder, he was an astute captain and, later in his life, a visionary selector and master administrator.
Of course, he makes this eleven on the strength of his all-round skills and ability to bat aggressively. He has to play an important role, both as batsman and bowler to lend balance to the side.
The inclusions of all-rounders like Mankad, Umrigar, Nayudu and Amarnath has created a place for an extra specialist batsman in this eleven.
Amarnath scored India's maiden Test century -- a scintillating 118 in his first Test against England in Bombay in 1933.
An aggressive batsman who believed in entertaining the public, he never cared for personal records. In 40 Test innings, he scored 878 runs at 24.38 with just one century and four fifties. He also took 45 wickets at 32.91, including five in an innings twice and four on three occasions.
Salim Durrani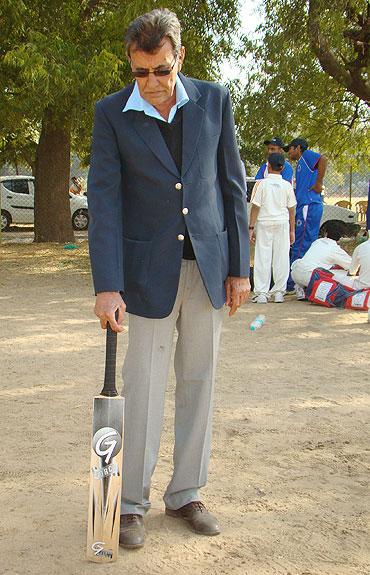 IMAGE: Salim Durrani
The handsome Pathan could bowl classical left-arm spin and bat aggressively and elegantly as a left-hander.
Though his stats are not unimpressive, you can't help feeling that they would have been far better and almost startling had he not been moody or a maverick, or both.
An enormously gifted all-rounder, Durrani probably was not aware of what genius he was endowed with. There is a feeling that he never took himself seriously. Of course, when the opponents dared so, they had to pay a heavy price, like the West Indians did at Port of Spain in Trinidad in 1971, when he deceived Clive Lloyd (15) and Sobers (0) with his orthodox spin and paved the way for India's first-ever victory in the Caribbean.
Durrani, who played some swashbuckling innings during his career, including his highest Test score, a robust 104 against the West Indies, would have found Twenty20s tailor made for his kind of talents.
In 50 Test innings, he scored 1,202 runs at 25.04, one hundred and seven half-centuries, and took 75 wickets at 35.42, including five in an innings three times and 10 in a match once.
Amar Singh
As India's first world-class all-rounder who had the distinction of scoring the country's maiden half-century in Test cricket, Amar Singh was expected to have a glittering career. Unfortunately, his life was cut short by pneumonia when he was not even 30.
He did enough in his brief Test and first-class careers to be still talked about in glowing terms, not just in India.
A perfect fast bowler who forged a deadly pair with Mohammad Nissar, he was capable of generating lively pace on wickets conducive to fast bowling. He had excellent control over the ball and had the talent to both swing and cut the ball. He will spearhead the pace attack in this eleven, with Kapil Dev sharing the new ball with him.
Amar was a buccaneering batsman down the order and an athletic fielder. In 14 Test innings, he scored 292 runs at 22.46 and claimed 28 wickets in 13 innings, at 30.64, taking five wickets in an innings twice.
In 150 first-class innings, he made 3,344 runs at 24.23, including five hundreds and 18 half-centuries; he took 506 wickets at 18.35, taking five wickets in an innings 42 times and 10 in a match on 14 occasions.
Dattu Phadkar (12th man)
There was tough competition for the 12th man in this dream eleven. In the fray were Mohinder Amarnath, Madan Lal, Roger Binny, Abid Ali, Karsan Ghavri and Eknath Solkar, but Phadkar's acclaimed faster bowling and skill to swing the ball deceptively, as well as his more attacking batting, won him the place.
Phadkar's all-round gifts were praised by Bradman, no less, when he topped the Test averages with 314 runs at 52.33 on India's tour of Australia in 1947-1948, where on his debut he scored 51 batting at No 8 and also took 3/14.
He scored another half-century in the next Test and finished the tour by hitting his maiden hundred against Australia's world-class fast bowlers.
For the next decade or so, the lion-hearted cricketer did his best to help Indian cricket despite never being a regular member of the national side. He would score useful runs when needed the most and chip in with crucial wickets at important moments. He was a safe, often spectacular, fielder.
In 45 Test innings, he scored 1,229 runs at 32.34, including two hundreds and eight half-centuries. He took 62 wickets at 36.85, bagging five wickets in an innings on three occasions.