Players from England and the West Indies dominate the World T20 MVP rankings, with Joe Root just behind India's Virat Kohli in second place.
Having failed to make it to the final, it is not surprising that India has only two players in the top 25, with skipper Mahendra Singh Dhoni at No 24.
Srinivas Bhogle and Purnendu Maji anaylse the players' performance in Rediff.com's Most Valuable Players ratings.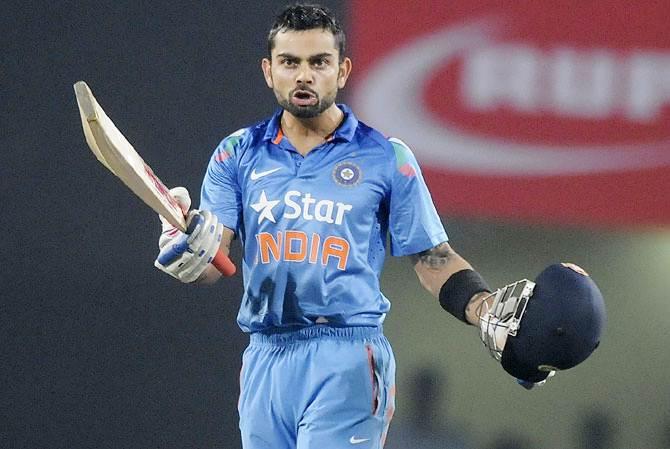 IMAGE:
Virat Kohli: ICC's Player of the World T20 and
Rediff.com
's Most Valuable Player.
Photograph: BCCI
India's batting sensation Virat Kohli, named player of the tournament, is also the most valuable player of World T20 2016.
With a fifty and two wickets, England's Joe Root is just behind him.
The most valuable player index (MVPI) picks out batsmen who score a lot of runs, and very quickly; bowlers who take a lot of wickets at a low economy rate; and fielders who takes the most catches or participate in the most run dismissals.
For our calculations of the 2016 World T20, we assumed a team par score of 150, and every wicket worth 15 'runs'.
If a batsman scored at a strike rate of over 125, he had bonus 'runs' added; penalty 'runs' were deducted if the strike rate was below 125. If the bowler conceded less than 30 runs in his 4 overs he got bonus 'runs' added; if he conceded more than 30 he had penalty 'runs' subtracted.
We don't think our MVPI formula is the best (what indeed is the 'best' formula?), but we've published this analysis on Rediff for over a decade now and the index has usually ranked player performance well.
Srinivas Bhogle and Purnendu Maji present Rediff.com's Most Valuable Players ratings.
| | | | | | | | | | | |
| --- | --- | --- | --- | --- | --- | --- | --- | --- | --- | --- |
| Rank | Player | Team | Runs | Four | Six | Str Rate | W | Eco | M | MVPI |
| 1 | Virat Kohli | IND | 273 | 29 | 5 | 146.8 | 1 | 9 | 5 | 338 |
| 2 | Joe Root | ENG | 249 | 24 | 7 | 146.5 | 2 | 11 | 6 | 325 |
| 3 | Jos Buttler | ENG | 191 | 13 | 12 | 159.2 | 0 | - | 6 | 248 |
| 4 | Andre Russell | WI | 91 | 8 | 5 | 142.2 | 9 | 7.9 | 6 | 244 |
| 5 | Jason Roy | ENG | 183 | 22 | 7 | 148.8 | 0 | - | 6 | 216 |
| 6 | Quinton de Kock | SA | 153 | 18 | 6 | 143 | 0 | - | 4 | 212 |
| 7 | David Willey | ENG | 41 | 1 | 4 | 132.3 | 10 | 7.6 | 6 | 204 |
| 8 | Mitchell Santner | NZ | 29 | 3 | 0 | 107.4 | 10 | 6.3 | 5 | 201 |
| 9 | Dwayne Bravo | WI | 63 | 3 | 2 | 95.5 | 9 | 7.9 | 6 | 200 |
| 10 | Chris Gayle | WI | 113 | 8 | 11 | 194.8 | 2 | 5.7 | 5 | 197 |
| 11 | Shane Watson | AUS | 96 | 9 | 4 | 150 | 5 | 7.4 | 4 | 197 |
| 12 | Samuel Badree | WI | 2 | 0 | 0 | 100 | 9 | 5.4 | 6 | 197 |
| 13 | Martin Guptill | NZ | 140 | 15 | 8 | 157.3 | 0 | - | 4 | 193 |
| 14 | Shahid Afridi | PAK | 90 | 7 | 7 | 183.7 | 4 | 7.4 | 4 | 184 |
| 15 | Ish Sodhi | NZ | 0 | 0 | 0 | - | 10 | 6.1 | 5 | 182 |
| 16 | Shakib Al Hasan | BAN | 107 | 8 | 4 | 124.4 | 4 | 7.6 | 4 | 177 |
| 17 | Mohammad Nabi | AFG | 35 | 4 | 1 | 97.2 | 6 | 6.4 | 4 | 174 |
| 18 | Marlon Samuels | WI | 181 | 26 | 2 | 112.4 | 0 | - | 6 | 165 |
| 19 | Usman Khawaja | AUS | 143 | 22 | 2 | 137.5 | 0 | - | 4 | 164 |
| 20 | Glenn Maxwell | AUS | 109 | 8 | 4 | 129.8 | 2 | 7.6 | 4 | 162 |
| 21 | AB de Villiers | SA | 110 | 5 | 9 | 180.3 | 0 | - | 4 | 155 |
| 22 | Mustafizur Rahman | BAN | 6 | 0 | 1 | 200 | 9 | 7.2 | 3 | 147 |
| 23 | Tillakaratne Dilshan | SL | 133 | 13 | 5 | 123.1 | 0 | - | 4 | 146 |
| 24 | MS Dhoni | IND | 89 | 6 | 2 | 127.1 | 0 | - | 5 | 138 |
| 25 | Ben Stokes | ENG | 56 | 5 | 3 | 169.7 | 4 | 9.6 | 6 | 134 |
| 26 | James Faulkner | AUS | 17 | 2 | 0 | 100 | 8 | 8.1 | 4 | 134 |
| 27 | Carlos Brathwaite | WI | 57 | 1 | 7 | 203.6 | 4 | 8.1 | 6 | 133 |
| 28 | Thisara Perera | SL | 80 | 6 | 4 | 145.5 | 3 | 10.3 | 4 | 132 |
| 29 | Sharjeel Khan | PAK | 112 | 18 | 3 | 143.6 | 0 | - | 4 | 131 |
| 30 | Chris Jordan | ENG | 32 | 4 | 0 | 94.1 | 6 | 8.2 | 6 | 131 |
| 31 | Samiullah Shenwari | AFG | 79 | 7 | 2 | 136.2 | 1 | 5.8 | 4 | 130 |
| 32 | Hashim Amla | SA | 120 | 13 | 4 | 134.8 | 0 | - | 4 | 129 |
| 33 | Angelo Mathews | SL | 114 | 6 | 6 | 118.8 | 1 | 6.9 | 3 | 128 |
| 34 | Imran Tahir | SA | 0 | 0 | 0 | - | 6 | 5.2 | 4 | 127 |
| 35 | Colin Munro | NZ | 118 | 11 | 4 | 114.6 | 0 | - | 5 | 126 |
| 36 | Shoaib Malik | PAK | 96 | 7 | 3 | 165.5 | 0 | 9 | 4 | 126 |
| 37 | Rashid Khan | AFG | 32 | 3 | 2 | 114.3 | 5 | 7.6 | 4 | 126 |
| 38 | Mohd Shahzad | AFG | 80 | 7 | 6 | 142.9 | 0 | - | 4 | 124 |
| 39 | Moeen Ali | ENG | 56 | 5 | 2 | 119.1 | 5 | 9.4 | 6 | 122 |
| 40 | Grant Elliott | NZ | 50 | 4 | 0 | 108.7 | 3 | 5.8 | 5 | 122 |
| 41 | Jean-Paul Duminy | SA | 83 | 5 | 4 | 172.9 | 1 | 10.3 | 2 | 117 |
| 42 | Kane Williamson | NZ | 123 | 14 | 2 | 105.1 | 0 | 3 | 5 | 112 |
| 43 | Johnson Charles | WI | 117 | 11 | 5 | 108.3 | 0 | - | 6 | 111 |
| 44 | Andre Fletcher | WI | 106 | 8 | 6 | 120.5 | 0 | - | 3 | 110 |
| 45 | Ashish Nehra | IND | 0 | 0 | 0 | 0 | 5 | 5.9 | 5 | 107 |
| 46 | Suresh Raina | IND | 41 | 2 | 2 | 124.2 | 3 | 4.8 | 5 | 106 |
| 47 | Faf du Plessis | SA | 98 | 11 | 2 | 112.6 | 0 | - | 4 | 103 |
| 48 | Lendl Simmons | WI | 82 | 7 | 5 | 157.7 | 0 | - | 2 | 103 |
| 49 | Corey Anderson | NZ | 86 | 8 | 1 | 97.7 | 2 | 7 | 5 | 102 |
| 50 | Najibullah Zadran | AFG | 86 | 7 | 4 | 141 | 0 | - | 4 | 100 |
| 51 | Sabbir Rahman | BAN | 75 | 11 | 1 | 108.7 | 1 | 5.5 | 4 | 98 |
| 52 | Kyle Abbott | SA | 0 | 0 | 0 | - | 7 | 8.1 | 3 | 98 |
| 53 | Adam Zampa | AUS | 2 | 0 | 0 | 200 | 5 | 6.3 | 4 | 91 |
| 54 | Ahmed Shehzad | PAK | 108 | 14 | 0 | 102.9 | 0 | - | 4 | 89 |
| 55 | Ross Taylor | NZ | 91 | 5 | 3 | 113.8 | 0 | - | 5 | 86 |
| 56 | Mahmudullah | BAN | 76 | 8 | 1 | 118.8 | 1 | 9.4 | 4 | 86 |
| 57 | Ravindra Jadeja | IND | 12 | 2 | 0 | 109.1 | 4 | 7.2 | 5 | 85 |
| 58 | Luke Ronchi | NZ | 50 | 3 | 2 | 151.5 | 0 | - | 5 | 83 |
| 59 | David Miller | SA | 48 | 4 | 3 | 200 | 0 | - | 4 | 82 |
| 60 | Steven Smith | AUS | 83 | 8 | 1 | 120.3 | 0 | - | 4 | 80 |
| 61 | Mohammad Hafeez | PAK | 69 | 7 | 2 | 146.8 | 0 | - | 2 | 79 |
| 62 | Rohit Sharma | IND | 88 | 7 | 4 | 107.3 | 0 | - | 5 | 78 |
| 63 | Asghar Stanikzai | AFG | 86 | 3 | 6 | 108.9 | 0 | - | 4 | 77 |
| 64 | Umar Akmal | PAK | 78 | 4 | 2 | 121.9 | 0 | - | 4 | 76 |
| 65 | Eoin Morgan | ENG | 66 | 3 | 3 | 111.9 | 0 | - | 6 | 74 |
| 66 | Alex Hales | ENG | 66 | 9 | 1 | 111.9 | 0 | - | 5 | 74 |
| 67 | Chris Morris | SA | 16 | 2 | 0 | 94.1 | 5 | 8.9 | 3 | 74 |
| 68 | Nathan McCullum | NZ | 0 | 0 | 0 | 0 | 3 | 4.2 | 2 | 72 |
| 69 | Adil Rashid | ENG | 4 | 0 | 0 | 100 | 5 | 8.4 | 6 | 69 |
| 70 | Jeffrey Vandersay | SL | 3 | 0 | 0 | 37.5 | 3 | 5.2 | 3 | 69 |
| 71 | Mitch McClenaghan | NZ | 7 | 0 | 1 | 233.3 | 4 | 7.9 | 4 | 66 |
| 72 | Rangana Herath | SL | 6 | 0 | 0 | 60 | 3 | 6.2 | 4 | 66 |
| 73 | Hardik Pandya | IND | 16 | 2 | 1 | 114.3 | 5 | 10.2 | 5 | 64 |
| 74 | R Ashwin | IND | 15 | 1 | 0 | 68.2 | 4 | 7.7 | 5 | 64 |
| 75 | Aaron Phangiso | SA | 4 | 0 | 0 | 80 | 3 | 5.6 | 2 | 62 |
| 76 | Peter Nevill | AUS | 18 | 1 | 2 | 360 | 0 | - | 4 | 60 |
| 77 | Adam Milne | NZ | 2 | 0 | 0 | 100 | 3 | 7.4 | 4 | 59 |
| 78 | Yuvraj Singh | IND | 52 | 2 | 2 | 100 | 1 | 6.3 | 4 | 58 |
| 79 | Denesh Ramdin | WI | 36 | 1 | 0 | 69.2 | 0 | - | 6 | 57 |
| 80 | Sulieman Benn | WI | 0 | 0 | 0 | - | 2 | 6.8 | 6 | 57 |
| 81 | David Wiese | SA | 28 | 2 | 0 | 107.7 | 1 | 8.2 | 3 | 55 |
| 82 | Jasprit Bumrah | IND | 0 | 0 | 0 | 0 | 4 | 7.7 | 5 | 55 |
| 83 | Aaron Finch | AUS | 58 | 4 | 2 | 116 | 0 | - | 2 | 54 |
| 84 | Al-Amin Hossain | BAN | 0 | 0 | 0 | 0 | 5 | 9.3 | 4 | 53 |
| 85 | Imad Wasim | PAK | 0 | 0 | 0 | 0 | 3 | 7 | 3 | 53 |
| 86 | Dinesh Chandimal | SL | 56 | 5 | 3 | 96.6 | 0 | - | 4 | 52 |
| 87 | Mohammad Sami | PAK | 4 | 1 | 0 | 200 | 4 | 9.3 | 3 | 52 |
| 88 | Liam Plunkett | ENG | 4 | 0 | 0 | 100 | 2 | 6.4 | 4 | 51 |
| 89 | Mushfiqur Rahim | BAN | 44 | 7 | 0 | 110 | 0 | - | 4 | 50 |
| 90 | Tamim Iqbal | BAN | 62 | 5 | 2 | 103.3 | 0 | - | 3 | 49 |
| 91 | Shafiqullah | AFG | 44 | 4 | 2 | 141.9 | 0 | - | 3 | 49 |
| 92 | Shuvagata Hom | BAN | 29 | 3 | 1 | 103.6 | 1 | 6.6 | 3 | 49 |
| 93 | Amir Hamza | AFG | 4 | 0 | 0 | 50 | 3 | 7.2 | 3 | 47 |
| 94 | Noor Ali Zadran | AFG | 62 | 4 | 1 | 93.9 | 0 | - | 3 | 46 |
| 95 | Mohammad Amir | PAK | 0 | 0 | 0 | - | 3 | 7.9 | 4 | 44 |
| 96 | Khalid Latif | PAK | 49 | 4 | 1 | 102.1 | 0 | - | 2 | 42 |
| 97 | Mitchell Marsh | AUS | 30 | 1 | 2 | 103.4 | 1 | 7.6 | 2 | 42 |
| 98 | Farhaan Behardien | SA | 0 | 0 | 0 | - | 2 | 5 | 1 | 42 |
| 99 | Ajinkya Rahane | IND | 40 | 2 | 0 | 114.3 | 0 | - | 1 | 40 |
| 100 | Milinda Siriwardana | SL | 22 | 2 | 1 | 110 | 2 | 9 | 4 | 39 |