Pakistan's flamboyant all-rounder Shahid Afridi has hit out at disgraced former captain Salman Butt for criticising his performance in the World Twenty20 in a TV show, saying that a player who "tainted the name of the country" should not have been hired as an expert.
"I think the media should be careful while hiring experts and only hire those of clean background," Afridi said in a swipe at Butt who appeared on ARY television recently as an expert for the World Twenty20.
Butt had called Afridi a disruptive force in Pakistan cricket and criticised his World T20 performance.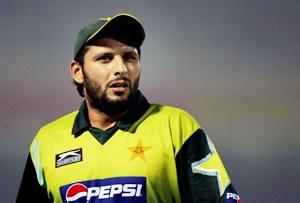 "The player who tainted the name of the country in the cricketing world and is responsible for destroying a great talent like Mohammad Aamir should be ashamed to even come in front of the nation," Afridi said.
"When such experts speak they don't have weight in their words and no one takes them seriously. Media houses should only hire people with a clean background to give their expert opinion," he added.
The hiring of Butt and Mohammad Aamir, both of whom are serving five-year bans for spot-fixing, as experts by TV channels for the recent World Twenty20 sparked off a lot of debate and also left the ICC unhappy.
Afridi, who will lead the All Pakistan stars XI in the two T20 matches against the World International XI at the weekend at the National Stadium, was speaking to reporters.
The allrounder, who has been going through one of the worst phases of his playing career, said he was disappointed with his form.
"I am disappointed at not being able to live up to the expectations of my supporters but every cricketer goes through such a time. I am not one to run away from challenges as I am a fighter and I will comeback," he said.
But Afridi pointed out that there wasn't a single player in the world who did not experience a dip in the form.
"I have been trying hard to perform well but at times it is very hard and luck also plays a big part in such situations," he said.
Afridi also dismissed reports about his contemplating retirement and insisted that the day he felt he was a liability on the team he would move away.
Afridi was all praise for the players who had come to Karachi to play the two exhibition matches insisting it was the first step towards bringing back teams to Pakistan.
"These matches are important in their own right and these players have done a big service to Pakistan cricket. Because we need to have test teams playing in the country again," he said.
Photograph: Lee Warren/Gallo Images/Getty Images