A scheduled press conference by flamboyant all-rounder Shahid Afridi, which had set the rumour mills working overtime, has been called off after the Pakistan Cricket Board (PCB) advised him not to address the media.
Afridi was to brief the mediapersons at his residence on Sunday but the interaction was cancelled at the behest of the PCB.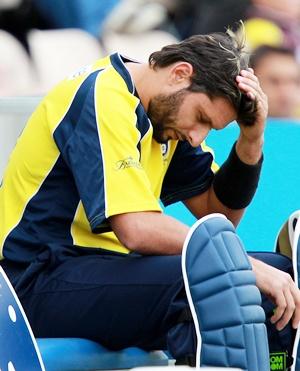 "The board has refused permission to Afridi to hold the conference as they say he is a centrally contracted player and can't speak to the media without obtaining a prior permission," a source close to the player said.
Afridi, who struggled with his form in the recently concluded ICC World Twenty20 championship, apparently wanted to talk to the media about his performance in Sri Lanka, where Pakistan lost to the hosts in the semifinal.
The speculations were also rife that the 32-year-old might announce his retirement from the international cricket during the conference.
"He is a contracted player and has to abide by all the rules and regulations for players in the central contracts," a PCB official said.
Afridi, one of Pakistan's most experienced players, has stopped playing Test cricket since 2010 and features only in limited overs cricket.
Photograph: Jan Kruger/Getty Images