A day after a doping scandal rocked Sri Lankan cricket, the country's sports ministry on Monday confirmed that the ICC informed opening batsman Upul Tharanga about flunking a random dope test conducted during the recent World Cup.
A sports ministry spokesman said minister Mahindananda Aluthgamage has set up a three-member panel to inquire into the case.
However, Sri Lanka Cricket, the country's governing body for the sport, is yet to be informed by the ICC about the dope flunk, the spokesman said.
The ICC is also yet to make the dope flunk official.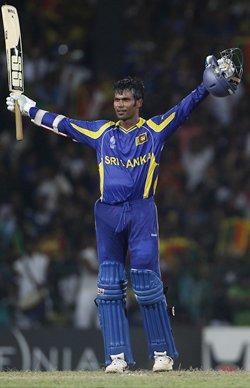 "The minister appointed the ministry secretary Udaya Seneviratne, Dr Geethanjana Mendis and Dr Maiya Gunasekera to investigate. They will be recording a statement from Tharanga," Harsha Abeykoon, the sports ministry media spokesman said.
Apart from the sports secretary, the other two members are physicians with extensive experience of sports medicine.
The 26-year-old Tharanga tested positive for banned substance prednisolone -- a drug for asthma, which he is said to suffer. He became the first Sri Lankan cricketer to fail a dope test.
Tharanga, a left-handed opening batsman, had a pretty good World Cup, even scoring a century in the quarter-finals against England, but was not picked for the current tour of England.
He said that a well-known medical practitioner, who had treated Indian stars Sachin Tendulkar, Gautam Gambhir and Ashish Nehra, prescribed medicine containing the banned substance.
The blood sample was taken in Colombo during the World Cup and the embarrassing development comes amid allegations by former skipper Hashan Tilakaratne that Sri Lankan players have been responsible for match-fixing since 1992.
After the news of the dope flunk broke out in a report in a local daily on Sunday, Sri Lanka Cricket secretary Nishantha Ranatunga denied knowledge of Tharanga's failed dope test.
"Officially we know nothing about Tharanga's case. SLC has not received any complaints or reports about the use of the banned substance called prednisolone from any organization or agency," he said.
ICC spokesman James Fitzgerald also refused to comment on the matter.
According to the ICC's anti-doping code, a player is responsible for any prohibited substance found to be present in his or her test sample. If a player needs to take a drug that is on the World Anti-Doping Authority's (WADA's) banned list in order to treat an illness, he is required to apply for a Therapeutic Use Exemption (TUE).
Under the dope-testing process, if a player's 'A' sample is found to contain a banned substance, he will have the option of asking for his 'B' sample to be tested as well.
If his 'B' sample is also found to be positive, the player could face a provisional suspension until the ICC carries out its inquiry. If the 'B' sample is negative, the investigation is discontinued.