- 'We play top cricket and India play the same way, so it will be an exciting series.'
- 'They are a good one-day side as they made the semis of the World Cup. They are a quality side so from our point of view we have got to start well and play well against them.'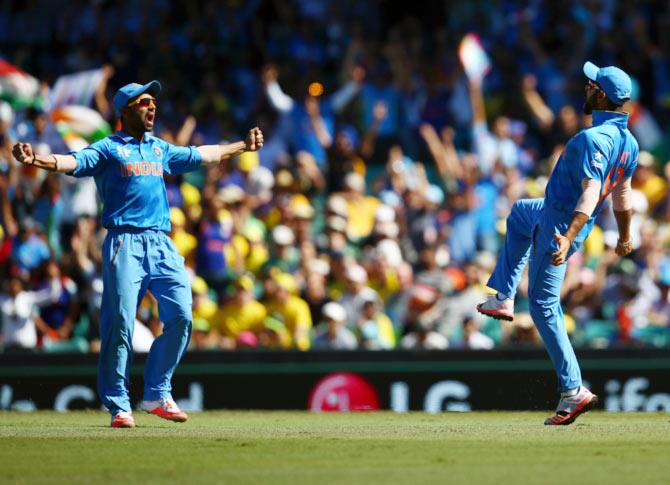 IMAGE: Ajinkya Rahane (right) and Virat Kohli celebrate a wicket during the 2015 World Cup semi-final against Australia in Sydney, on March 26, 2015. Photograph: Mark Kolbe/Getty Images
Australia coach Darren Lehmann expects the upcoming limited-overs series against India to be an exciting one given the 'aggressive' brand of cricket that Mahendra Singh Dhoni's men have been playing of late.
- Wordwide ban on Chris Gayle? Tell Us!

The five-ODI and three-T20 series between the world's top two sides begins in Perth on January 12. Hosts Australia, who won the ICC ODI World Cup last year, are ranked No. 1 with 127 points, while India are second with 114 points.

Australia, who have enjoyed big wins against a lacklustre West Indies side in a recently-concluded Test series, are keen to get going in the One-Day International series against the Mahendra Singh Dhoni-led Indian side.

"They are a good one-day side as they made the semis of the World Cup. They are a quality side so from our point of view we have got to start well and play well against them. We haven't played in Perth for a while, so that is exciting for us and I feel it's a fast bouncy track," Lehmann told reporters at the WACA in Perth on Friday.

"They are playing an aggressive brand of cricket as well, so I don't really see that changing in the next five games," he added.

Australia will be missing the experience of the retired Mitchell Johnson and an injured Mitchell Starc in the bowling attack but Lehmann believes the youngsters are up for the challenge.

"It will be a good challenge for them. We play top cricket and India play the same way, so it will be an exciting series," he said.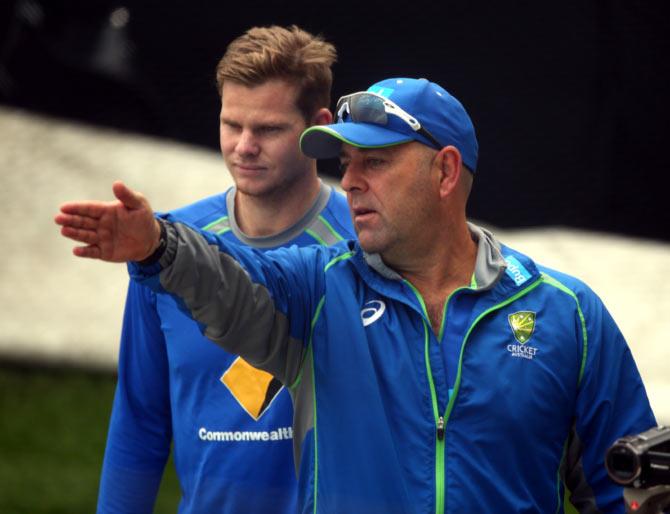 IMAGE: Australia captain Steve Smith (left) and coach Darren Lehmann look on during an Australia nets session. Photograph: Robert Cianflone/Getty Images
Lehmann insisted that the side will not have much problem changing gears from the longer format to the limited-overs games.

"The blokes change pretty quickly and we have changed our squad around a fair bit and it is nice to see the guys play a bit of T20 and white ball cricket, nice bit of transition for us," he said.

Talking about the seniors, Lehmann said that skipper Steven Smith and David Warner are very keen to lock horns against India.

"Yes, Warner and Smith will certainly play. Of course Dave (Warner) is going to and fro with the baby but that will be later and he is keen to play. Yes, if something happens earlier, we have an extra batter to take his place," said the former batsman.

Backing Shaun Marsh, who was dropped for the West Indies series, Lehmann said the opener is good to go.

"We think he (Shaun Marsh) is batting really well and he was unlucky to be left out. We said many times he is in very good form and he certainly showed that in his scores in the last few games. We are impressed with that and he has got a chance again to play well for Australia," he said.

Leaving the batting line-up to the captain, Lehmann said that the think-tank is happy with all-rounder Mitchell Marsh's No. 6 position.

"That's up to the captain what he wants to do in the batting order, but from our point of view we are happy where he (Mitchell Marsh) is.

"We would love to have more time, but he has had that opportunity in the Test series. He will get a chance somewhere if he starts well. He has played well in the One-Day format for us in England, he was man of the series," he said.

Wicket-keeper-batsman Mathew Wade said facing India is always a challenge given the large number of expatriates who turn up to support the visitors but he enjoys the atmosphere nonetheless.

"Yes, at times it feels like they have more supporters at the ground than us. But it's great to have people at the grounds. Playing in front of the big crowds is awesome and it doesn't matter who they are supporting," he said.
- India's Aussie team: Guess who has the best ODI, T20 records