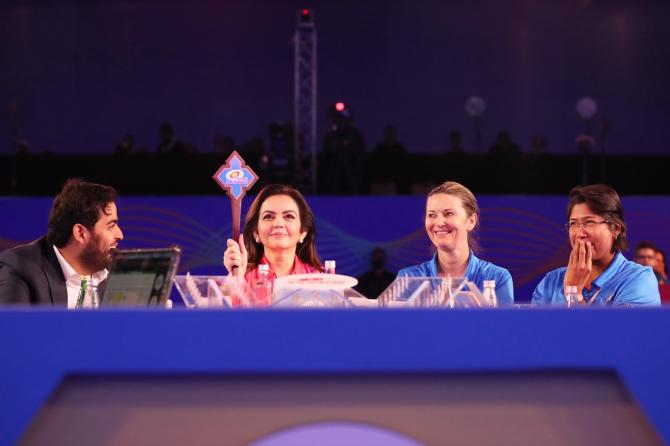 India women's cricket team vice-captain Smriti Mandhana becoming ecstatic after being picked by Royal Challengers Bangalore for Rs 3.4 crore during the Women's Premier League (WPL) auction was a moment that exemplified the excitement among players for the big day.
After all, the women were seeing the occasion as the beginning of a new dawn where they would also be able be to call themselves millionaires like their male counterparts in the Indian Premier League (IPL).
For long, there had been talk about a T20 league for women in India, with several veterans like Mithali Raj, Jhulan Goswami and Harmanpreet Kaur, among others, waiting for this seminal moment in country's cricketing landscape.
But all that will change on March 4 this year when the inaugural match of the five-franchise tournament begins.
While it will most likely continue to be the precursor to the 'big event', the IPL, women cricketers will finally have a niche window, which they will be able to call their own in a milieu overcrowded with men's T20 leagues.
While in terms of money and clout, the WPL and IPL, will never be comparable, the new baby of Indian cricket will at least add a lot of glamour to women's cricket, which was so far lacking, and also bring in hordes of fresh Indian and foreign faces, hoping to make big bucks through WPL.
As India women cricketer set foot into hitherto uncharted territory, it would be fair to say the auction has gone way beyond expectation for several of them if one compares it with the IPL.
Mandhana getting Rs 3.40 crore, spinner Deepti Sharma being bought by UP Warriorz for Rs 2.60 crore and Jemimah Rodrigues and young India opener Shafali Verma earning Rs 2 crore-plus deals, certainly bodes well for the women cricketer in the country, given that the salary cap for each of the five franchises was just Rs 12 crore compared to the IPL mega auction last year where the total budget per franchise was increased from Rs 90 crore to Rs 95 crore.
Comparing the inaugural WPL auction to the first IPL auction ahead of the 2008 season, there is just a three-fold difference between what CSK dished out for Mahandra Singh Dhoni (Rs 9.5 crore) and what Mandhana got on Monday.
In fact, during the 2010 IPL auction Shane Bond (KKR) and Kieron Pollard (MI) were the highest money earners at Rs 4.8 crore each. It was only in 2011, that the salary purse of franchises started getting bigger and Gautam Gambhir (KKR) broke bank to earn a mind-boggling 14.9 crore.
Over the years, IPL has become the biggest and best domestic T20 tournament in the world, thanks to the multi-fold increase in telecast, broadcast and online revenue, which has translated into huge monetary gains for the players as well.
Ravindra Jadeja got Rs 12.8 crore in 2012, RCB shelling out Rs 14 crore for Yuvraj Singh and Delhi Daredevils (Delhi Capitals) buying him for a then IPL auction record of Rs 16 crore, were the offshoot of the burgeoning salary purse of the franchises.
The upward trend has continued with England all-rounder Sam Curran now the highest ever money-earner from the 2023 IPL auction at Rs 18.5 crore.
When compared to the mega-bucks being earned by male cricketers, Mandhana's Rs three crore-plus pay packet certainly pales in front of these celebrated IPL icons.
But, come to think of it, the inaugural IPL auction too had a "humble" start and gradually, over the years, more money started flowing into the environment.
As the WPL brand takes baby steps towards creating a niche for itself, it's just a matter of time before more TV money gets pumped into the league and the salary caps of franchises are revised.
Ten years down the line, who knows, a new woman cricketer could be laughing her way to the bank with a Rs 20-plus crore purse. By then, the IPL would be touching astronomical figures.
While not getting into the debate of who gets what, women's cricket was certainly the winner on Monday and with WPL, it'll turn a new corner.