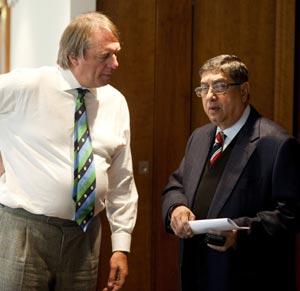 There was an eerie silence among the who's who of cricket administration regarding what will be the fate of BCCI president N Srinivasan and the Board after the honourable Supreme Court gave its observation on Tuesday.
- VOTE! Should N Srinivasan quit as BCCI chief?

With Supreme Court asking Srinivasan to step down for a fair probe into the Indian Premier League betting and fixing scandal, questions are being raised about whether the Tamil Nadu strongman can indeed become the chairman of the International Cricket Council's all powerful executive board.

"Let's wait and watch. It will be very wrong to make any comments on Supreme Court observations. We should better wait till March 27 when the verdict will come out as then we will get a clearer picture," a senior BCCI official said.

Even the ICC officials are tightlipped about the proceedings although the bigwigs of the parent body are certainly keeping a close watch on the proceedings.

"Although, the new Executive Board of the ICC would take over in June but as per the norm, there is no such hurdle in becoming the chairman of the ICC Executive Board even if he steps down as the BCCI chairman," the official said.

"As far as the ICC constitution goes, Srinivasan is a BCCI nominee. The first chairman would be from BCCI, whether it is Mr Srinivasan or someone else. Now it will be an interesting situation if he is no longer the BCCI president. May be the members will have to do a re-think," the influential member added.
Image: BCCI president N Srinivasan (right) with England and Wales Cricket Board chairman Giles Clarke.
Photograph: Charlie Crowhurst/Getty Images