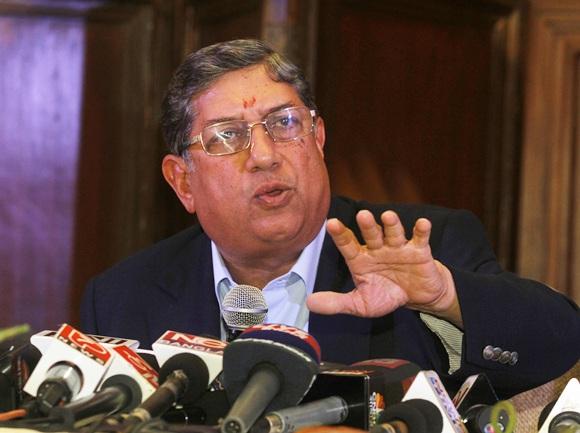 Never before has the head of the Board of Control for Cricket in India, the sole administrator of a game that is a religion in the country, faced as much censure as N Srinivasan.
From running the game as his personal fiefdom to refusing to let go of the prestigious post through thick and think, Srini, as he is known on the circuit, is a law unto himself.
That is, till the actual law of the land stepped in in the match-fixing controversy surrounding the IPL, in which his own team Chennai Super Kings' manager and his son-in-law Meiyyappan has been implicated.
Alarmed at Srini's ability to stay put despite the controversies swirling around him, and over the need to ensure a free and fair probe into the scandal, Justice A K Patnaik on Tuesday said the BCCI chief 'has to step down if a proper probe is to be done in the case.'
So far, despite the chorus from former players that he step down, Srinivasan has not indicated that he would indeed the highest court's directive. And the longer he continues to be defiant, more the game is dragged through mud.
Do you think the BCCI chief should step down? Or do you think he is right in his actions? Please tell us what you think, by voting below!