The decision on whether to appeal or not against judicial commissioner Gordon Lewis' verdict pronouncing both James Anderson and Ravindra Jadeja 'not guilty' in the Trent Bridge altercation lies entirely on International Cricket Council CEO Dave Richardson, who has six days to do so.

Richardson, who was on leave, has resumed his duties at the ICC headquarters in Dubai and has received the written copy of the verdict by Lewis and is learnt to have consulted his legal team on the matter. The latest that he can appeal to ICC is August 10 after which a three-member will be formed within 48 hours of the said appeal.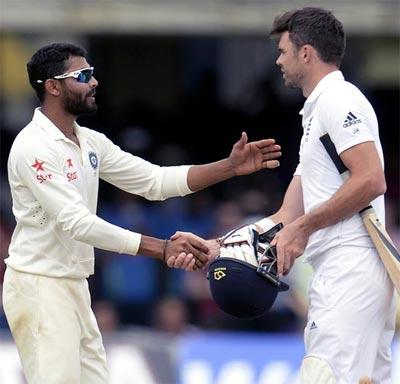 The former South Africa wicketkeeper has been entrusted with the task of looking into issue, since ICC chairman N Srinivasan has indicated that he would ideally like to refrain from taking any particular stand on the issue.

According to sources, Srinivasan in his capacity as ICC chairman would like to stay neutral since India is involved in this incident.
- All you want to know about Anderson-Jadeja altercation...

Since it has now been proved that there are no video footages available of the alleged physical altercation between the duo during break of the Trent Bridge Test, Anderson might again go scot-free despite having admitted to abusing and pushing Jadeja.

"In case Richardson appeals, then a three-member panel will be formed from the members of the ICC Code of Ethics committee. This time Lewis along with the Indian and English representatives can't be chosen. The three-member panel might take upto 30 days (as per ICC constitution) to give a verdict.

"In any case, Anderson will play the whole series. Any sanction after that will hardly matter to BCCI or Mahendra Singh Dhoni. And in current scenario, it's not that new panel will have fresh evidences against Anderson from what Lewis had in hand. So how logical it would be to reappeal is something that Richardson needs to understand," a reliable source in the know of things said.
Image: Ravindra Jadeja (left) shakes James Anderson's hand after the Lord's Test.

Photographs: Philip Brown/Reuters