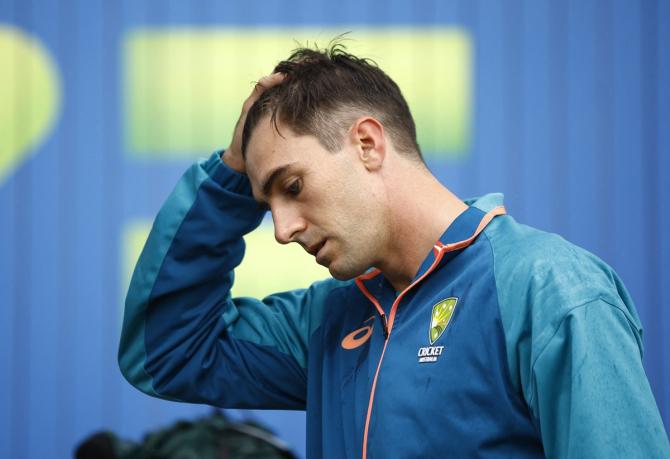 Australia captain Pat Cummins, whose side retained the Ashes on a ran-hit Sunday without leaving the Old Trafford pavilion, insisted there will not be huge celebrations as they now focus on securing a first series win in England since 2001.
Rain washed out the final day of the fourth Ashes Test, forcing a draw which ensured England, trailing 2-1 with one match to go, cannot win the series and leaving Australia, as holders, guaranteed to return home with the Urn.
Despite the result, Cummins' and his team's work in England is not through yet.
"It feels a bit weird," he said. "The rain might have helped us, but it was a great result."
"There won't be huge celebrations. There may be a bit of a pat on the back for retaining (the Ashes), because there has been a lot of work going into this situation where a draw does get us to retain."
"It's good that we have retained but we know we have a fair bit of work to do for next week. It's a pretty similar group to 2019 when we retained and we came away feeling OK but it felt a bit like we had missed what we came over to achieve (a series win)."
The draw was agonising for England, who seemed to be on course to storm back from 2-0 down in the series to level things up at Old Trafford after posting a first innings total of 592 -- their highest innings total on home soil since 1985.
But rain deprived them of most of Saturday's action, as they looked to skittle the tourists out in their second innings, before Sunday's washout.
England captain Ben Stokes did not feel there needed to be a rule change to accommodate such eventualities, amid calls for a reserve day to be made available if days are lost to rain as has been introduced for the World Test Championship final.
"Test cricket is five days," Stokes said. "I understand there being a reserve day for the World Test Championship final because you obviously want there to be a winner at the end of that."
"But I don't see there ever being a reserve day for Test matches in a series like this."
Stokes was, however, pleased with the impact his big-hitting side have made, despite being unable to force a series decider in the fifth Test at the Oval in London next week.
"I think it would have elevated everything what the series has already done for Test cricket (a decider), especially in England," Stokes said.
"But I think what we've managed to do, up until today anyway, has already done wonders for cricket in England."
"There's no doubt if we manage to get a result in this game next week it would have been a very, very special week in the history of English cricket, not just Ashes cricket."
"We'll be treating it as every other game and I hope the support we get will still be there or thereabouts as if it was 2-2."