'People will have to step up and be prepared to put the hard yards in. Everyone starts on nought now'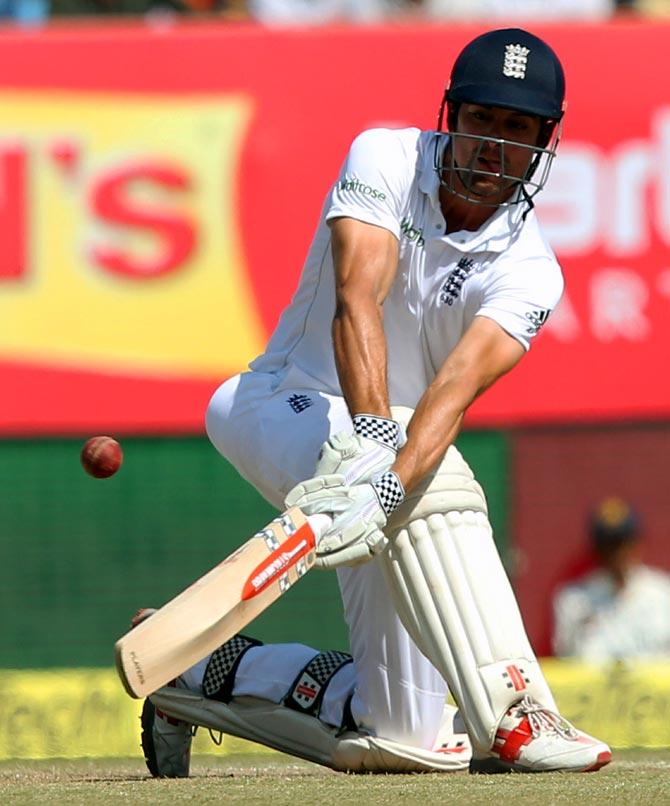 IMAGE: Alastair Cook bats during Day 5 of the 1st Test in Rajkot. Photograph: BCCI
England captain Alastair Cook says his team is going into the 2nd Test with a clean slate.
Having drawn the first Test in Rajkot and putting an impressive performance against spin, Cook is not concerned about the wicket laid out in Visakhapatnam.
- Expect Vizag pitch to turn from Day 2, says curator
Asked whether the turning Vizag pitch would scare the visitors, Cook said: "It doesn't scare us. What happened to New Zealand here in a one-day game has little relevance to how the Test with England will go.
"The toss is important but in Mumbai the last time we played here we lost the toss on a turning wicket and we outplayed India. So it is important but it doesn't mean you can't win the game if you lose it.
"If you go back to our last game in Rajkot our worst bit of the game was that first 25 minutes when we showed a bit of nerves. Everyone here says the toss is important but if we lose it it will just be another challenge we will have to overcome.'
Cook then defended England's record against spin.
"As I kept saying, in Bangladesh they were incredibly tough wickets to bat on. It doesn't matter whether you'd played 130 Tests in Asia with a good record or your first game. It was incredibly tough for the top order with the same balls skidding and spinning.
"If you look at mine and Gary Ballance's dismissals, we both received exactly the same deliveries with exactly the same release out of the hand, a point of a mile difference.
One hit leg stump and the other got caught at slip so that was the challenge facing us and I kept on saying how hard it was.
"It didn't make us bad players of spin but what it did do was focus a real intensity in our training after those 10 wickets fell in a session. It kind of makes people not re-evaluate their game but really concentrate, particularly in those first 30 balls of your innings.
"We had a really good couple of days in Mumbai and when conditions were slightly more favourable for batting the hard work we'd put in paid off. I was really pleased how we batted in the last game and we have to do it again. People will have to step up and be prepared to put the hard yards in. Everyone starts on nought now."