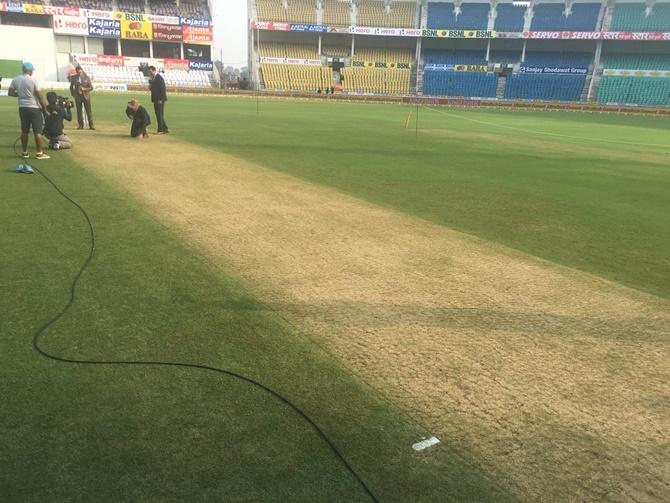 IMAGE:'Conditions don't allow curators to produce track of choice'. Photograph: BCCI/Twitter
India desperately wanted hard and bouncy wickets before the South Africa tour but the country's diverse soil and climatic conditions prevents the curators from providing the team management with strips of their choice, said batting coach Sanjay Bangar.
After the green top at the Eden Gardens for the first Test against Sri Lanka, where overcast conditions also played its role, the greenish tinge in Nagpur and here at Kotla for the second and third game has deceived all and sundry.
India scored 610/6 on a flat Jamtha deck with four top-order batsmen scoring centuries, including skipper Virat Kohli's double. At Kotla on the first day, India raced to 371 for 4, and are on course for another 600 plus total.
Asked if this is an ideal wicket for preparation, Bangar spoke about the helplessness of the curators.
"The nature of surfaces cannot be consistent since we are a diverse country and as we hop from region to region, the nature of the pitch is changed. Even though we wanted to have a wicket with pace and bounce, with a bit of grass cover, the curators can only do as much because it all depends on nature of the soil, which is peculiar (he perhaps meant unique) to a particular region," Bangar gave his take on the track.
The former India all-rounder said that each city produces a different type of track, unique to its character.
"You can't expect a Mumbai wicket to play like a Delhi wicket and a Calcutta wicket to play like a Nagpur wicket. So that's the beauty of cricket. You may want something but the curator is never able to give you what you want because of peculiar nature of the track and diverse conditions in such a vast country that we live in."