When South Africa lost to India on Sunday, they cemented their reputation for 'choking' in ICC tournaments.
Rajneesh Gupta tells us why South Africa's record for freezing in important ICC contests is, alas, well deserved.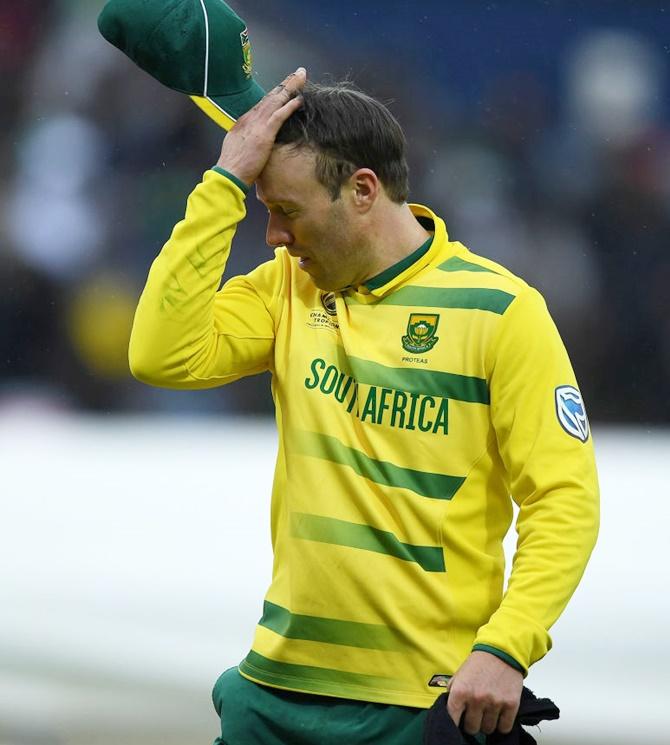 IMAGE: South Africa's ODI Captain A B de Villiers. Photograph: Gareth Copley/Getty Images
In what had turned in to a virtual quarter-final on Sunday, June 11, South Africa were cruising along nicely against India.
They had reached 140 for the loss of two wickets and looked all set to finish with a mammoth total, with A B de Villiers and Faf du Plessis at the crease.
Against the run of play India got the all-important wicket of de Villiers thanks to a terrible mix-up between the two batsmen.
India also got David Miller in similar fashion and soon South Africa lost their way, losing wickets in a hurry and finally folding for a below-par 191.
India did not face much difficulty in overhauling the target and sealed a place in the semi-finals.
This is not the first time South Africa have choked in an ICC tournament.
They have a history of doing that and unfortunately all that talk will grow only louder now.
Earlier instances of South Africa choking in an ICC tournament:
1992 World Cup semi-final v England, Sydney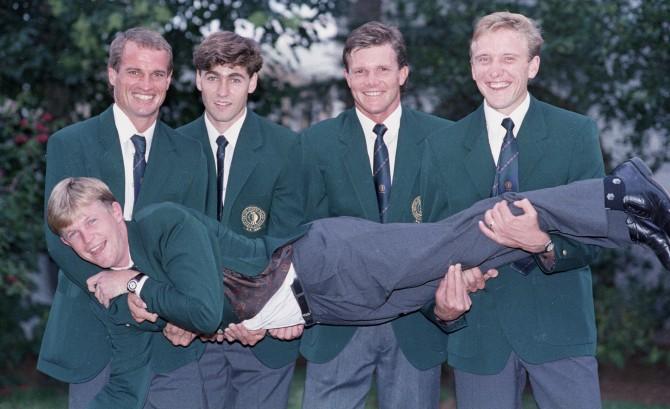 Not technically a choke, rather a robbery.
South Africa, chasing 253, needed 22 from 13 balls when the heavens opened, but under the controversial rain rule, which deducted the opposition's two least productive overs from the target, they were left to score an improbable 21 from just one ball.
1996 World Cup quarter-final v the West Indies, Karachi
South Africa were in great form having won all their group matches.
They came across a resurgent Brian Lara who scored 111 off 94 balls.
Still SA needed 265 to win from 50 overs, which looked manageable.
They started off well and were cruising at 186/3 at one stage. Then they lost 8 wickets for 59 runs, lost the match and crashed out of the tournament.
1999 World Cup, semi-final v Australia, Edgbaston
Needing a manageable nine runs to win from the final over, Lance Klusener hit the first two balls for four, needing just one run from four to seal his side's place in the final.
However, a horrific mix-up with the last man Allan Donald led to a dramatic run out.
The match ended in a tie which cost the Proteas their final wicket and a place in the final, as Australia progressed ahead.
2002 ICC Champions Trophy semi-final v India, Colombo (RPS)
One of the biggest chokes in cricket history.
Chasing a victory target of 262 in the semi-final against India, South Africa were comfortably placed at 192/1, but choked and lost the match by 10 runs.
2003 World Cup, group match v Sri Lanka, Durban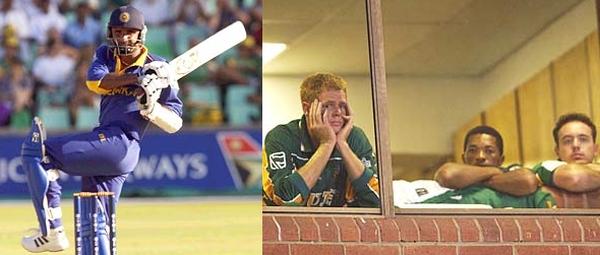 A rain interrupted match.
South Africa did some horrible calculation regarding the D/L method and Mark Boucher, the man on strike, got the wrong message.
With the rain drops falling, he hit a six on the penultimate ball off Muthiah Muralitharan's over and punched the air thinking SA were ahead on the D/L method.
Boucher played the last ball casually and didn't take a run.
The play stopped there and according to the D/L method the match was tied.
Sri Lanka went ahead in the tournament courtesy of their better league stage performance.
2006 ICC Champions Trophy semi-final v West Indies, Jaipur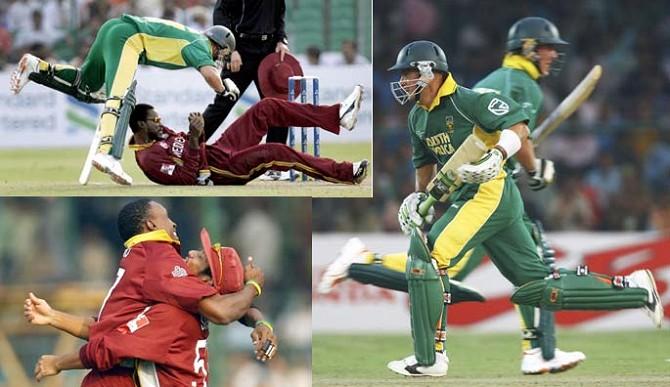 South Africa posted 258/8 which looked a defendable total.
But that belief went out of the window as Chris Gayle took apart the South African pace attack.
South Africa had made a tactical blunder by not having a specialist spinner in their ranks and the West Indies took full advantage of this lapse.
The opening pair was only separated when Shivnaraine Chanderpaul retired with cramp after he had put on 154 with Gayle in 26 overs.
Gayle batted on regardless, hitting 17 fours and three sixes in an unbeaten 133 that took the West Indies to victory, despite the customary wobble towards the end.
2007 World Cup semi-final v Australia, Gros Islet (St Lucia)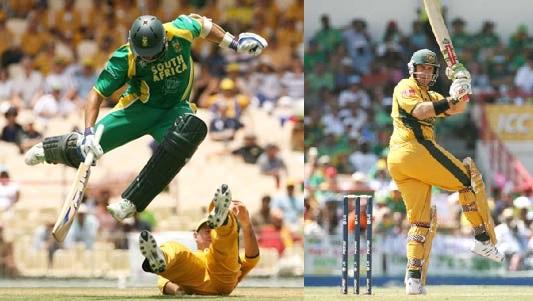 South Africa put on a dreadful batting display and scored just 149 runs. Australia chased it down pretty easily.
2011 World Cup, quarter-final v New Zealand, Mirpur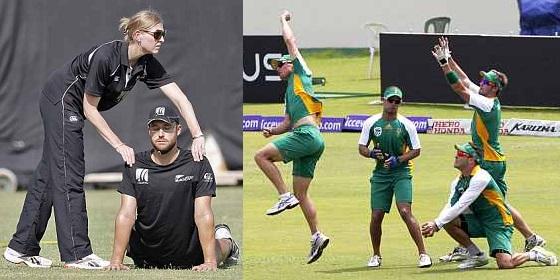 Graeme Smith's men threw away a place in the last four as they buckled under the pressure of chasing 222.
Cruising on 108/2, South Africa lost 8 wickets for 64 to collapse to a humiliating defeat.
2015 World Cup semi-final v New Zealand, Auckland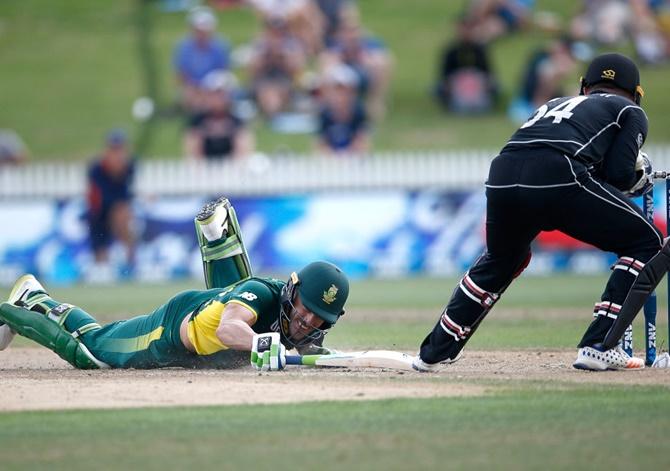 Again a rain affected match.
When the South African innings stopped they had made 281 in their 43 overs.
According to D/L, New Zealand needed 298 from 43 overs, which was always a daunting task against the South African bowling attack.
Also, no team had ever chased down such a high target in a World Cup knock out.
Somehow New Zealand kept themselves in the contest.
In the penultimate over, Farhaan Behardien appeared set to take a skier in the deep to dismiss Grant Elliott only for J P Duminy -- also going for the catch -- to dive in front of him, causing the chance to be spilled.
When the last over started, New Zealand needed 12 runs with Daniel Vettori on strike.
Dale Steyn, the world's best bowler, bowled the over.
The equation boiled down to 5 off the last 2 balls and Elliott -- who was there because of the courtesy shown by the South Africans -- promptly dispatched the penultimate ball for a 6, crashing South Africa's dream of making it to a World Cup final.