'First I saw Wasim and Imran. Then I saw Waqar and Wasim bowling.'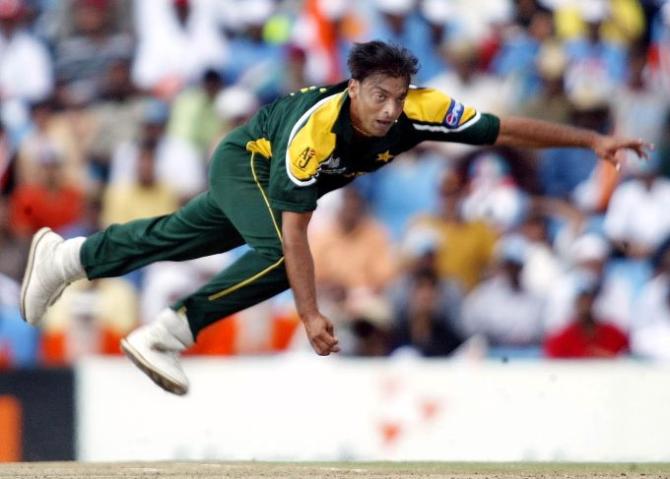 IMAGE: Pakistan's Shoaib Akhtar bowls during 2003 World Cup at Centurion. Photograph: Arko Datta/Reuters.
Former Pakistan speedster Shoaib Akhtar has named the best ever batsman he ever bowled in a chat show 'The Sportsman' with former captain Wasim Akram.
Shoaib, one of the fastest bowlers to have ever played the game, says his former teammate and captain Inzamam-ul-Haq played him better than any other batsman he bowled to during his career.
The 41-year-old says of all the batsmen he bowled to, including modern greats like Sachin Tendulkar, Brian Lara and Ricky Ponting, it was most difficult to get the wicket of his legendary teammate.
"There were a lot of players in the world (I found difficult to get out) but the most difficult, who I couldn't even get out in the nets, was Inzamam," Shoaib said.
"I think there was no other player who played me better than him.
"His footwork was quick, he would place himself and be ready to play. He could see the ball earlier than many. I always thought he had an extra second.
"However fast I bowl, he had placed himself where the ball would land."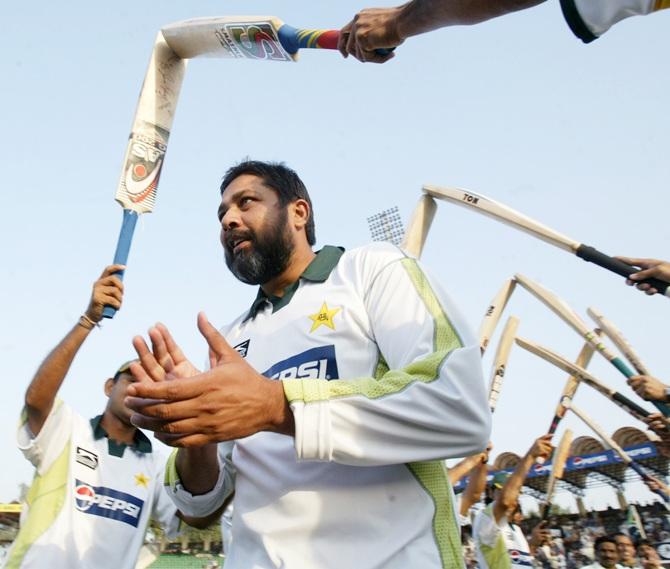 IMAGE: Pakistan's players pay respect to Inzamam-ul-Haq. Photograph: Zahid Hussein/Reuters.
Inzamam, who played in 34 of Shoaib's 46 Tests, scored 35 centuries in his 16-year international career and is regarded as one of Pakistan's greatest-ever batsmen.
After a stint as head coach of Afghanistan, Inzy was named Pakistan's chief selector earlier this year and has overseen their rise to the No.1 ranking in Test cricket.
Shoaib, who was a 16-year-old when Imran lifted the World Cup trophy, says he was inspired by the golden generation of Pakistan cricket.
"I wanted to be a fast bowler right from day one," he said. "I wanted to bowl fast and I wanted to do this only.
"Inspiration is very important. Heroes are very important. If there are no heroes you cannot get inspired.
"You try to become like them but then you blossom into something else," Shoaib said to Akram.
"First I saw you (Wasim) and Imran. Then I saw Waqar (Younis) and you bowling.
"Then I thought to myself that if I copy you people, I might become someone," he said.