Sunita Iyer points out how Wriddhiman Saha's diligence and determination makes him the obvious options available for the Indian selectors to replace Dhoni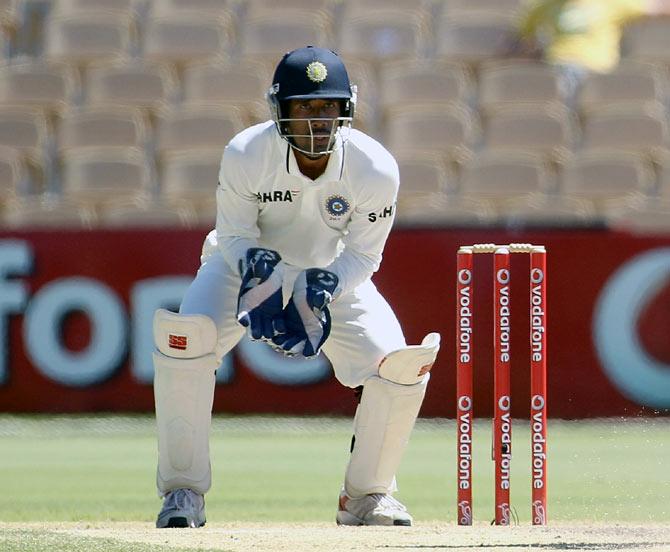 India wicketkeeper Wriddhiman Saha. Photograph: Hamish Blair/Getty Images
On December 23, 2004, a bucolic looking young lad caught the attention of several Indian cricket fans, as he walked up to the stumps silently clasping his wicket-keeping gloves in front of a packed stadium in Chittagong. Less did the world of cricket know then that this long-haired bloke from Ranchi would go on to become India's most successful captain and wicketkeeper-batsman. And 10 years later on December 30, 2014, when Mahendra Singh Dhoni – the same rustic lad who went on to change the face of cricket in India – announced retirement from the longer format of the game, cricket enthusiasts world over were left shell shocked.
While most Indians were drowned in disappointment over Captain Cool's decision (that too bang in the middle of a horrifying tour to Australia), there were a few who were knocked down by the realisation that the team was also losing a world-class wicketkeeper-batsman.
Dhoni made his way into the team at a time when India was struggling to find a full-time wicketkeeper. Though Rahul Dravid did a fine job in juggling the role of a top-order batsman and a make-shift wicketkeeper, the team still required the services of a specialist and MSD made his presence felt at the right time. And when Dhoni, who has 256 catches, 38 stumpings, 6 tons and 33 half-centuries to his credit in Tests, called it quits – the doors of opportunity opened up for another wicketkeeper-batsman to cement his position in the team.
The likes of Robin Uthappa, Parthiv Patel and Dinesh Karthik were the obvious options available for the Indian selectors.
But one man who silently caught their attention was none other than Bengal's Wriddhiman Saha. And his selection for India's upcoming tour to Sri Lanka proves that he made himself worthy for this break, by the virtue of his diligence and determination.
But the larger question that remains is – Will Saha be able to fill Dhoni's big shoes? Well, I personally think he is definitely the right choice and here's why: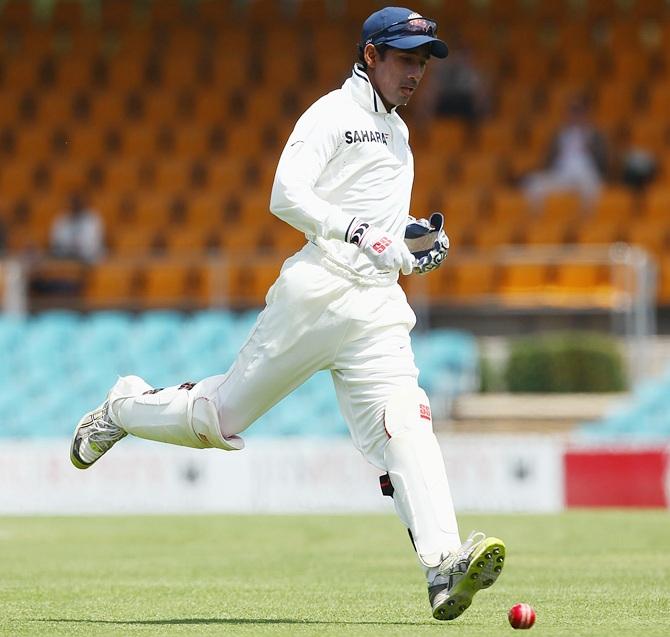 It's time for Wriddhiman Saha to grab the golden opportunity. Photograph: Mark Nolan/Getty Images
Saha, who is known to stay away from public glare, has been one of India's most sound gloveman in the domestic circuit for some time now and yet he's had the chance to play only 12 international games since his debut in 2010. Drafted into the Bengal team in November 2007, Saha then had the daunting task of filling the void Deep Dasgupta had left behind. But he kept his cool and instead proved his mettle from the word go. In his debut match against Hyderabad, Saha scored a heroic 111 not out and also took three catches and 1 stumping. Since then this gifted cricketer from a small town in Siliguri has never put a foot wrong.
For years now, Saha has been a mainstay for both the Bengal and East Zone teams. He is tight and neat with his glovework and also has the athleticism to pull off some brilliant catches. As far as his batting is concerned, though Saha comes down the order, he's still known to stabilize an innings after a batting collapse and has also pulled off some exceptional chases in the past. The quintessential team man, Saha is someone who does not come across as a cricketer striving hard to bag top accolades. He cares more about the game of cricket and loves to contribute to the overall success of any team that he plays for. This quality in him clearly reflected at a time when he rested his captaincy ambitions to focus on his game, which enabled him to serve the team better.
The above numbers speak for themselves. But despite having such a glorious first-class record, Saha has struggled to find a regular spot in the Indian team, which was occupied by MSD. Since his debut in 2010, Saha has been a primary backup keeper for India and has also toured with the team to South Africa, Australia, England, New Zealand and Bangladesh, with very little opportunity to prove his skills. And like most struggling Indian cricketers, Saha too faced the BCCI axe from time to time. However, this did not deter the young man. He did not let the pressure of being dropped from the national squad affect his game. He quietly went back to the domestic circuit, continued to score runs and also fine-tuned himself into a top-notch wicketkeeper.
Not just in first-class games, but Saha has also proved himself as a worthy player in the shorter format of the game. In the 2014 edition of the Indian Premier League (IPL), he tamed the likes of Sunil Narine and Dale Steyn and proved to be a crucial contributor in Kings XI Punjab's journey to the runner-up spot.
It's time to grab the golden opportunity
Wriddiman Saha in India colours. Photograph: Matthew Lewis/Getty Images
In the run-up to the team's selection for next month's tour to Sri Lanka, a lot of buzz was created around the flamboyant Naman Ojha's inclusion in the squad. However, the BCCI has made its choice and Wriddhiman Saha gets another opportunity to prove himself.
Saha, most definitely, is a player who is aware of his skill sets and without a doubt is technically strong. Not just his wicket-keeping abilities or his batting talent, his knack to handle pressure and criticism too will help him go a long way and of course assist him handle the burden of filling Dhoni's big shoes.
Now, what more can you expect from a man who ranks his gritty 35 off 96 balls in a Test match against Australia in Sydney much higher than a glamorous T20 ton. Well, that's Wriddhiman Saha for you.
Also read
15 quotes that prove the greatness of Dhoni
If Mahendra Singh Dhoni's bike collection doesn't make you drool, nothing will