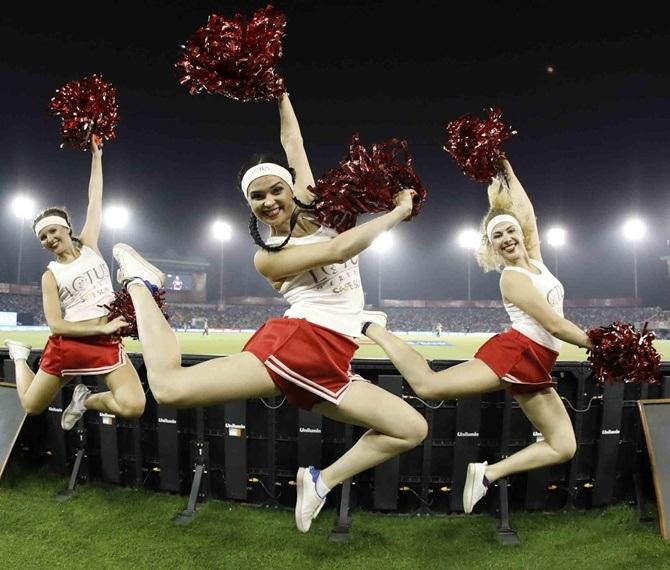 Amid opposition to staging Indian Premier League matches in Chennai in view of raging protests over the Cauvery issue, Tamil film star Rajinikanth said it would be good if the Twenty20 league's organisers stopped the games in the city as such a gala event would be embarrassing when entire Tamil Nadu was agitating.
Alternatively, he suggested that Chennai Super Kings players play wear black bands as a mark of expressing the anguish of people who have been staging protests demanding setting up of a Cauvery management board.
"Playing IPL matches here when whole of Tamil Nadu is agitating for Cauvery (management board) will be an embarrassment," he told reporters in Chennai on Sunday, referring to opposition from different quarters to the event.
"If they (organisers) stop, it is good. If not, at least to express the anguish of people of Tamil Nadu, members of the Chennai Super Kings team may wear black band... the message will get noticed countrywide.
"The Board of Control for Cricket in India, IPL authorities and the owners of Chennai Super Kings should extend their cooperation by allowing the players to wear the black bands," ," he added.
Rajinikanth also appealed to fans to dress in black while when watching the matches in Chennai.
Amma Makkal Munnetra Kazhagam (AMMK) leader T T V and some pro-Tamil outfits have opposed playing of IPL matches in the city, citing the ongoing protests in support of setting up of CMB.
Dhinakaran has appealed to the cricket fans to shun the matches scheduled to in Chennai in order to strengthen the voice of farmers' seeking CMB.
Pro-Tamil outfits, including Tamilaga Vazhvurimai Katchi, have also opposed holding of IPL matches in the city.
Opposition DMK Working president M K Stalin had said the IPL organizers should realise the issues faced by the people and act accordingly.
"We are not saying that it (matches) should not be held. The organisers should realise the problems of people and act accordingly," he had said last week.
Fisheries Minister and senior AIADMK Leader D Jayakumar had said the BCCI would realise the situation in Tamil Nadu and decide whether to hold the matches or not.
Seven IPL matches are scheduled to be held in Chennai between April 10 and May 20.