'Make sure when we go there we also have 8 days gap after the 3 Tests and a 25-day gap between ODIs and Tests.'
Rediff.com's Harish Kotian reports from the Wankhede Stadium.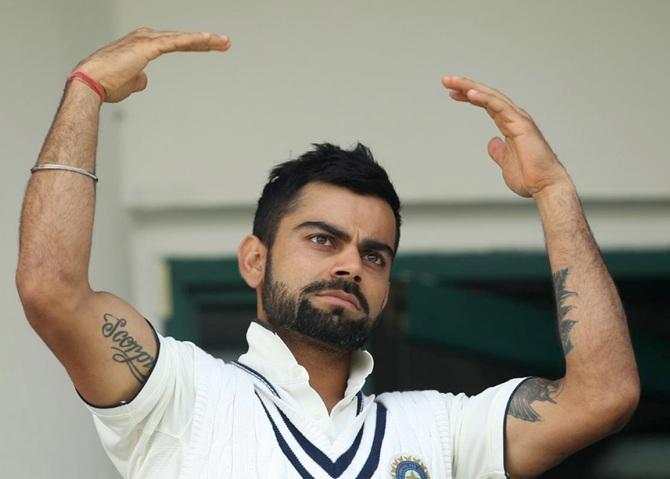 IMAGE: India Captain Virat Kohli. Photograph: BCCI
Captain Virat Kohli on Wednesday called on his team-mates to help the struggling duo, Murali Vijay and Ajinkya Rahane, in the next two Tests against England.
Rahane has managed just 63 runs in 5 innings with scores of 13, 1, 23, 26 and 0.
Vijay, who started the series with a cracking 126, has since registered scores of 31, 20, 3, 12 and 0.
"Ajinkya and Vijay are solid players," Kohli said. "I didn't have any score to be proud of during the New Zealand series, Ajinkya was stepping in for me. It is all about covering for another guy who is probably not getting runs. That is what team sport is all about."
"We don't believe in picking out individuals and saying this one is not playing well or this one is playing extraordinarily well. We compensate for someone who has not been able to get runs and that is how the team goes forward and that is how you pick up your team-mates and move forward. That has been our aim," Kohli, as eloquent as ever, told the media in Mumbai on the eve of the 4th Test.
Kohli didn't appear pleased with the 8-day gap between the 3rd and 4th Tests and called for similar treatment when India tours England next.
"We didn't ask for the gap, it was part of the schedule. Make sure when we go there we also have 8 days gap after the 3 Tests and a 25-day gap between ODIs and Tests. We didn't ask for it, but seeing the long season ahead, it did us no harm," the skipper said.
"It actually helped us rest a bit, reflect on what we have done in the two games that we have won and visualise again and come back even more fresh compared to the last two Test matches. It was a good thing that happened and certainly we benefited from it."
The captain also came down hard on the scheduling of the tour with England going back home after the 5th Test in Chennai, which ends on December 20 for a 25-day Christmas break.
The Englishmen will resume the tour with a 3 match ODI series starting in Pune on January 15, followed by a 3 match T20I series.
"We should come back for a month as well from England. No point we play there for three-a-and-half months and everything we do is in the media's eyes, even our off time is scanned. I don't have any news of them enjoying their holiday in Dubai (the English team flew to Dubai during the 8 day gap between the Mohali and Mumbai Tests)," Kohli said.
"I would like to see the same thing happen. Either they stay the whole tour or we come back for 25 days as well," Kohli added.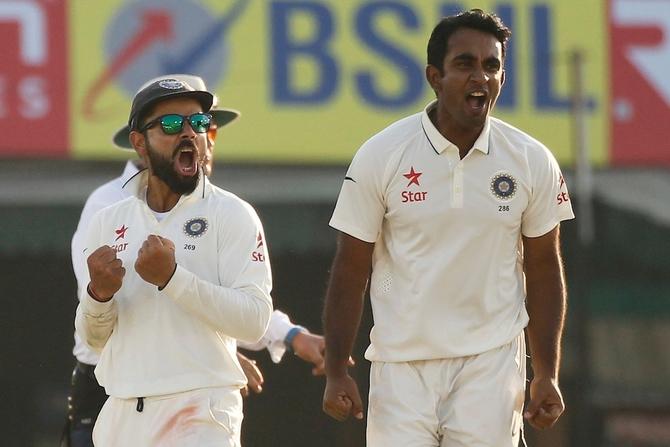 IMAGE: Jayant Yadav and Kohli celebrate the dangerous Jonny Bairstow's wicket.
Kohli generously praised the team's newest member -- off-spinner Jayant Yadav, who has impressed in his first two Tests scoring 117 runs and taking 8 wickets.
"I am very impressed. I have never played with a bowler -- you can call him an all-rounder now -- whom I haven't had to tell anything honestly," the captain said. "He sets his own fields, he knows exactly where he wants to bowl."
"Sometimes I ask for the mid-on to be back, he urges me to keep it up, he wants the batsmen to go after him. So he is pretty confident of his skills. He practices his skills very well. He is fit, he understands the game, he is an intelligent guy," Kohli added.
"He is a great package for Team India. In the years to come, we will see a lot more match-winning performances from him because he has got all the skills needed to be a very good Test player. I have been really, really impressed," the captain stated.
Kohli also gave the media a glimpse of how things work in the Indian dressing room and how decisions are taken collectively, involving the team.
"It is mostly collective most of the times because we decide as a team before we bat every time what we need to do, how we need to approach the session, the innings, that particular spell."
"So the message is always conveyed collectively and the good thing is that the batsmen follow. It is not about going into your own zone and not doing what the team wants you to do, it is about executing what has been told to you by the team management and that is why we have had more team performances in the past 12, 14 months, with individuals standing out to an extent that others look ordinary,"
Interestingly, in all the 22 Tests in which Kohli has captained India since December 2014, he has never fielded the same playing eleven.
Kohli attributes this more to injuries and following the horses for courses policy, keeping in mind different conditions and pitches.
"It has been a mixed bag of people getting injured," Kohli said, "at the same time we are playing guys who we feel are suitable to play on that particular wicket, especially the bowlers. The batting order hasn't changed much."
"It is something that we decided as a squad that we will look to do, because the priority is to win games."
"We have continued with the same squad, we haven't looked to make many changes because it is important for the guys to feel that they are part of a bigger plan which is to be a good Test side for a long period of time and for that you need to back the guys, and keep them in the squad and practice with the whole team."