'Khaleel wanted the new ball and he initially looks to swing it and he has taken up the challenge well.'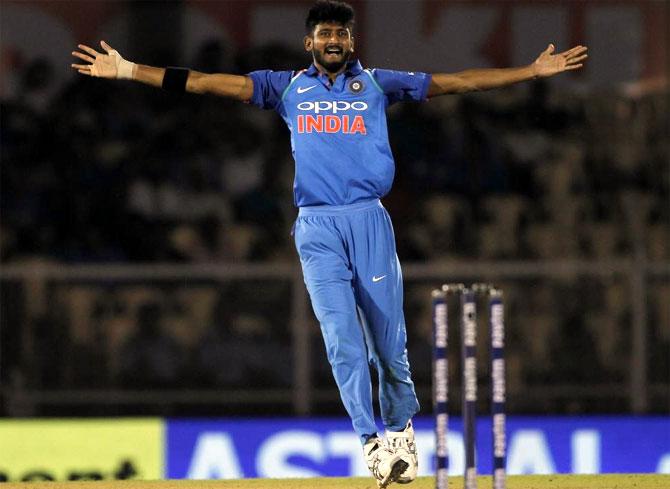 India captain Rohit Sharma said that left-arm pacer Khaleel Ahmed's ability to swing the white kookaburra upfront gives the team an option to use their premier bowler Jasprit Bumrah differently in the shortest format.

Rohit was impressed with the youngster, who himself sought the new ball from his skipper.
"Khaleel wanted the new ball and he initially looks to swing it and he has taken up the challenge well. Bumrah has been the premier bowler for us and the way we use him in T20s is different to ODIs. And when Khaleel bowls that kind of a spell upfront that helps us," Rohit said after India crushed West Indies by 71 runs in the second T20 International to seal the three-match T20I series 2-0.

Khaleel on his part was happy that he was up for the challenge.

"I had more responsibility today as I was bowling with the new ball. I had read the pitch well when we were batting," said Khaleel, who is still finetuning certain areas in his bowling.

"I am working on my bowling arm as well as on my non-bowling arm with Bharat Arun (bowling coach) sir during practice sessions."

His skipper also spoke about how it took some time to figure out the 22-yard strip.

"It was a new pitch, so we wanted to understand how the wicket is behaving. Hence, we took so much time to understand what the pitch is doing. And we carried on from there."

He was happy that people could go home smiling on the eve of Diwali.

"Whenever you get an opportunity, you try and do well. Everyone will go home smiling. That's what we play for. Glad we could win the game and win the series. You know Dhawan's natural instinct is to put pressure on the bowlers, but we decided to take our time.
"The partnership at the top was very important. The 120-plus stand was crucial and KL finished off well. This is a wonderful stadium - one of the best we have played in. Just want to thank the crowd for coming out and supporting us in huge numbers," Rohit said.

Windies captain Carlos Brathwaite lamented that batting did let his team down.

"This is hard to digest but we need to take the positives before we play the final game. They batted well without losing a wicket in the initial overs. Our batting continues to let us down. We got a young group guys so we need to appreciate the positives.

"We are still trying to find the right opening combination. It's difficult to choose the perfect batting pair but we're trying. We need to make the best decisions we think. Hopefully in the third game, we'll put up a better performance," said the Windies skipper.