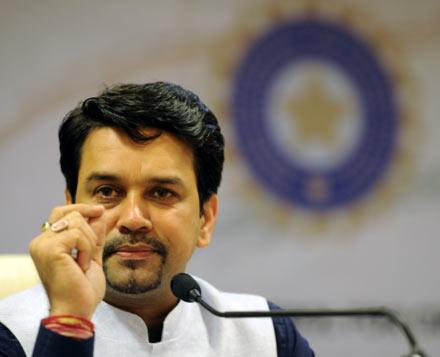 The Board of Control for Cricket in India secretary Anurag Thakur on Wednesday said that disbursement of financial grants even in cricket's global body International Cricket Council has always been performance based where the top Test playing nations got more share compared to the associate members.

Thakur's comments were in respect to Supreme Court's scathing observations on BCCI's fund allocation process where 11 Indian states were not given a single penny.
- Report of Lodha Committee on Reforms in Cricket - Final Report, Volume 1
- Report of Lodha Committee on Reforms in Cricket - Final Report, Volume 2
"The impression we get from the Lodha Committee is that you are releasing huge amounts to some states and you leave it to the states on the ways to spend. You are practically corrupting the person by not demanding explanation in spending of huge money," the two-judge bench of the court comprising Chief Justice TS Thakur and Justice Ibrahim Kalifulla observed on Tuesday.

Secretary Thakur, on his part, gave board's explanation in this regard while answering questions from fans on BCCI's official Facebook page.

"Even ICC, which is our parent body, they have associates and affiliate members and they have full members. They deal with full members separately and deal with associate and affiliate members separately.

"This is the norm world over and we are not different from others. You have to earn, if you don't believe in earning your share, I think nobody will work hard. Look at Himachal Pradesh, we were not a full member in early 80s and when we were made full member, we worked hard. We created stadium and done well and I think that should be done by all states," said the BCCI secretary.
- Check out the IPL 9 schedule

Thakur pledged that BCCI has taken many steps in the right direction to improve the image of cricket in the country.

"BCCI has taken many many steps in right direction, which has been applauded by fans. We will take every steps to improve the game. We are also helping other nations."

"When the observations were made, what BCCI has done in last 40 years. In 1983, BCCI didn't have enough money to honour the 1983 champions but look after 33 years, we have enough money not only to honour the champions but also created beautiful stadia in almost each and every state. We have created wealth not only for BCCI works but also for players and we are also dominating world cricket.