As many as 80 brands are riding the digital and television broadcast this year.
Arnab Dutta, Samreen Ahmad and Urvi Malvania report.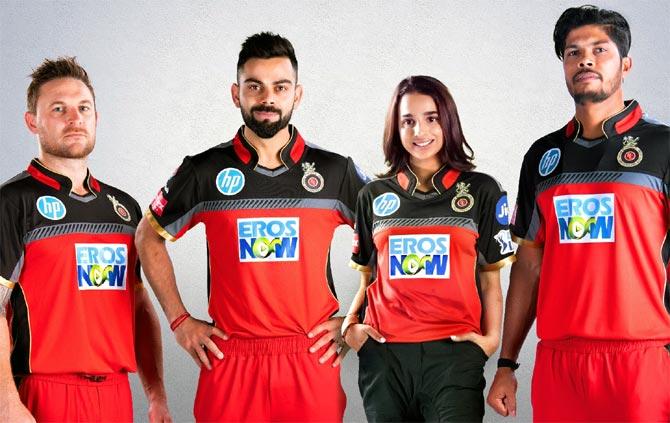 Eleven years after the first ball was bowled at the Indian Premier League, companies continue to flock the annual T20 tournament in the hope of catching consumers' attention.
As many as 80 brands are riding the digital and television broadcast this year, at least 10 more than the number last year (65 to 70).
Firms ranging from Samsung to Nokia, Parle Agro to Coca-Cola, and Goibibo to Ceat are investing on the sports extravaganza.
It is the game's engagement, reach and impact that have driven them to do so, they say.
Brand awareness, companies say, has improved 20 to 25 per cent in the previous years, pushing them to continue with their investments this year too.
Firms typically create a whole gamut of activities around their IPL associations right from advertising to organising special dealer and consumer events, promotions and offers, amplifying the impact thereof.
Categories such as air conditioners, air coolers, fans and beverages, in particular, which are dependent on the summer season, have seen an improvement in sales to the extent of 10 to 15 per cent in the past, say sources, thanks to high-impact properties such as the IPL.
Samsung, for instance, is a sponsor of the Mumbai Indians team, apart from advertising on television and digital. The company claims the dual approach ensures it is visible everywhere.
"We want to be where our consumers are, and given that the league is loved by young millennials, we do not want to miss out on the opportunity to engage with them," says Ranjivjit Singh, chief marketing officer, Samsung India.
"The IPL manages to hold viewer attention for nearly 60 days," says Asha Shekhar, director, media, Coca-Cola India, says, "and this is a big window for advertisers. It is also a property that comes bang in the middle of the summer season, an important period for us."
That the league has been able to brush aside controversies almost every other year, adds to its appeal, sector experts say.
In the last few years, the brand value of the IPL has risen considerably, touching $5.3 billion in 2017, according to Duff & Phelps, a global valuation firm.
Estimates are that the 2018 season will only add to its overall value, despite the ball-tampering issue plaguing its prospects with big names such as Steve Smith and David Warner banned from the tournament for a year.
"There is an entertainment value to IPL besides it being a sporting property," says Indranil Das Blah, co-CEO, KWAN, a sports and celebrity management company. "Associating with the IPL, therefore, guarantees visibility and reach across people."
"IPL," says Nitish Bajaj, vice-president, marketing, Ceat, "has been part of our strategy to build brand saliency. And it has done well for us for the past few years. That momentum continues this year too and we do not propose to deviate from this strategy."
"Given that the IPL is a high-impact property," says Mayank Shah, category head, Parle Products, "the association has to have a specific objective. For us, the need was to communicate the number of biscuit brands in our portfolio. With a property like the IPL, we can do this in one go."
"IPL is a great way to start our yearly campaigns and the fact that the property has grown in size has only helped in this effort," adds Nadia Chauhan, joint managing director, Parle Agro. "We come up with specific campaigns for the season using IPL as a platform and that strategy will continue this year too."