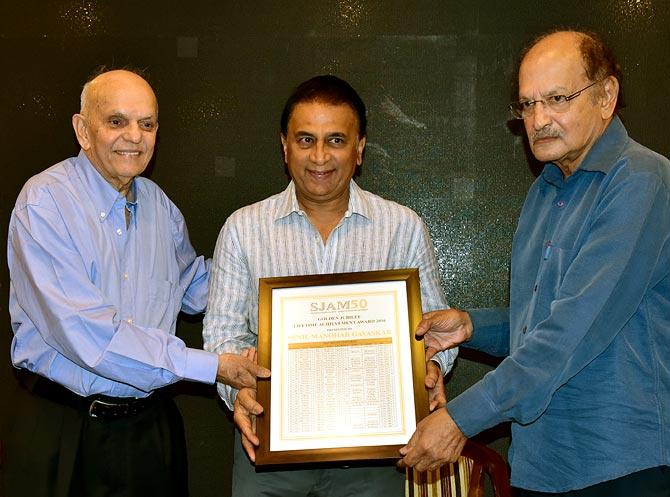 Cricket legend Sunil Gavaskar, who was known to take on the pace-battery of West Indies bowlers during his playing days with aplomb, also showed "courage" to save a family during the 1993 Bombay riots.
His son Rohan Gavaskar recalled an episode at an event where Gavaskar senior was presented with the Golden Jubilee Life Time Achievement Award by the Sports Journalists' Association of Mumbai on Sunday.
"Another one of his characteristics is courage. I got to say there was an incident in 1993 after the bomb blasts (which rocked Mumbai), which left a real impact on me. We were standing on our terrace, right after the bomb blasts a few days later, when we saw a hate mob, and they had cornered a family. We knew they did not have any good intentions towards the family and dad saw that, ran down and confronted the hate mob," recalled the Junior Gavaskar, who represented the country in eleven ODIs.
"He (Sunil) told the mob, whatever you are going to do that family, you are going to do to me first and then better sense prevailed and the family was allowed to go on its way. It takes a special kind of courage to put your life at risk and confront the hate mob and I guess, it takes special kind of courage to sort of face the kind of bowlers which he did in his career without a helmet. People called it courage, someone may call insanity, but in my mind it needs a special courage to do that," Rohan recalled.
Gavaskar was presented a silver salver, a memorabilia and a citation which had details of his 34 centuries, by former India captain Ajit Wadekar and former opener Madhav Apte.
During the function, Gavaskar regaled the gathering at the Cricket Club of India with incident such as how West Indies great Sir Gary Sobers used to touch him for luck before the day's play during his first Test series in the Caribbean under Wadekar's captaincy in 1971 and how his skipper hid him in the toilet during the final Test to foil Sobers's intention.
Image: Sunil Gavaskar, centre, is felicitated with the Sports Journalists' Association of Mumbai's Golden Jubilee Life Time Achievement Award by Madhav Apte, left, and Ajit Wadekar.