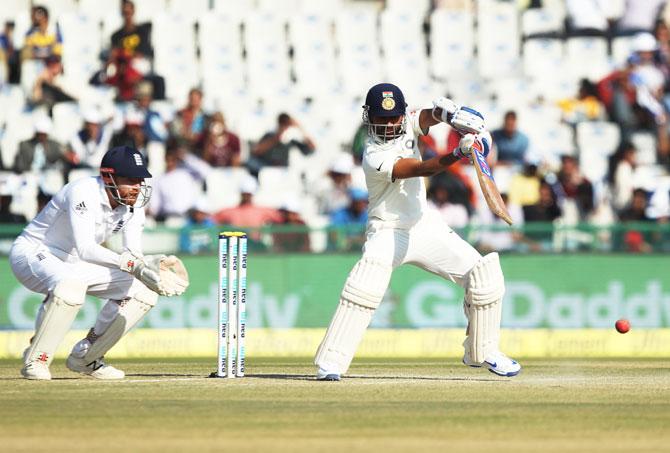 IMAGE: India's Ajinkya Rahane was dismissed for a duck on Day 2 of the 3rd Test against England in Mohali on Sunday. Photograph: BCCI
One of India's most dependable batsman outside the sub-continent has hit a rough patch but Ajinkya Rahane found support from teammate Cheteshwar Pujara, who backed him to come good in the coming matches.
- Calm Kohli, Ashwin steady shaky India on Day 2
- PHOTOS: Ashwin, Jadeja lead India's fightback
Rahane has so far totalled 63 runs from five innings at a horrible average of 12.60.
Out of his five dismissals, the strange aspect has been his shot selection against spinners.
One might find it strange but Rahane has been dismissed by all three types of spinners -- off-spinner Moeen Ali and left-arm spinner Zafar Ansari outwitted him at batting paradise in Rajkot and at Mohali on Sunday, he was foxed by the turn of leg-spinner Adil Rasheed.
In between even pacers Jimmy Anderson and Stuart Broad has added to his misery at Visakhapatnam.
But it is his shot selection against spinners that is coming under the scanner.
Against Moeen, Rahane decided to play the cut shot against the turn to a conventional off-break and was bowled.
In the first innings, Ansari bowled a fuller delivery which he decided to play across the line and was cleaned up.
On Sunday, he failed to read a googly from Rashid and was caught plumb in-front.
Rashid said later in the day that it was a gut feeling that the googly would work against Rahane considering that he was having trouble playing the ball that was turning into him.
"I looked to bowl fairly straight at him (Rahane) and mix one (googly). That one just came out quite good and trapped him in front. Sometimes you plan, sometimes it's just a gut feeling. Whatever it is, it is," Rashid said after the match.
Predictably, Pujara stood by his teammate and feels that it will take one good innings to roar back to form.
"I don't think there is any worry for the team. The way he has batted in the past --- overseas and in Indian conditions and all formats of the game, he has been a successful player. Matter of couple of innings. Once he starts scoring runs, he will be back in form. He is an important player in the team."
May be it's time to go back to the drawing board for India's most dependable middle-order batsman who boasts of having scored Test hundreds at venues like MCG, Lord's, Wellington, Colombo, Kingston.