'The last two games we had no petrol left in the tank. We have to address fitness and strength areas.'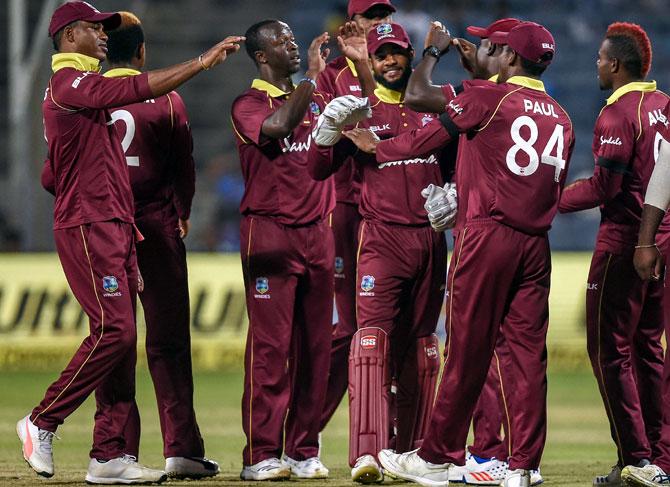 West Indies coach Stuart Law said it is time for his young team to put learning into action following its ODI series loss against hosts India.

"The guys they have got a lot of skills, every single one of them. But it is also temperament and decision making under pressure. Once you walk out there, there are 40,000 people screaming, you are up against one of the best teams going around," he said on Thursday, after West Indies were beaten by nine wickets in the fifth and final ODI, in Thiruvananthapuram.

"Pressure does funny things, it is about living it. You still don't understand what pressure is... then the enormity of the situation, the enormity of the circumstances they are playing in over here some times can get the better of them. There is pressure everywhere...you are scrutinised, on the street, at the hotel foyer, at the cricket ground," said the Australian.

Law said the West Indies have learnt a lot from their Indian counterparts during the tour.

"They are learning all the time... there is no better team to watch, no better batsmen to watch than Virat Kohli and Rohit Sharma, how they go about their work... and the way they (Indians) bowl... Bumrah has been outstanding since he has come back in. Their spinners. Jadeja has been hard work. Kuldeep continues to mess with their minds.

"It is not the skill thing. It is just choosing the right option at the right time, if we can do that as you saw in game two and game three, we can play really good cricket, it is a matter of getting through that situations."

The former Australian batsman also said the tour presented opportunities to some of the players to stake a claim for the World Cup next year but they let it go.

"It is a good question. I wish I had a good answer for you right now. We had players pull out before the tour started. It wasn't planned the way it was. But the youngsters that came in and the guys that got the opportunity at the top of the order I think it is an opportunity missed for these guys.

"I am not saying there is another opportunity. There are three games in Bangladesh in two weeks time. I would have thought that playing here in India on some of the batting paradise we have seen, would have been a few more runs scored," Law added.

He praised Shai Hope and Shimron Hetmyer, who did very well in the series apart from young paceman Oshane Thomas.

"Shai Hope has showed his class and skill and as has young Hetmyer. Jason Holder still proves he is one of our better batsmen and also one of our better bowlers. Obede McCoy who was due to play the game but pulled out this morning due to a side injury... he took wickets through the middle. He is still raw, learning his craft but showed some promise.

"Oshane Thomas showed some real pace in swinging the ball. The one thing that really stands out is that come Pune we played some good cricket and Vizag we had a great game of cricket. Those two games took a lot out of us. The last two games we had no petrol left in the tank. We have to address fitness and strength areas."

Asked whether it was the wrong decision to have elected to bat after winning the toss, Law said the ball did a little bit early on but the players didn't do as well as they could have.
Photograph: BCCI/Twitter