'There is no secret or formula to it. You just have to bat and not make any mistake.'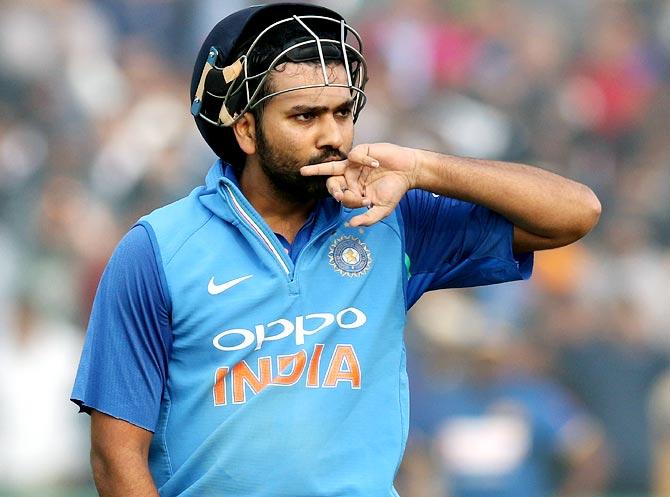 IMAGE: Rohit Sharma kisses his ring finger as he signals to his wife Ritika in the stands, after completing his third ODI double century on the day of his second wedding anniversary, on Wednesday. Photograph: BCCI
Rohit Sharma has been unable to cement his place in India's Test side but the right-handed batsman continues to show he has the right stuff for limited-overs formats.

After making his debut in the shorter form of the game in 2007, Rohit was hailed as the biggest thing to come out of Mumbai since Sachin Tendulkar, with his elegant batting style and ability to hit big shots seemingly with ease.
The 30-year-old is an automatic choice in the limited-overs side and scored his third one-day international double hundred against Sri Lanka on Wednesday, leading the side in the absence of rested regular captain Virat Kohli.

Rohit completed his 16th hundred in the 50-over format in 115 deliveries and then laid waste to the Sri Lankan bowling, remaining unbeaten on 208 off 153 deliveries.

That seems to be the template for the man who now has three out of the seven double hundreds in ODIs.

"That is my style of play," Rohit told reporters. "It was all about me not making a mistake and batting as long as possible. That's what I did.

"There is no secret or formula to it. You just have to bat and not make any mistake."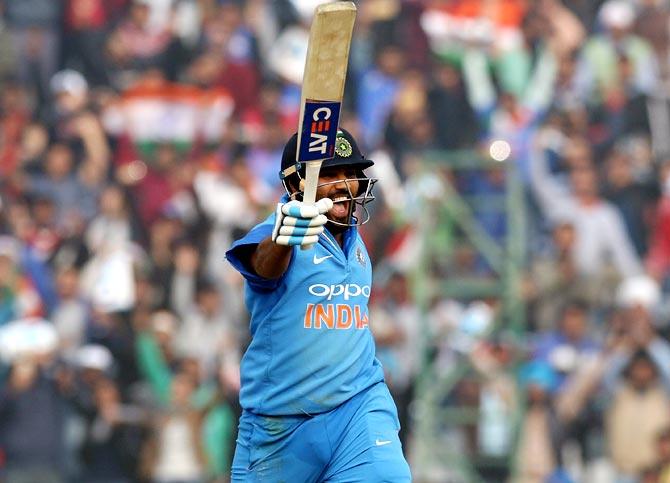 IMAGE: Rohit Sharma kisses his ring finger as he signals to his wife after completing his third ODI double century on the day of his second wedding anniversary, on Wednesday. Photograph: BCCI
But while Rohit has excelled in the shorter formats, he has played in just 23 Tests since making his debut four years ago.

After registering two centuries in his first two Tests, against West Indies in 2013, Rohit's third Test hundred only arrived last month against Sri Lanka in Nagpur.

It was not only his first Test in over an year but it was played at the same ground where Rohit was supposed to make his Test debut in February 2010 but got injured on the morning of the match and had to withdraw.

He would have to wait three years for another chance.

After his Nagpur innings, Rohit said how much the century meant to him.

"Personally for me, it was very important as I was playing Test cricket after nearly 500 days," he told reporters in Nagpur last month.

"I clearly remember this was the ground where I got injured and I had to wait three years to make my Test debut."

While he might still miss out on the Test side when India go with an extra bowler, Rohit is unlikely to lose focus like he did when he just came into the team.

"Initially, my focus was a lot on Test cricket... 'oh no, this is Test cricket, I have to do well, I have to do this and that.'

"In thinking that I lost a lot of focus and forgot what I was there for and what I needed to do, and (now I am) pretty clear in my mind, which is the most important thing."

The new-found clarity has paid off, with the batsman following up his unbeaten 102 in Nagpur with innings of 65 and 50 not out in the drawn Test in Delhi.