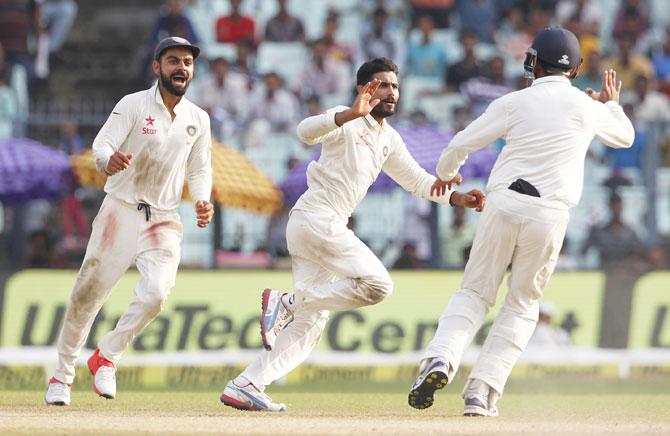 IMAGE: India's Ravindra Jadeja (centre) celebrates the wicket of New Zealand's Luke Ronchi. Photograph: BCCI
After leading his side to No.1 Test ranking, captain Virat Kohli said that Ravindra Jadeja and Wriddhiman Saha were the 'biggest gains' for his side in Kanpur and Kolkata.
- 'Nothing more pleasing than to see Team India take the No.1 spot'
- India thrash Kiwis to seal series, reclaim top spot in Test rankings
India reclaimed the top spot after defeating New Zealand by massive 178 runs in the second match at EdenGardens. With the win, India have taken an unassailable 2-0 lead in the three-match series.
While Jadeja scored crucial lower-order runs in Kanpur, it was Saha who took the mantle with unbeaten scores of 54 and 58 in first and second innings respectively at EdenGardens.
"The batting contributions of Ravindra Jadeja and Umesh Yadav a little bit in the first game -- Jadeja in both innings. And Wriddhiman Saha both innings in this game," Kohli said.
"The rest of the guys, we obviously understand that given their day and in a good frame of mind, they will come good. But these two guys are batting at positions that are very important in Test cricket.
"For them to understand their own abilities and get confident, that was one of the main reasons why we waited for three more overs [for the declaration] in Kanpur, to let Jadeja cross 50. Because that way you understand how to get to that again and again. If you declare on 45, he will never get that extra boost of having gotten a half-century in a Test match.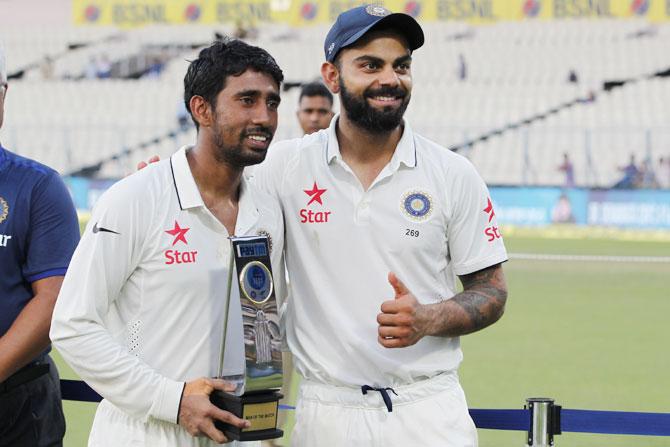 IMAGE: India captain Virat Kohli with teammate and man-of-the-match Wriddhiman Saha after the 2nd Test match on Monday. Photograph: BCCI
"So it was all about building confidence for a particular individual, because we understand how important his character can be in a situation where maybe you need to play out an hour or you need 40 quick runs again. And that is the guy who is confident and can do the job for you.
"So as a captain, I think the contribution by Jadeja in the first game and Saha here were the biggest gains. Saha has been doing really well this year, I wish him well to keep going. Obviously a keeper coming good for you is an added bonus. So, I feel these two have to be the biggest gains."
Set a winning target of 376, New Zealand struggled against a persistent Indian bowling attack with Mohammed Shami, Ravindra Jadeja and Ravichandran Ashwin bagging three wickets apiece on a tricky pitch in the second innings.
New Zealand were bundled out for 197 in the second innings.
Seamer Bhuvneshwar Kumar, who wreaked havoc on the tourists with his disciplined performance in the first innings with a five-wicket haul, claimed one wicket in the second innings.