'He batted like someone who has played 50 Test matches.'
'He is an unbelievable talent and hopefully if he is nurtured well, he will serve Indian cricket for a long, long time'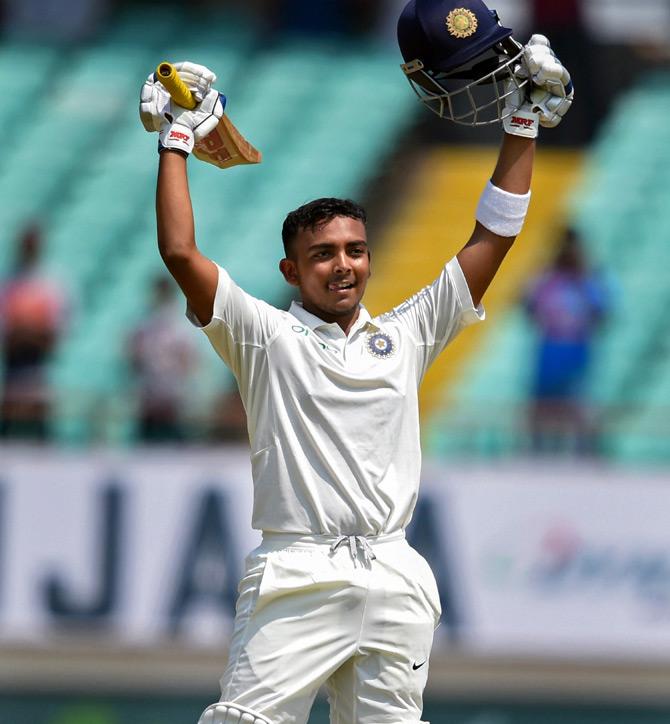 There is an element of inevitability involved in certain occurrences and Prithvi Shaw's century as the youngest Indian Test debutant is one such instance.
It's a matter of conjecture whether the West Indies attack could be rated as 'Test class', but the moment Prithvi hit his first boundary, it seemed as if he was destined to succeed.
At 18 years and 329 days, Prithvi showed that he always had the game to match the unbelievable hype that had surrounded him from the time he was a four-feet boy trying to jostle with the middle-aged uncles in order to get inside the early morning train from Virar, a township on the outskirts of Mumbai, to Bandra, north west Mumbai.
"He batted like someone who has played 50 Test matches. He is an unbelievable talent and hopefully if he is nurtured well, he will serve Indian cricket for a long, long time," Chairman of the Selectors M S K Prasad told PTI after the teenager's smashing hundred on debut.
The Indian sporting circuit is replete with stories of blood, sweat and sacrifices and Prithvi's story is no different from others.
But the outstanding aspect of Prithvi's journey is his quick progression from one level to another. He didn't jump levels but seamlessly crossed one after the other.
WATCH: Family and friends celebrate Prithvi's Test ton on debut outside his home in suburban Mumbai. Video: ANI
A 546 in the Harris Shield for Rizvi Springfield Schoo, the debut hundred in a Ranji Trophy semi-final, leading India U-19 to the World Cup trophy, a hundred on Duleep Trophy debut and some eye-catching knocks for India 'A 'before his big day arrived. He was ready to take on the world.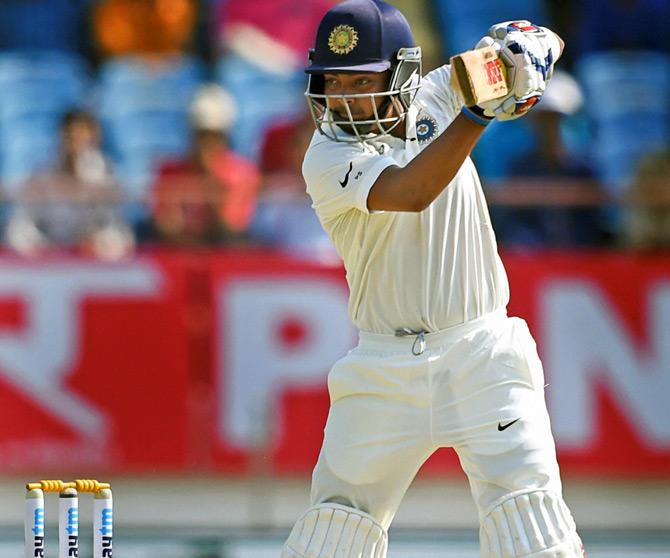 Every year, Mumbai waits for its 'next Sachin Tendulkar' but once the 11 year old started making waves, they got their 'first Prithvi Shaw'.
"I remember when I first saw Prithvi as a nine-year-old. For a kid standing barely at four feet, the impact of the bat hitting the ball was so different. He was a special talent," Makrand Waingankar, a veteran cricket analyst, who had considerable influence on Prithvi in his formative years, said.
"I remember him scoring a double hundred as a 12-year-old in an Under-14 T20 tournament. I feel proud that I could do my bit in his progress," he added.
"He got his first sponsorship deal of Rs 36 lakh from SG (the cricket equipment manfacturers) when he was hardly 12 years. NRI oncologist Dr Sameer Pathak, a big fan arranged for a cricket scholarship in the UK. He studied four months at the Cheadle Hulme School and played club cricket. His progress was closely monitored," Waingankar said.
The pace of life in Mumbai is different from Delhi, Kolkata or Bengaluru and probably that is one of the reasons why grit ('khadoos') is associated with its cricketers.
"When a little boy is taking a 4 am train from Virar to Bandra, trying to get into those insanely crowded compartments where at times people protest if they see huge kitbags, it prepares one for a tough life. The option of failing is nullified," said Prashant Shetty, who was the centurion's coach at the MIG Cricket Academy in Bandra.
"He came when he was nine years old and when he turned 10, our head coach Kiran Mokashi sir instructed to put him in the senior nets. He was facing those 18, 20-year-old boys. Our only instruction to them was not to bowl bouncers as he was too small and not try to injure him. We got a customised chest guard for him so that he doesn't get hurt," Shetty recalled.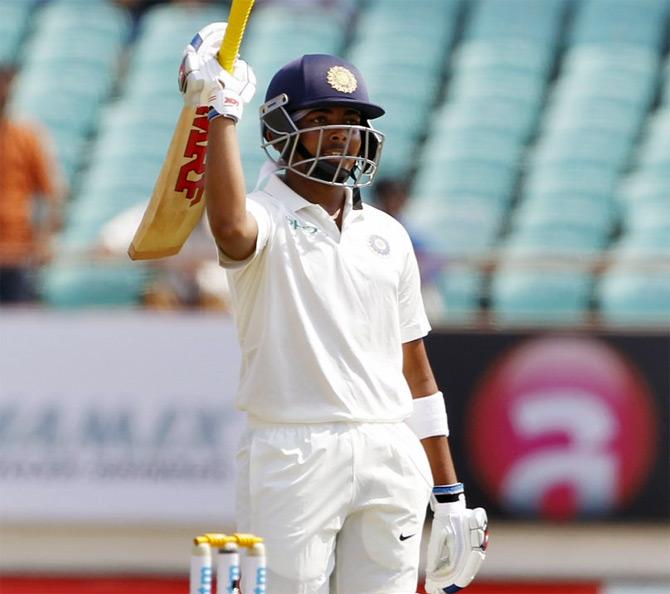 So what was it that made him special, apart from temperament?
"His back-foot play," Shetty recalled. "When you have 9 or 10 year olds coming at cricket camps, you will see the reflex action is to come forward. For Prithvi, it was playing off the back-foot."
Talk about his back-foot play and M S K Prasad sounds excited.
"He is exemplary off his back-foot. I still believe he is a work in progress and as he plays more and more international cricket, he will only get better," said Prasad.
At 18, most teenagers face pressure of getting into a good college, get a degree and get set for challenges that lie ahead.
Just two months shy of his 19th birthday, Shaw has now shifted with his father Pankaj to an apartment in Santa Cruz, north west Mumbai, provided by his employers Indian Oil.
He is getting ready for bigger challenges, but it seems like he was getting ready for an eternity.
'Actually, he started so young that it seems that he has played for a long time. He is matured beyond his age and blessed with a great game sense,' India U-19 and A coach Rahul Dravid had said before the U-19 World Cup.
Prithvi Shaw's journey has just begun and the world is his playground.