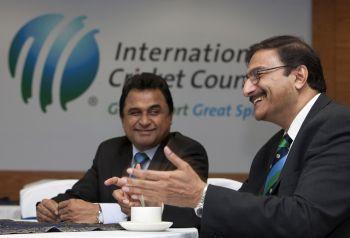 Former PCB chairman Zaka Ashraf alleged that he was threatened by the Board for Cricket Control in India for opposing the structural overhaul of the ICC.
"They were threats directed at Pakistan but our stance was clear," Ashraf said while addressing a gathering in Lahore.
"But in the governance issue obviously our stance was clear and we could not support anything that went against our interests and our cricket," he said.
Ashraf was removed from his post last week by Prime Minister Nawaz Sharif for "mishandling Pakistan's case in the changes brought in the ICC" and was replaced by Najam Sethi.
Pakistan had abstained from the voting in the ICC board meeting in which the big three cricket nations – India, Australia and England – got a majority of the powers in the sport's governing body.
Ashraf said the PCB's governing board was twice taken into confidence regarding Pakistan's official stance on the issue and their stance was clear that Pakistan should not support the structural changes.
Ashraf said that as chairman he had always tried to have a cordial working relationship with India and pushed for resumption of bilateral ties.
"That is why to show goodwill we agreed to send our team to India last December for the short series without any financial rewards for us," he added.
Image: Zaka Ashraf
Photograph: Jack Dabaghian/Getty Images