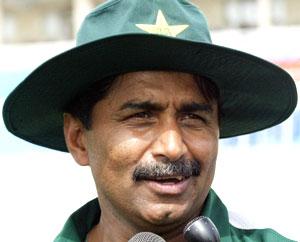 Former Pakistan Test captain, Javed Miandad has tendered his resignation to the chairman of the Pakistan Cricket Board.
The forger great who is serving as Director-General cricket in the board since 2008 sent his resignation letter to the new PCB chief, Najam Sethi just four days after the government sacked Zaka Ashraf as Chairman and dissolved the governing body.
The government through a notification also appointed a managing committee to run cricket affairs.
The committee at its first meeting last Tuesday selected Najam Sethi to head the board.
"Yes we can confirm that the Chairman has received a letter from Javed Miandad in which he has offered to resign. The matter will be discussed at the next meeting of the managing committee," a board spokesman said.
Since Ashraf was reinstated as Chairman last month by the Islamabad High Court, Miandad who played 124 Tests took over a central role in the board affairs and was appointed to several committees.
Image: Javed Miandad