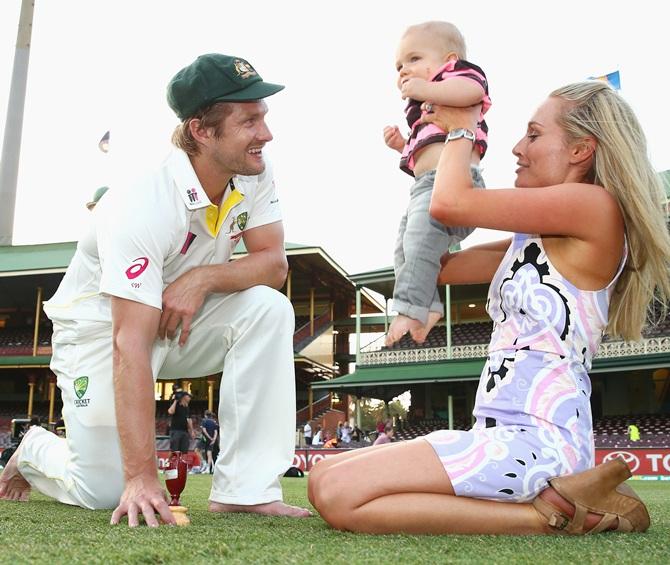 The perennial fitness battles of Shane Watson are likely to rule the all-rounder out of Australia's second Test against South Africa.
Watson's unique ability to hog the spotlight whether playing or languishing injured on the sidelines may be unmatched in Test cricket, but another win for Australia in Port Elizabeth could put the 32-year-old's career at a cross-roads.
Struggling to recover from yet another calf injury, Watson trained apart from the team on Tuesday.
One of the game's great survivors, the barrel-chested Queenslander has clawed his way back into the team after each breakdown, but his place in Michael Clarke's team has rarely seemed so precarious.
Like so many times before, Watson's injury in the leadup to the first Test at Centurion disrupted Australia's plans, forcing selectors to hastily reshuffle the team, blood a debutant in Alex Doolan and fly in test exile Shaun Marsh.
Unlike times past, Watson's replacements proved their worth as Marsh scored an important century and number three batsman Doolan a defiant second innings 89 against South Africa's vaunted pace attack, helping to set up a thumping 281-run win over the world's top-ranked Test nation.
The Australian public has long been accustomed to the soap opera-like intrigue surrounding the player's fitness, but has become increasingly weary of the line that a half-fit Watson is better than no Watson at all.
"It remains an unexplained mystery why Watson, at 32 and with such an agonisingly prolonged history of injury breakdowns, can just come and go from the Australian team virtually at his own discretion," cricket pundit Kim Hagdorn wrote in a column published by News Ltd media.
"He seemingly walks back in whenever he decides he is fit and ahead of other contenders who have to overcome searching selection claims with performances at the minor and pathway levels to the privilege of playing with the nation's highest profile sporting outfit."
Australia coach and selector Darren Lehmann has declined to back Watson's return to the side, even if fit.
"It's very hard to fit him in if you're winning," Lehmann said this week. "We have to see what the wicket's like, whether we need that extra bowling option."
Once deemed essential to give Australia's pace attack a rest by tying up an end and taking a timely wicket with his medium pacers, Watson took only two wickets from his 85.3 overs in the northern Ashes series.
The resurgence of Mitchell Johnson and endurance of fellow paceman Ryan Harris, also no stranger to injury troubles, saw Watson bowled sparingly in the return Ashes series Down Under.
Lehmann has cast doubt on Watson's selection on the strength of his batting alone, however, which has yielded only four centuries from 51 matches.
Batting at number three, Watson scored 345 runs at an average of 38.33 in the return Ashes series, but the runs flowed largely when the hosts had their foot on England's throat.
Deciding on a solid number three has been Australia's bugbear since the retirement of former captain Ricky Ponting over a year ago, and Clarke's lavish praise for Doolan may not be music to Watson's ears.
"Alex certainly looked comfortable at Test level," Clarke wrote in his News Ltd column on Wednesday.
"He played South Africa's quality pace attack exceptionally well on a very difficult wicket.
"Alex knew exactly what was expected of him when we walked on to CenturionPark, and performed accordingly."
Australia has worked hard to groom all-rounders Moises Henriques and James Faulkner, with the latter denied a possible start at Centurion after breaking down with a knee injury before the tour.
With Watson sidelined and Henriques 12th man, spectators at Centurion were treated to the novel sight of opener David Warner flinging down some medium pacers rather than his rough-and-ready legspin.
"They're coming out alright," paceman Peter Siddle said of Warner's work in the nets.
Once condemned as "sometimes" a team player by Cricket Australia's high performance chief Pat Howard, Watson has been studiously giving Henriques pointers in South Africa.
If Australia continue to cover their bases in Port Elizabeth, however, Watson's contributions may be limited to the sidelines.
Image: Shane Watson of Australia, his son and wife.
Photographs: Ryan Pierse/Getty Images