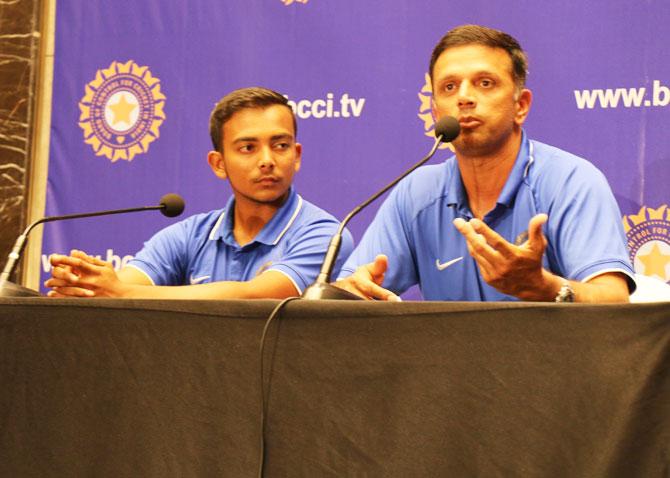 IMAGE: India Under-19 coach Rahul Dravid, right, revealed on Monday that the team did not have any different strategies for the Pakistan World Cup match. Photograph: Satish Bodas/Rediff.com
For the Rahul Dravid-coached Under-19 champion squad, right now, the World Cup win is the most defining moment of their nascent cricket careers.
But for players from a nation like India, where cricket is a religion and playing arch-rivals Pakistan is akin to war (it works the other way around too), no top-level player's career is complete without a clash against the neighbours.
That's why Dravid was happy that his wards got a match against Pakistan.
Terming India's 203-run victory over Pakistan in the semi-finals as an experience that will hold the boys in good stead, he said, "We didn't treat the Pakistan match differently. Our preparation was the same. All through the tournament we never focused on the opposition; be it Papua New Guinea or Pakistan or Bangladesh or any other team, our planning and preparation was always the same. It was not like we had a big team meeting before the Pakistan match or a smaller team meeting before the Bangladesh match. Our process and planning was the same for the Pakistan match.
"For sure, the boys felt the intensity of that match because of the following it has among cricket fans and audiences. It was a good experience for them because having played together for a year now... we played two Asia Cups but the boys had not played against Pakistan, so I was glad they had that experience. They now know what an India-Pakistan game feels like.
"Later in life if they have to play against Pakistan at a higher level, they will have an idea because they have played this game. The hype of an India-Pakistan game cannot match the level of a men's match but at least that little hype is there."
So how come India won that match so easily?
"The quality of cricket our boys showed against Pakistan -- we were under pressure while batting and then there was that partnership between Shubman (Gill) and Aukul (Roy) -- and the intensity we showed on the field, we didn't allow them to get back into the game.
"That made me happy just by the way they handled the pressure," said Dravid proudly of his wards.
WATCH: Rahul Dravid speaks on India's preparation for the match against Pakistan and the importance of playing the arch-rivals.
Video: Afsar Dayatar/Rediff.com