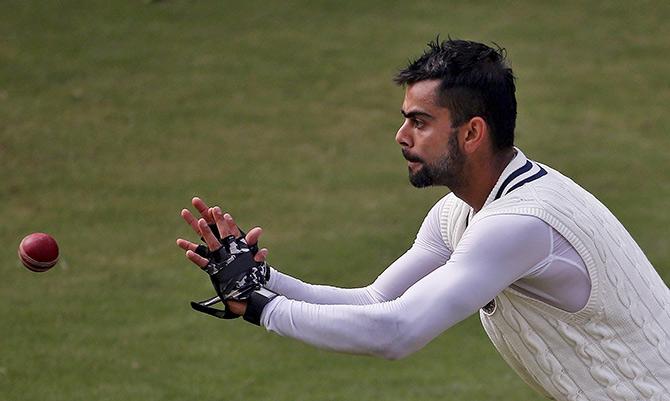 IMAGE: India's Test captain Virat Kohli prepares to catch the ball during a practice session. Photograph: Anindito Mukherjee/Reuters
Indian Test captain Virat Kohli is set to have a game on him with a leading mobile game publisher announcing the launch of Virat Cricket Challenge.
It is the brainchild of a leading mobile game publisher, Nazara Games, Cornerstone sport and Kohli himself.
Kohli will be a playable character in this cricket game. His character will be in his signature blue jersey, and designed with 2D graphics to deliver a life-like representation.
"Virat Cricket Challenge is exciting and special. I get to play as me which is fun. At home, I love playing games on the console and while on tour, I enjoy playing games on the mobile during the down time.
"So when the idea was suggested to me, I got really intrigued. As they say men will be men and we love everything about technology and gaming," Kohli said in a statement.
Manish Agarwal, the CEO of Nazara Games, added, "Virat is very popular character among the cricket lovers and he has got a huge fan following, we wish to take this love on to the gaming platform and to millions of Indian gamers.
"A game on Virat perfectly fits into our Make in India, Made for India portfolio."