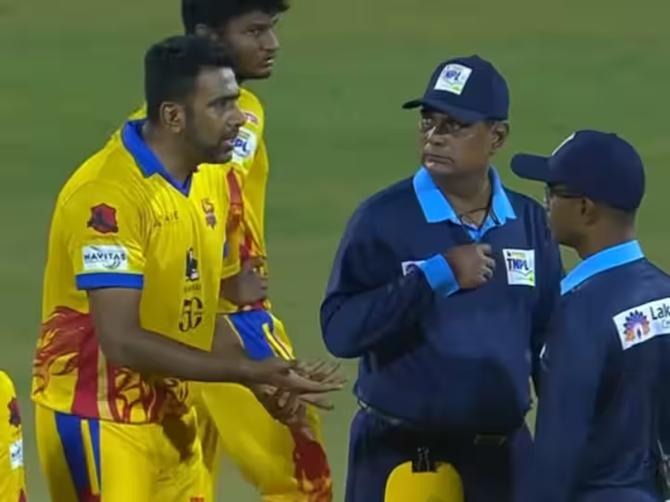 After being overlooked for the WTC final, Ravichandran Ashwin grabbed headlines with his unconventional decision-making during a thrilling match in the Tamil Nadu Premier League in Coimbatore, on Wednesday.
Leading the Dindigul Dragons in a low-scoring encounter, Ashwin found himself visibly frustrated when Ba11sy Trichy's R Rajkumar successfully challenged Umpire K Srinivasan's caught-behind decision in the 13th over.
Initially given out by Umpire Srinivasan, Rajkumar's dismissal was overturned by the third umpire after UltraEdge indicated that the bat had touched the turf before making contact with the ball. The clear spike detected led to the reversal of the on-field decision.
In an extraordinary turn of events, moments after the decision was reversed, Ashwin opted to review the DRS verdict on the same delivery.
The on-field umpires went through the review process once again, but Rajkumar was declared not out for the second time by the TV umpire.
Despite this back and forth, Ashwin's Dragons emerged victorious, defeating Ba11sy Trichy by 6 wickets in the fourth match of the TNPL.
After the match, the veteran spinner opened up about the baffling incident, 'Looking at the big screen, I felt (it was out). DRS is a new rule in this competition. The spike (on UltraEdge) generally comes ahead of the bat, even if there is an edge.
'And to overturn the on field call, there has to be conclusive evidence. That they overturned it, I was slightly not happy. So, I reviewed it, hoping they (umpires) might look at it from a different angle."
This rather bizarre incident quickly became a hot topic of discussion on the Internet. Take a look at the exchange