'I don't have the power of an MS Dhoni or Ab (de Villiers) or Chris Gayle. I have to use my brain, time the ball, hit through the line and play with the field'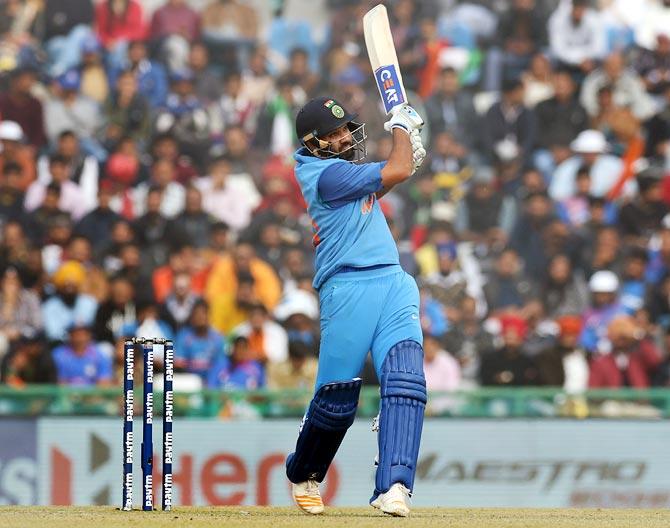 IMAGE: Rohit Sharma hits out. Photograph: BCCI
It has been raining runs for Rohit Sharma and he had little hesitation in calling 2017 the 'best year' of his decade-old international career.
Rohit, who smashed his third double hundred in ODIs here, has scored seven hundreds this year (six in ODIs and one in Tests) marking a successful return to international cricket following a thigh surgery last November.
"I would say this year has been the best year for me as a cricketer. I have been hitting the ball well," said Rohit after India's series leveling win against Sri Lanka.
The opener is a vital part of the limited overs team but is not yet a sure starter in the Test eleven. But what helped him get a bagful of runs is the mindset that he will play every game.
"I keep telling myself that if an opportunity arises, I have to be ready for it. What has happened in the past, I have no regrets. The future is bright. The last five six months that has been the mindset," said Rohit.
"I wanted to be ready for Test matches. I knew the combination which we play, five bowlers sometimes and sometimes four, I may play or may not. I just have to prepare myself in a way that I am playing every game be at my best," added Rohit.
"I am just trying to convert as many starts as I can, I know it is not going to happen all the time but when it happens, I try to make most of it," the stand-in skipper quipped.
Playing his first series as full-time captain, Rohit has not yet shifted his focus on the South Africa tour beginning early next month.
"I am someone who doesn't look too far ahead so I won't be talking about what we have to do in South Africa. I have been appointed captain for the first time, so I am only thinking about this series," he said.
His first double hundred came against Australia at Bangalore in 2013 while the second one was against Sri Lanka at the Eden Gardens three years ago.
Asked to compare those with the one he scored today, Rohit said: "I can't rate this because the other two were as important as this one. The first one against Australia was the series decider and second one against Sri Lanka, I was coming back from injury."
"It (264 against Sri Lanka) was a world record score and that has to be right up there. This one as well, we had to comeback in the series, it was my first captaincy stint, also as a batsman I wanted to do well. I don't think I can rate them as all three were very important from the team's perspective."
It was a typical Rohit special as he took time early on before playing his strokes towards the end. After scoring the first 100 off 115, he raced to the next 100 in just 36 balls.
"That is the style of my play," he said when asked how he likes to pace his innings.
"The first 100 took time but the next was one a lot faster. That is because you are set, you can see the ball nice and hard, you know what the bowlers are trying to do so you are just trying to play with the field. Once you get past 100 it is all about you not making mistake and getting out.
"It is very unlikely that bowlers are going to get you out post 100. I just wanted to bat and bat. The thinking was why not get another 100 after the 100."
He hammered 12 sixes in his breathtaking effort – most of them coming on the on-side. When Rohit bats, he makes even the six-hitting look easy but that is actually not the case.
"Nothing is easy in cricket. Trust me when you are in the middle you have to use your brains, you have to time the ball. It is not easy."
"You must have seen I was trying to play with the field, trying to play the scoop shot, trying to hit over point. Those are my strengths. That is the advantage of having five players inside. The shot selection becomes very important," he explained.
By his own admission, he doesn't have the power of a Mahendra Singh Dhoni or Chris Gayle, so using his brain is more important while shot selection.
"I like to analyse the conditions. If you see, the pattern has been similar in all three. I started off slow and then picked up the pace. I don't have the power of an MS Dhoni or Ab (de Villiers) or Chris Gayle. I have to use my brain, time the ball, hit through the line and play with the field."
Rohit did not have a great time during India's last tour of South Africa. He is determined to change that this time.
"More than anything, it is the technical adjustment you have to make. The bounce in India is very different to what you get in South Africa. Luckily I have played in South Africa, yes, I have not had a good time there but I am determined to change that."
"But that will come only when I get to South Africa. Every condition requires you to make changes in your technique. In England, the ball may swing a lot and in South Africa the ball may bounce a lot."
"Our batters had a good time there last time though I did not. It will be a challenge but I only want to think about South Africa after December 24," he added.