'He is the biggest match-winner India has ever produced, not only in India, but in world cricket.'
'He has been a great mentor for many players, including me.'
Harbhajan Singh tells Harish Kotian/Rediff.com that his role model will take Indian cricket to greater heights.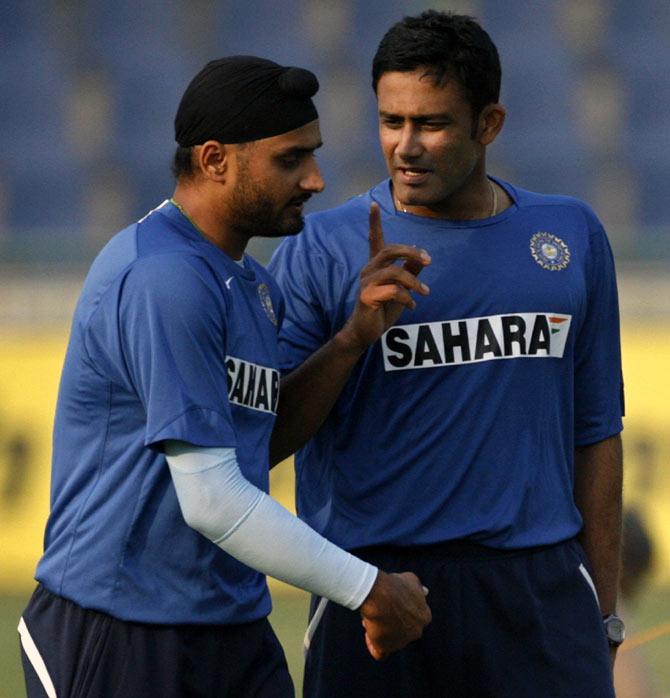 IMAGE:Harbhajan Singh, left, with Anil Kumble. Photograph: Reuters
They played 54 Tests together, bagging more than 500 wickets in tandem.
Harbhajan Singh was delighted to know that his old teammate Anil Kumble was taking over as India's cricket coach.
One of India's greatest match-winners, Kumble is also India's highest-wicket taker in Tests, with 619 wickets in 132 matches. Those figures are the third best in terms of wickets in the history of Test cricket, only behind Muttiah Muralitharan (800) and Shane Warne (708).
Harbhajan believes his role model's appointment will take Indian cricket to greater heights.
"I am obviously delighted with his appointment," says Harbhajan. "He has been the biggest match-winner for India and a great mentor for many players, including me, who have played cricket with him and against him."
"There is a lot to learn from a legend like him," 'Bhajji' adds. "It is a great step forward by the BCCI. I am really excited and hopeful that he will take Indian cricket to the next level."
"It is a very good appointment for Indian cricket. The team needed someone like him to take them ahead. He is the best person and the right one to take charge," Harbhajan told Rediff.com on Thursday, June 23, soon after the news of Kumble's appointment arrived.
In the last decade-and-a-half, the Board of Control for Cricket in India has preferred to appoint foreigners as coaches, starting with John Wright in 2000, followed by Greg Chappell in 2005, Gary Kirsten in 2007 and Duncan Fletcher in 2011.
With Kumble throwing his hat into the ring, most cricket observers felt the BCCI-appointed Cricket Advisory Committee -- with Sachin Tendulkar, V V S Laxman and Sourav Ganguly as its members -- would opt for the spin great.
Harbhajan was heartened to see a bowler get charge of the Indian team.
"We don't give credit to bowlers in this country. Just check to see how many matches he has won single-handedly with the ball. In my view, he is the biggest match-winner India has ever produced," Bhajji declares, "not only in India but in world cricket I would say."
Asked how Kumble would be as a coach, Harbhajan says: "He will be very honest and straightforward, that goes without saying. He will be very frank about everything. He is someone who is very easy to approach and, tactically, very good."
IMAGE: Kumble in action. Photograph: Duif du Toit/Gallo Images/Getty Images
Harbhajan, who has been dropped from the Indian team in all formats, is hoping to make a comeback and play under his old friend.
"I am excited and looking forward to see the team play under him for the next one year," he says. I am hoping that he will continue beyond that and much longer because for the young Indian team there is a lot to learn from someone like Anil Kumble."
"Till the time I am playing, there is always hope and the only thing you want to do is play for your country," Bhajji adds. "I have always maintained that, otherwise there is no point playing domestic cricket. I will be working hard to get back to the national side again. Hopefully, I get a chance to play under him again."
Harbhajan points out that his best performances in the Indian Premier League was when he played under Kumble, mentor for the Mumbai Indians from 2013 to 2015. Under Kumble, the Mumbai Indians won the IPL twice, in 2013 and 2015, and the Champions League T20 in 2013.
"I have delivered my best performances in the two IPLs when he was the mentor of the team. He helped me with my bowling and I ended up taking 24 wickets and 18 wickets in those two seasons," Bhajji recalls.
"He was the guy working with me behind the scenes and giving me the right advice to achieve the best results," he adds, "not only for me but also to take the team to victory. What I have learnt from him throughout my career is that your performances should help the team to win."
"It was a pleasure playing under his captaincy and then when he was the mentor at the Mumbai Indians," Bhajji says. "I have always learnt and enjoyed being with him. I have always got something out of him."
"He was a champion player for India, so I was always looking to learn something from him. It was an opportunity for me to learn from my role model. He has been my role model and I have played a lot of cricket with him," he adds.
The off-spinner cites the 'Monkeygate' controversy during the 2007-2008 series in Australia, where Kumble, he says, stood out as the captain and gave a strong impression of his leadership skills.
"He backed me a lot, he backed the team," Bhajji, who was at the heart of the controversy, remembers with gratitude. "The team needed a strong captain at that point and he was the person who stood by the team. As a leader, he led the team very well for whatever time he was in charge."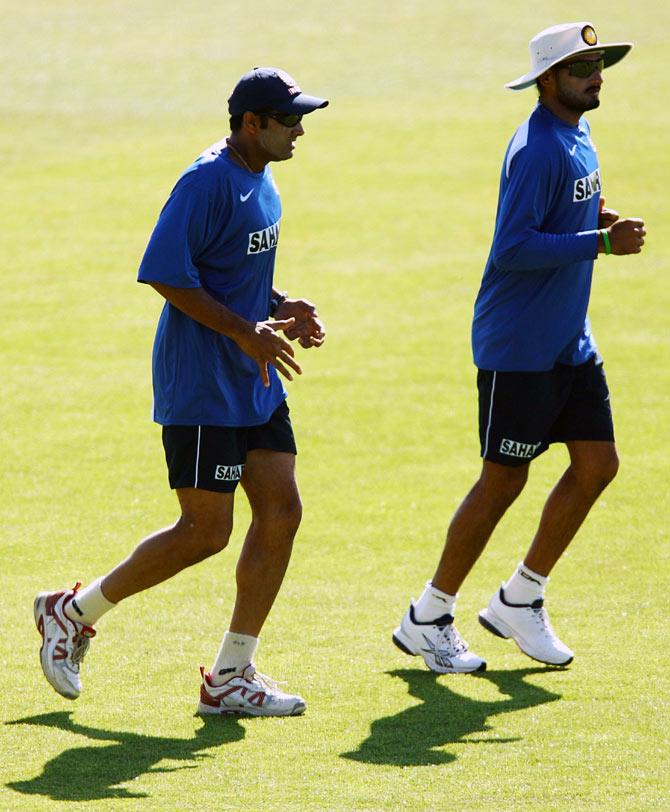 IMAGE: Kumble, left, and Harbhajan during a training session. Photograph: Mark Nolan/Getty Images
Harbhajan, 35, recalls how despite competing for a place in the playing side the two spinners were great friends on and off the field.
"He had great team spirit. Someone like him, with his stature, never really complained or took things the wrong way," Bhajji says. "He was always up for the challenge and no matter what, whether he was playing or whether I was playing, he was always happy."
"I know him for a long, long time. I first played under him when I was playing for Chemplast. This was way back in 1996-1997. That was the first time I played under his captaincy."
"He was a great competitor, but always respected his team mates."
"There was a time when only one of us -- either him or me -- could play," says Bhajji. "Sometimes I would be out or sometimes he would sit out. Despite taking so many wickets at the Test level, a great player like him had to sit out of the playing eleven. It was tough on him and I always would feel that because of me a big player like him was not getting a chance to play."
Kumble's guidance helped him improve as a bowler, says Harbhajan.
"I used to ask him about what needs to be done or about my bowling, if I need to change anything. He was always there to give me valuable advice," says Bhajji. "Whatever I have achieved in my career, I would say, Anilbhai has played a major role in my cricketing career."