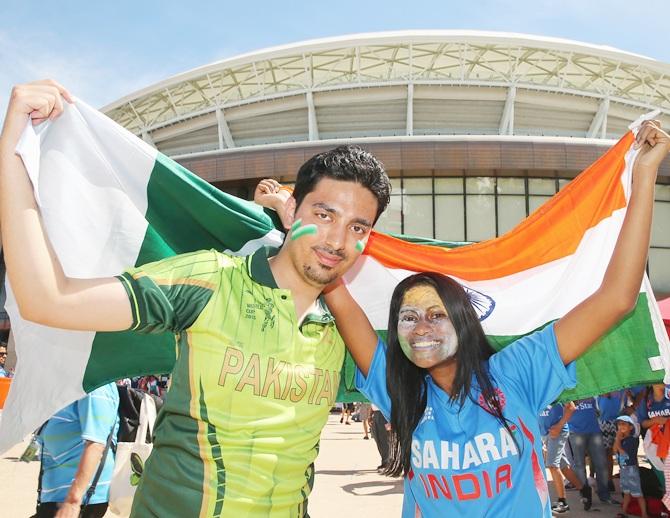 IMAGE: Pakistan and India supporters pose with their flags. Photograph: Scott Barbour/Getty Images
Pakistan Cricket Board Chairman Shaharyar Khan has said the Indian Board had conveyed to the PCB that they were ready to play the series but were waiting for clearance from the government.
"I know there are lot of people even in India who want the series to happen but we have done our part now I would like the BCCI President Shashank Manohar to contact me himself," Khan said.
The PCB chief also said that the ouster of Narayanaswami Srinivasan as the International Cricket Council Chairman would have no bearing on the MOU signed between the two Boards.
"Srinivasan also signed on the MOU between the Pakistan and Indian Boards as he was ICC chief but even if he is no longer there the MOU has to be honoured by India," Khan added. He said the more time the Indian Board takes to convey a final decision on the series the more it becomes difficult for Pakistan.
"One thing is clear if their government does not allow them to play the series, then I don't think our government would encourage us to go to India for any event," Khan, a former diplomat, said.