'I think what has worked wonderfully well for me is the separate sessions that I have had for batting and keeping.'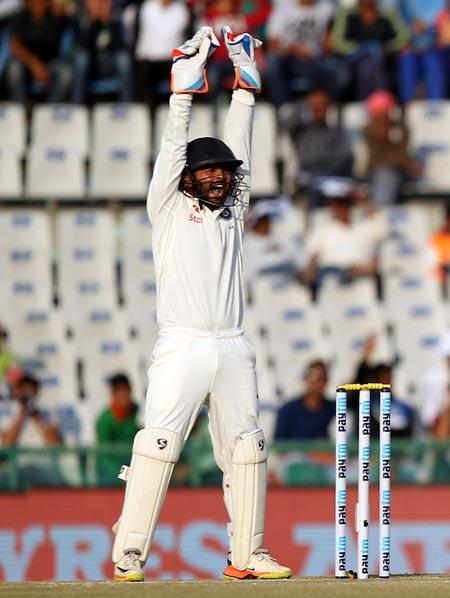 His batting and wicketkeeping shone through in equal measure during the recent home Test series against England and Parthiv Patel attributes the success to segregating his twin skills during training sessions.

Patel's delightful strokeplay has been praised by one and all along with his haul of 13 dismissals with the gloves in India's 4-0 series triumph over England.

"I think what has worked wonderfully well for me is the separate sessions that I have had for batting and keeping. In the past few years, when I chalked out my training schedule, I made it a point that I won't practise batting and keeping during a singular session. If I bat in the morning, I would keep wickets in the evening," the 31-year-old Parthiv said, on Friday.

With nearly 15 years of first-class cricket with 166 matches behind him, Parthiv is now more than aware about what works for him as a keeper.

"There are times when I go for my keeping practice, I would tell the groundsmen to prepare a rank turner and at times would tell them to not work a single bit on the pitch. That helps you prepare for keeping on unpredictable tracks.

"There would be times when I would keep at any part of the ground which ensures that I am not blindly trusting the surface to have true bounce and carry. While you practice keeping drills, it is very necessary to mix and match and simulate during training sessions," said Parthiv providing a sneak peek into his routine.

Parthiv acknowledged that former India wicketkeeper and chairman of selectors Kiran More has always provided him with feedback on his glovework.

"Yes, I have had interactions with Kiran More and he has given me a lot of useful feedback regarding my glovework," he said.

With only 344 runs required to complete 10,000 runs in first-class cricket, a coveted milestone by any standards for a professional cricketer, Parthiv says that strength training along with experience has contributed to his success.

"I believe the amount of first-class cricket that I have played over the years have also contributed to my growth as a batsman. Also I have done strength training and that has increased power in my shots. My natural game is to attack and I tried to play positive cricket," said the Gujarat captain, who scored two half-centuries on his comeback trail during the last three Test matches.

The Indian Test team under Virat Kohli has set the standard really high and Parthiv is happy that he has been able to maintain good standards of fitness during the three Tests.

"You can call it the fitness routines that I have had over the years that helped me remain fresh. Not for a moment have I felt tired which enabled me to keep wickets for nearly 160 overs (157.2) and then immediately come out for opening the innings (he scored his career-best 71)," said the cherubic Parthiv, who now has scored 878 runs from 23 Tests.

Post his exclusion from the national team, Parthiv had made sporadic appearances after Mahendra Singh Dhoni's emergence into the national scenario but even Wriddhiman Saha being preferred as first-choice for Tests never dampened his spirits.

"I play the game because I love playing it. I love going to practice everyday, love taking those catches at the training session. Also the self belief was there that if I keep performing, my chance will come. Selection is not in my hands and I can hardly do anything about it. There are guys (selectors) who are there to do the job. My job is to perform to the best of my abilities and I try doing that," he said.

After a successful showing with India, Parthiv will get his focus back on domestic cricket as he leads Gujarat for their Ranji Trophy semi-final against Jharkhand, starting in Nagpur on January 1.

"I think it's been a good season for Gujarat team. The boys kept up the intensity throughout the season and full credit to them that we are in the semi-finals. Being a senior member of the side, my job is to share my knowledge and experience with them. Rather than taking it as the big semi-final, I would like the boys to feel that we are playing the 10th match of the season," he concluded.
Image: India wicketkeeper Parthiv Patel
Photograph: BCCI