'You either like him or hate him, but you cannot ignore the fact he is a wonderful cricketer who, in my view, should still have a place in a successful England dressing room'
'The fielders having to apologise to the bowlers if they dropped catches. Who does that sort of thing? It sounds like a kindergarten'
Former Essex player Ian Pont, who is now engaged in coaching Indian bowlers in Bangalore, shares his views on the fallout-out from Kevin Pietersen's tell-all book with Rediff.com's Manu Shankar.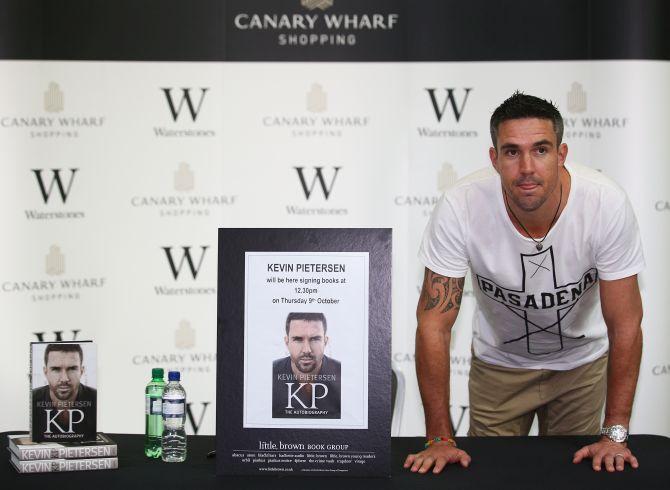 Kevin Pietersen at the book launch. Photograph: Ian Walton/Getty Images
Last month, on October 9 to be precise, Kevin Pietersen's book was launched. It immediately created a storm in English cricket.
As far as the England team was concerned, KP: The Autobiography was much-awaited, largely because of talk that there would be lot of spice in it.
While the former England bastman is being criticised for his veiled attack on teammates in the book, former Essex player Ian Pont, who is now engaged in coaching Indian bowlers in Bangalore, feels every player has the right to have his say and be heard, and Pietersen, who was sacked following the 5-0 Ashes defeat in January, had earned that right to say what he felt during his playing days.
In a freewheeling interview with Rediff.com's Manu Shankar, Pont shares his views on the fallout-out from the tell-all book that rocked English cricket.
Kevin Pietersen's book created a quite a storm in English cricket. Your take on that.
It is KP's right of reply, and he will clearly have much to rant about. You either like him or hate him, but you cannot ignore the fact he is a wonderful cricketer who, in my view, should still have a place in a successful England dressing room.
In the book, Pietersen is critical of his teammates, and alleged bullying and abuse in England's dressing room.
The KP Twitter account is one of the worst examples, plus, of course, the fielders having to apologise to the bowlers if they dropped catches. Who does that sort of thing? It sounds like a kindergarten.
'KP is entitled to say his piece'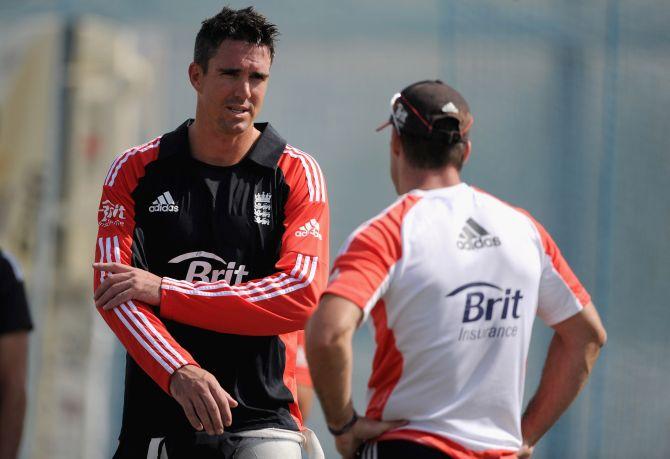 Kevin Pietersen speaks with Andrew Strauss. Photograph: Gareth Copley/Getty Images
Andrew Strauss called it mud-slinging madness, while Graeme Swann ridiculed the book as fiction. Do you think KP opened a can of worms?
There are three sides to every story: the two opposing views and the truth. People who are attacked will defend themselves. Those who are accused will often speak out. The secret is to not let things evolve this far in the first place.
The ECB (England and Wales Cricket Board) sacked KP after the disastrous Ashes tour. Would you consider it a tit-for-tat kind of scenario, or was it a matter of sour grapes?
As I said, KP is entitled to say his piece. Given the fact it is in print he will have been advised carefully about litigation, no doubt. Clearly, an author is unlikely to open himself up to issues over lying that can be taken to court. So we can judge for ourselves whether things are true or made up. It is all very sad that this situation is at this point, but I totally understand why the book has been published.
Alec Stewart recently backed KP's story of the Twitter account, wherein three England players had access to it.
I think that parody account hurt KP more than anything else. Imagine if at work you had people doing that about you? It is tantamount to bullying and I am not sure it would be allowed in most workplaces.
Despite Stewart passing on the information to the ECB they still did not do anything about it, or maybe decided to shove it under the carpet. Does it raise a few eyebrows?
I don't think that any governing body indulges in hearsay. Often time, if you leave something alone it has a happy knack of being forgotten in time.
'You have to manage people's expectations properly'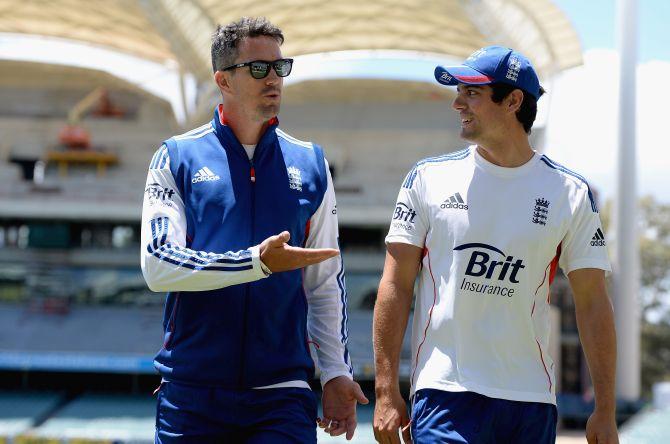 Kevin Pietersen and Alastair Cook. Photograph: Gareth Copley/Getty Images
Don't you think all this controversy is harming England cricket's image?
The ECB is in charge of their own PR and image in the world. How they handle that is tricky business. If you get things wrong it can look bad, but those within the board will be very supportive of what they are doing. I think it is simply about perspective.
Sports is all about managing personalities, and top people in the ECB and England dressing room should be able to deal with such people.
They should, and it is a failing if things are allowed to grow to such a state that your best player is axed.
You have been a part of various dressing rooms in England cricket. What's the ideal way to thwart such an atmosphere?
We all want to be loved and listened to. I have coached teams with massive egos in it. The secret is to include everyone and let them have a voice. Whether you take the thing they say on board is another thing, but you have to manage people's expectations properly, else you have an issue.
'Captain and coach run the dressing room and set the standards'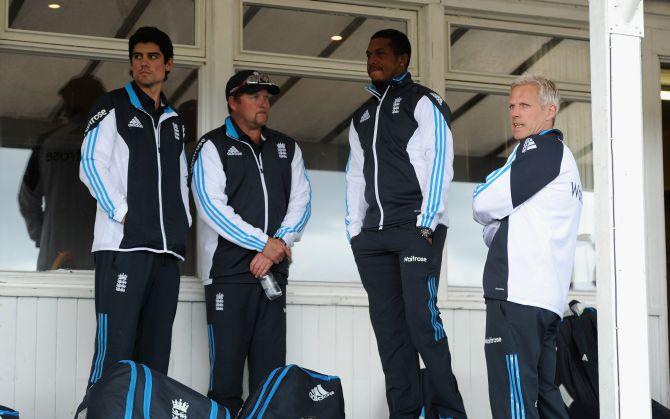 England captain Alastair Cook, bowling coach David Saker, Chris Jordan and coach Peter Moores. Photograph: Gareth Copley/Getty Images
Having said that, all dressing rooms throughout the world have cliques. Was it a case of KP going overboard?
You can either say nothing, which is acceptance, or you can say something and get things changed. There is always a consequence for speaking up, I guess, and often the people who speak up get sidelined. That's just a fact of life.
What's the role of the captain in such a scenario? KP had issues with (Andrew) Strauss too, sending messages during the South Africa series.
Captain and coach run the dressing room and set the standards. They are the heartbeat and brains of the team. But also they must be able to be accommodate changing scenarios. Being strong and flexible like bamboo is a strength, not a weakness.
Don't you think this on-and-off relationship between the ECB and KP needs to come to an end?
I think it has.
Ever since KP's sacking, the ECB hasn't come clean on the reasons for his removal. Will the real ECB stand up and explain its stand?
It doesn't need to. What is said between the parties is private and remains private. The ECB has said what it said about KP and they have moved on.
Giles Clarke needs to make a statement now. All eyes are on him to make the next move. What do you think he should do in the current scenario?
I just don't think there will be any follow-up to this, as English cricket doesn't win from it. Neither does KP. In fact, all of us -- fans, TV, commentators and the world of cricket, has lost a fantastic player. There is no value now in picking over the carcass.