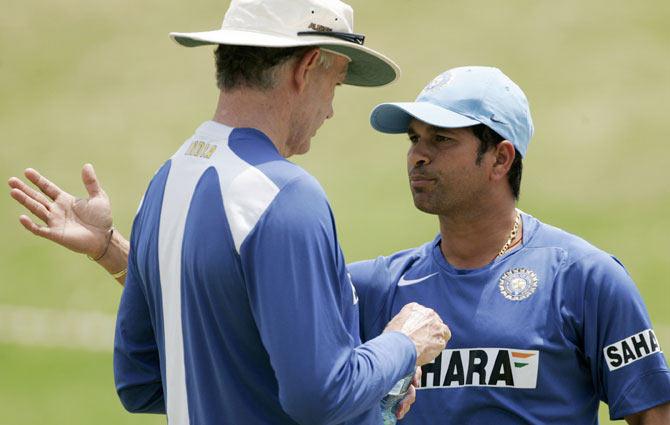 A file photo of India's Sachin Tendulkar (right) speaking with team coach Greg Chappell during a practice session. Photograph: Howard Burditt/Reuters
Australia Test great and former India coach Greg Chappell has denied claims that he wanted Rahul Dravid removed as captain just before the 2007 Cricket World Cup.
- 'Chappell suggested I should take over the captaincy from Dravid'
- Not privy to discussions between Sachin and Greg: Dravid
Chappell was responding to extracts released from Sachin Tendulkar's autobiography, Playing It My Way.
In the extracts published on Monday, Tendulkar has written that Chappell came to his residence before the World Cup and suggested about making him the Indian captain at Dravid's expense.
Chappell says the claims are untrue.
"The claims made in Sachin's new book were brought to my attention earlier today," Chappell told cricket.com.au.
"Whilst I don't propose to get into a war of words, I can state quite clearly that during my time as Indian coach I never contemplated Sachin replacing Rahul Dravid as captain.
"I was therefore very surprised to read the claims made in the book.
"During those years, I only ever visited Sachin's home once, and that was with our physio and assistant coach during Sachin's rehabilitation from injury, at least 12 months earlier than what was reported in the book.
"We enjoyed a pleasant afternoon together but the subject of captaincy was never raised."
In the book, Tendulkar is scathing in his criticism of Chappell, who was the national coach from 2005 to 2007, describing him as a "ringmaster who imposed his ideas on the players without showing any signs of being concerned about whether they felt comfortable or not".