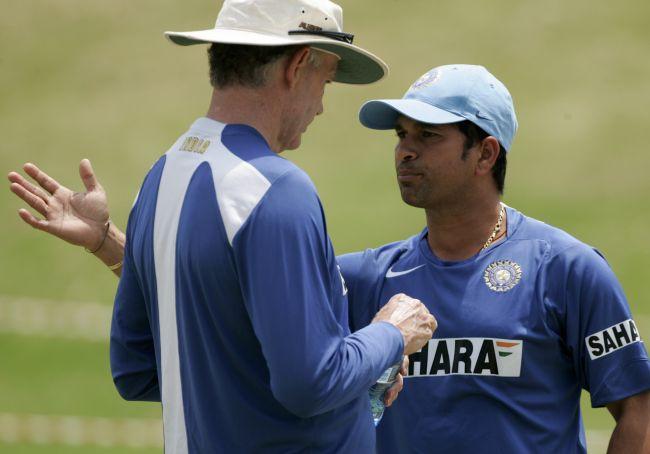 Sachin Tendulkar speaks with Greg Chappell. Photograph: Howard Burditt/Reuters
Former India captain Rahul Dravid, reacting to the revelation in Sachin Tendulkar's upcoming autobiography, Playing It My Way, that Greg Chappell wanted to strip him off captaincy before the 2007 World Cup, said he was not "privy to any private conversation between two individuals".
Tendulkar has said that Chappell came to his residence before the World Cup and suggested about making him India captain at the Karnataka stalwart's expense.
"I haven't really read the excerpts of that book. Also, I am not privy to any private conversation between two individuals. I have not heard about this before and I have no idea what happened and I would not want to make any comment," Dravid told ESPN Cricinfo.
However, he said "it's been a long time" since that World Cup (2007) and "it does not make much of a difference to him".
On a different note, when asked if he is looking forward to reading the book following the sensational revelation, Dravid replied,"Not looking forward towards reading this, but, yes, anything that Sachin writes on batsmanship and things like, what made him the best in the world, I am more interested in reading those parts."